10 Best Study Tables For 2023
Best Study Table
Working and learning from home has increased significantly through the pandemic and is undoubtedly something that is here to stay. Consequently, finding the ideal desk to study is fundamental. We must pay attention to several criteria such as comfort and good body position since we can spend many hours at our desks.
This article will show you the best study tables, so you don't have to leave the house to be productive and get better results. This furniture is fundamental to stimulating productivity, creativity, concentration, and efficiency. To boost even more your study you can also check the best study chairs to match your desk. Here are the best study tables for 2023.
What to Look for When Buying a Study Table
This is a critical component and one that we must take into account. Before you start searching, list the things you often use on a desk (computer, printer, notebooks, among others). This will help you understand the space you use and thus reach the ideal size.
As this is a place of study where one can spend several hours, it must offer ergonomics. This criterion can significantly influence your productivity and overall performance. You should also ensure that your desk has space for everything it needs to bring comfort and optimize your tasks.
The average height recommended for a desk is 72cm. This height allows two things. On the one hand, you can move around without problems. On the other hand, it allows your elbows to form a 90-degree angle when your fingers are in contact with the keyboard. These are essential criteria to avoid having bad posture and prevent physical injuries.
Ample Storage Space
This criterion depends on how you use your desk. For example, whether you need additional storage space to organize your notes for a subject or if you use a lot of school material during your study. Once again, it is essential that you make a list of things you use the most to understand if you need a writing desk with some drawers for extra space.
Regarding the material, here are some general guidelines for your office supplies: select a surface with few reflections; make sure the surface material is not cold to the touch so it does not become unpleasant; choose a quality material (such as wood).
The Best Study Table for 2022 - The Ultimate Guide
1. påhl by ikea.
Price: EUR 69,99 / USD 71,28
Size: Height: 72cm / 28,35 in ; Width: 96cm / 37,8in; Depth: 58cm / 22,83in
Desk top: Chipboard and MDF with honeycomb paper filling (100% recycled paper); Plastic border; Acrylic paint; Clear acrylic varnish.
Bottom frame of the desk top: Steel; Epoxy/polyester powder coating
Color Options: White
An IKEA classic that shouldn't be overlooked. One of the most affordable study tables in this list, this desk has all the basic features you want. It has a very positive bonus: adjusting its height to three different sizes. It can be 59, 66, or 72 cm and can be used by children and adults. It also contains a cable holder so you get extra storage space in order to stay organized. 
A simple design, but through these functions, it becomes versatile. Another pleasant surprise about this study desk is that you can add a shelf that fits into this desk. It's a good choice for those who don't have too many demands, for example a college student.
Adjustable height
Easy assembly
Cable storage
Only available in one color
Price: EUR 119,00 / USD 121,19
Size: Height: 76cm / 29,92in; Width: 100cm / 39,37in; Depth: 48cm / 19,9in
Top panel/ Main components/ Front Drawer: Particleboard; Acrylic paint; Paper veneer; Plastic border
Lower blade: Particleboard; Paper veneer; Paper veneer; Plastic edging
Side Drawer / Back Drawer: Particleboard; Plastic veneer
Bottom Drawer: MDF; Acrylic paint
Bottom Structure: Steel; Epoxy/polyester powder coating
Color Options: White; Black-brown; Grayish turquoise; White stain/Oak effect
This is another IKEA classic that we love. This product contains two drawers for those who always need a little extra space. It includes storage for cables, allowing you to hide them while being accessible. It is a simple design option available in four color types. It doesn't take up too much space and can be used by people of different age groups.
Pros:
Extra organization
Simple design
Assembly time
Price: EUR 86,95 / USD 88,55
Size: Height: 88cm / 34,65in; Width: 87cm / 34,25in; Depth: 53cm / 20,87in
Materials: Wood; Steel
Color Options: White Wood; Red and Dark Wood; Black and White Wood; Yellow and Light Gray Wood; Blue-grey and Light Blue Wood; Light Blue and Purple Wood
This desk was born from an exciting combination of wood and metal that gives it a certain elegance. It is convenient for small spaces, and as it is collapsible, it can be stored in any corner if it takes up unwanted space. It has a shelf above the work area, giving extra space for other objects. In the case of a university student who lives far from home, carrying this desk with him when he returns home is very easy.
Great for small spaces
Foldable and portable
Does not require assembly
Small work area
Price: EUR 109,95 / USD 111,97
Size: Height: 75cm / 29,53in; Width: 77cm / 30,31in; Depth: 50cm / 19,69in
Materials: ABS; Steel; Plywood
Color Options: Cream; Black
Simple industrial-style design perfect for the smallest of spaces. It has a space to store documents you must have on hand. This one is easily dismantled, giving you even more room to take advantage of the space if needed. It is another excellent choice for college students with mostly rented homes. Since the two available colors are pretty neutral, you can easily fit this product into any environment.
Easily dismantled
Price: EUR 229,00 / USD 360,00
Size: Height: 66cm / 25,98in; Width: 120cm / 47,24in; Depth: 44,2cm / 17,4in
Materials: Desk: MDF with Oak veneer; Nitrocellulose varnish finish
Support with grid: Metal; Epoxy finish for wall mounting
Color Options: Oak and Black
Let's face it. You weren't expecting an option like this. It's a bold choice. This desk manages to optimize the study space, including two small shelves and a metal frame. Not only do you save lots of space, but you also have a product with elegance. 
You can place papers with important notes in the metal structure or decorate it to your liking — an exciting solution for the study area. If you prefer a more straightforward design, the brand has a product similar to this one but without a metal structure.
Ingenious design
Decoration wall
It has to be fixed to the wall
Price: EUR 299,00 / USD 420,00
Size: Height: 75cm / 29,53in; Width: 90cm / 35,43in; Depth: 53cm / 20,87in
Materials: MDF laminated with FSC walnut; Finished with nitrocellulose varnish
Colors: Walnut
This Scandinavian-style  study table is discreet and perfect for your study sessions. It also offers additional space for the organization through a drawer. You could also use it as a gaming desk if you have a desktop computer. By choosing this product, you are also making an ecologic choice as the wood used in its making comes from forests. It shows caring from an environmental, social, and economic point of view.
Clean design
Responsible choice
Price: EUR 129,95 / USD 133,00
Size: Height: 80,5cm / 31,69in; Width: 123,5cm / 48,62in; Depth: 53cm / 20,87in
Materials: MDF – Pine Wood
Color Options: Mint Green; Lily Rose; Natural Wood; Black and Natural Wood; Broken White – Natural Wood
This industrial-style desk comes in the form of an easel that allows you to choose from several color options so that it can fit into any environment. It has a simple and modern design that will give a different touch to the space. It has a good area for study.
Several colors available
Lack of space for organization
Price: EUR 249,95 / USD 254,41
Size: Height: 170cm / 66,93in; Width: 70cm / 27,56in; Depth: 48cm / 18,9in
Materials: Oak Wood
Color Options: Brown Oak
This is a very versatile product that is not only a desk but also a bookcase. It can be placed in the living room, bedroom, or office. This product combines two shelves with a desk at the bottom. Great for small spaces as it allows you to connect your study space with the extra organization. It's a product that screams functionality.
Price: EUR 259,00 / USD 263,62
Size: Height: 76cm / 29,92in; Width: 120cm / 47,24in; Depth: 60cm / 23,62in
Materials: Fir wood and metal
Colors: White 
This desk is a modern industrial product that results from a combination of wood and metal. It has an extensive work surface not only for studying but also for placing decorative objects. It has two drawers that allow you to store many things, and this feature makes it very practical. This product is made using certified wood from sustainably managed forests.
Takes up a lot of space
Price: EUR 159,00 / USD 161,83
Size: Height: 67cm / 26,38in; Width: 60cm / 23,62in; Depth: 40,5cm / 15,94in
Materials: Wood
Color Options: White and Oak 
You've probably never seen anything as practical as this folding desk. Despite being so small, it still has small compartments for some storage. It can be placed in various spaces in your home, and the best thing is that it will never lose freedom. Extreme functionality and elegance are the adjectives that best describe this office.
Extra functional
Innovative design
Final Remarks
We hope this article helps you select the best desk for your needs. I f you want to see more of what we do or want our shopping assistance, please feel free to contact us ! Finally, please l eave a comment and follow us on Pinterest!
1 thought on "10 Best Study Tables For 2023"
Personally I love simple wood tables like the Kailo by Sklum but you make up some great arguments for the function/space. Anyway great work summing up different options!
Leave a Comment Cancel Reply
Your email address will not be published. Required fields are marked *
Save my name, email, and website in this browser for the next time I comment.
Table of Contents
Related posts.
The Luminous Touch Discovering the Beauty of High Gloss Kitchen Cabinets
Let the sparkle of high gloss kitchen cabinets guide you towards a world where aesthetics and practicality unite in perfect harmony.
Antique White Kitchen Cabinets: Timeless Elegance and Vintage Charm
Let us inspire you, guide you, and unleash your creativity in the realm of antique white kitchen cabinets. Embark on this captivating adventure.
Embracing the Rustic Charm: Hickory Kitchen Cabinets for the Modern Homemaker
Famed for its remarkable durability and distinctive character, hickory is the secret superstar of contemporary kitchen aesthetics.
Diving Into the Depths: The Unexpected Versatility and Rich Warmth of Dark Brown Kitchen Cabinets
You'll learn to embrace the bold and harness the subtle. Let's get to it and discover the best dark brown kitchen cabinets!
Praça do Cel. Pacheco 2, 4050-453 Porto
Design Styles
Privacy Policy

Study Table Guide: Ideal, Practical & Convenient Concepts
Study Table | Wall-Mounted | Two Study Table | Computer | Summing-Up | Faqs
When it comes to studying, everyone has their own unique needs. That's why there are so many different study table designs out there.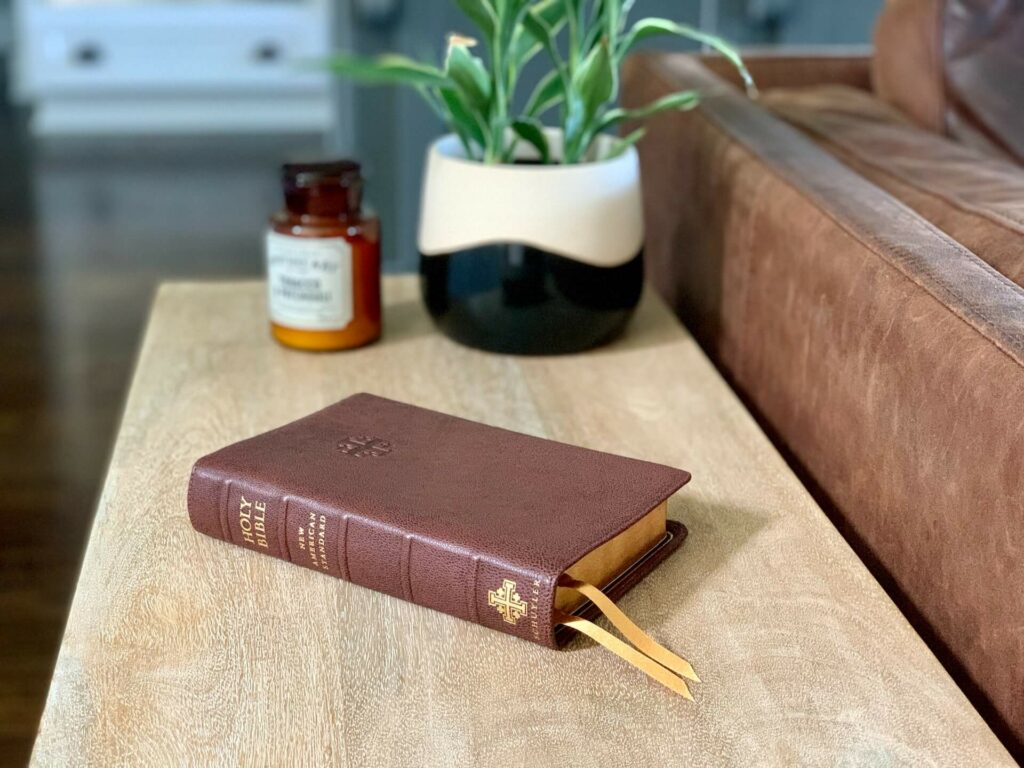 Choosing the right study table can make studying a breeze. In this article, we'll explore different types of study tables and which one is perfect for you.
We'll also discuss the factors that must be considered when choosing a study table, like your seating needs, table size, and surface type.
So whether you're looking for a traditional desk chair or a more comfortable couch, we've got the perfect guide!
How to Choose a Bedroom Study Table?
Choosing the right study table design for your bedroom can be daunting. Depending on the room's layout and furniture, you may need a small or large table. Here are some tips to help you choose the perfect table for your needs:
1. Consider the purpose of the table. A taller table with more storage space is ideal if it primarily serves as a desk for working. If the table will be used as a bedside table to hold books, lamps, and other objects, a shorter table with fewer storage spaces is better.
2. Consider your bedroom's style. A classic contemporary bedroom might prefer a sleek modern design like those in high-end hotels or boutiques. A traditional Victorian bedroom might prefer an antique look with more ornate tables and chairs. The style of your bedroom is just one factor to consider; other factors include the size of your bed and any other furniture in the room.
3. Decide how much space you have available in your bedroom. Tables that are too small will not be able to accommodate all of your belongings, while tables that are too large will take up too much space in the room. It is essential to find a table that
1. A Study Table with Bookshelves
An attractive home furnishing option is a desk that doubles as a bookcase. This kind of table is versatile enough to serve as a desk, a dining table , or a relaxing place.
A bookshelf-style study table is space-efficient, flexible, and simple to assemble. Many different styles of bookcases are available, so you can choose one that works with your decor.
Consider one of the companies below if you want to buy a study table with a bookshelf design that is both fashionable and practical. Tables from these manufacturers are both stylish and functional.
2. Student vs. adult study tables
A good study table should be comfortable and have plenty of storage space for students. It should also be easy to move around so you can adjust it to your needs.
For adults, a study table should be more functional. It should be sturdy enough to support your weight and have a wide enough surface so that you can work without pain. It should also have storage space to keep your materials organised.
3. Tips for choosing the right study table
A study table is an essential part of any student's home. It allows them to do their homework, study for classes, and more. However, choosing the right study table can be difficult.
Here are some tips for finding the perfect study table for your needs:
First, consider your needs. Do you want a small or large table? Do you want a stationary or portable table?
Second, consider your lifestyle. Are you a light sleeper? Do you have children who might be able to damage the furniture? If so, you might need to choose a more durable table.
Third, consider your budget. How much money are you willing to spend? Do you want unique features (like a space for your laptop)?
Finally, think about how you will use the table. Will you mainly use it in your bedroom or office? If so, what kind of design will work best in each environment?
4. An Every-Room Corner Study Table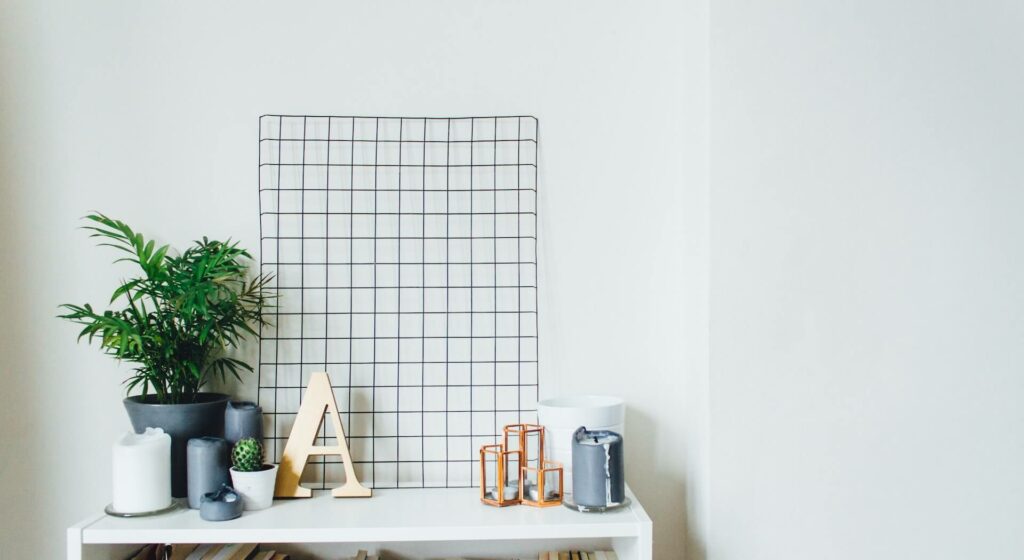 Corner study tables are perfect for use in any room of your house. They're versatile and can be used for a variety of purposes. There are a few things to consider when designing a corner study table.
First, you'll want to decide what surface you'll use it on. A corner study table is a perfect solution if you have a desk too small for a regular table.
You can also use a corner study table as an extra seat in your living room or bedroom. It's also great for holding plants or magazines. Just make sure that the table is large enough to accommodate your needs.
Another thing to consider when designing a corner study table is the layout of your furniture. You don't want everything in the same row or column. Otherwise, accessing whatever you're trying to find will be challenging. Instead, spread out your furniture, so it's easier to get to.
Finally, keep in mind the size and shape of your space when designing your corner study table. You don't want it to take up too much space or be too bulky. Find the perfect design that fits your needs and makes your home more comfortable and convenient.
5. Wardrobes with study tables
Having a study table that is convenient and comfortable is essential for students who are trying to get the most out of their education. The table should be big enough for everyone to sit at it and have plenty of storage so students can store their textbooks and other materials.
There are a variety of study table designs that you can choose from. Some tables have built-in wardrobes, while others simply have a flat surface that can be used as a desk. Whatever design you choose, make sure it is comfortable and convenient.
6. L-shaped study table
If you're looking for a comfortable and convenient study spot, you'll want to consider using an L-shape study table. An L-shaped study table is an excellent option because it allows you to sit in two different positions. This makes it easier for you to get the most out of your studying sessions.
You can also use an L-shape study table to work on your laptop or desktop. This type of table is great because it has plenty of space to store your belongings and equipment. Plus, the design ensures you won't have trouble seeing what you're working on.
If you're looking for a stylish and practical study table, don't hesitate to consider an L-shape study table design.
How to choose a small wall-mounted folding study table?
When choosing a wall-mounted folding study table for your small space, there are a few things to consider.
First and foremost, the size of the table.
Secondly, the type of table you wish to purchase.
Thirdly, the accessories that will go with your table.
Fourthly, whether or not you want a stationary or movable study table.
Finally, where do you plan on placing your table in your room?
First and foremost, the size of the table is essential. A table will take up too much space, while a table will not be able to hold all of your supplies comfortably. When choosing a tabletop size, think about how many textbooks or notebooks you plan on using at once.
Additionally, if you have other electronic devices or objects that need surface area (such as a laptop), be sure to factor this in. The tabletop should be big enough to fit everything without having to stack any books or papers on top of each other.
Two-Study-Table Designs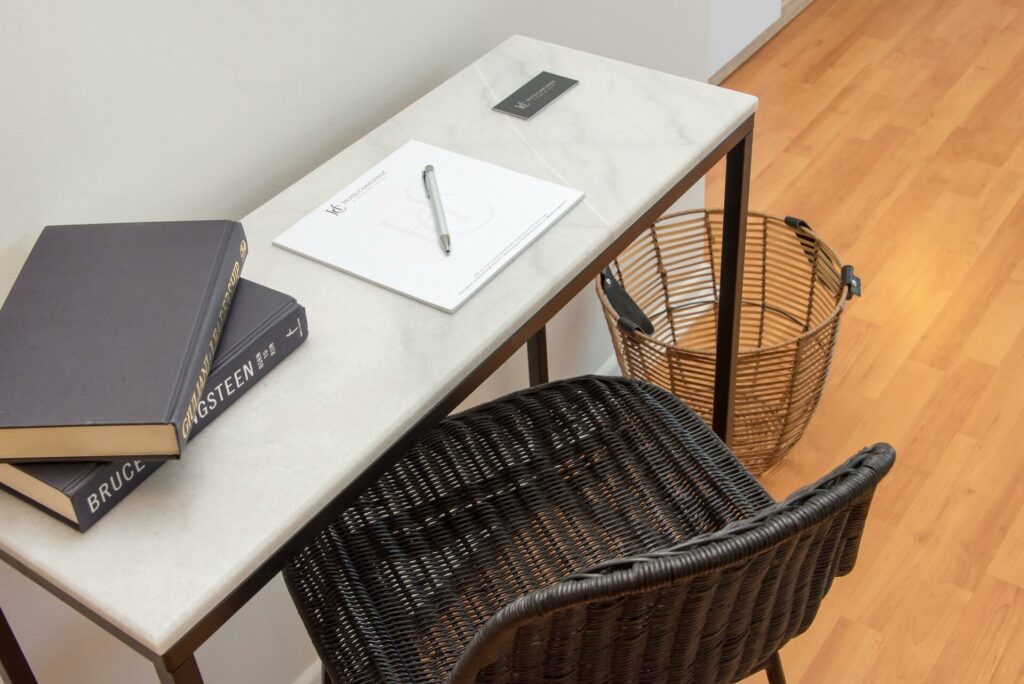 Suppose you are looking for a study table that is both comfortable and convenient. In that case, you will want to consider some of the innovative designs available today.
One of the best study table designs is the double student table. This table is designed for use by two students simultaneously. It features two separate tables that are easily movable so that they can be placed anywhere in your room.
Another excellent option for a study table is the corner student table. This table is perfect for use in tight spaces or areas limited in size. It features a small footprint, so it can be easily stored when not in use.
If you want something that is both versatile and stylish, you should consider one of the modular study tables on the market. These tables are designed to fit into any space efficiently and can be customised to match your needs.
Whatever study table design you choose, make sure to take into account your convenience and comfort when making your decision. There is no better way to increase your productivity than by having a comfortable and convenient study area at your disposal.
Computer Study-tables
Many different study tables are available on the market, and finding the perfect one for your needs can be challenging. Whether you need a small table for sitting in front of your laptop or a larger table for spreadsheets and papers, here are some of the best study table designs for your convenience.
Small Study Table with Laptop Stand
This small study table has a laptop stand built in, so you can easily keep your laptop close at hand while you work. The table is also lightweight and easy to move so that you can set it up anywhere in your room.
Large Study Table with Storage
This design is perfect if you need a large table to spread your materials. The table has storage space underneath, so you can easily organise your materials. Plus, the table is large enough to accommodate most laptops and tablets.
Multi-Purpose Desk with Study Table
This desk has a study table built right into it so you can use it as a desk or a workspace. The table is also comfortable to sit on, so you can stay productive all day long.
Why Should You Invest in a Study Table?
A study table is one of the essential tools you can use when studying for exams. A study table makes it easier to stay organised and focused and can also help you get more out of your studying sessions. So, if you're looking for the ideal study table design for your convenience, read on!
Learning is something that should be fun, not a chore. That's why we've compiled a list of the best study table designs for your convenience. Whether studying in your dorm room, at home, or in class, these tables will make it easy and comfortable to focus on.
From low-profile tables that blend seamlessly into your room's décor to sleek, elevated designs that make you feel like a genius while you learn, we've got you covered. So scroll up and start learning!
1. What to decide while choosing a study table?
Study tables have come a long way in recent years. They now come in a variety of shapes and sizes, so it can be hard to decide which one is best for you.
The first thing to consider is what you will use the study table for. Will it be used primarily for studying? Or will it be used as a work desk as well? If it's going to be used primarily for studying, you may want to choose a study table with a flat surface with no drawers or shelves. This will make it easier to focus on your studies.
If you plan on using the study table as a work desk, you may choose a study table with drawers or shelves. This will give you plenty of storage space for your materials and make it easier to find what you're looking for.
Another thing to consider is how comfortable the table is. You don't want to sit at an uncomfortable desk all day long. Make sure to test out the different types of tables before making your purchase.
Whatever study table design you choose, make sure to make it convenient for you!
2. How Do You Design a Small Desk?
A study table is an essential part of any student's home office. It can be used for studying, working on homework, or simply enjoying a relaxing cup of tea or coffee.
Depending on your preferences, there are many different ways to decorate a study table. You can choose to feature beautiful natural materials, traditional furniture pieces, or even modern designs.
One of the most important things to consider when decorating a study table is its size. Make sure the table is big enough to work comfortably without stretching your arms. Also, ensure that the table is high enough, so you don't have to stoop over it.
Finally, don't forget to add some decorative elements to your study table. This will help to make it more functional and comfortable. Some examples of decorative elements include bookshelves, lamps, and plants.
3. How high should a study table be?
To make studying as comfortable as possible, you'll want to find an ideal study table with the right height.
A study table that is too high will make it difficult to work at your desk, while a table that is too low will make it challenging to keep your posture correct.
To find the right height for your table, measure the height of your tallest chair and add an inch or two to that measurement. This will give you a starting point for finding the right height for your study table.
If you are using a laptop on your study table, adjust the laptop stand to be at the same height as your sitting position. This will help keep your back healthy and properly aligned while studying.

The Magazine
Design Services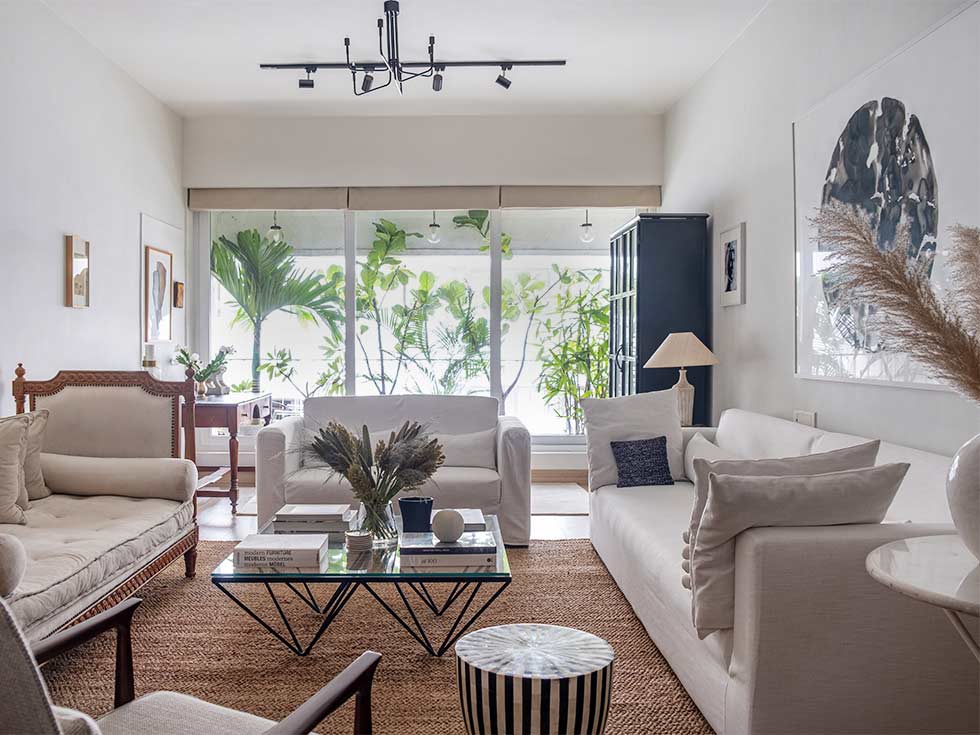 Book Free Site Visit
Home Décor Advice
Journey through real Indian homes to find unique and modern home décor ideas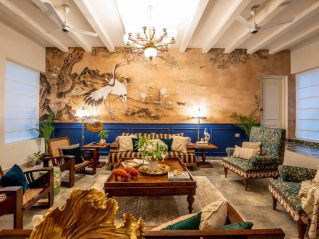 This home in Goa is a technicolour dream come true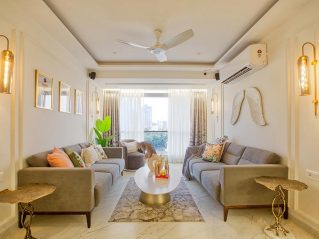 A sea-view home in Mumbai inspired by its context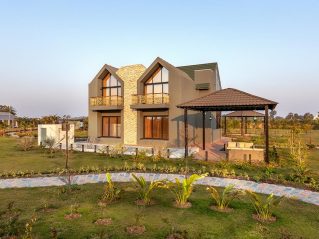 This farmhouse in Gurugram is a manifestation of resort living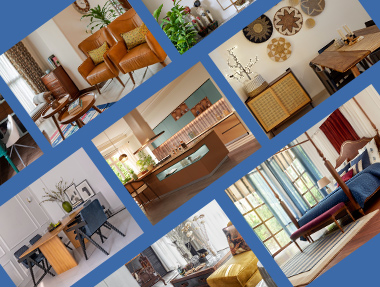 Create your own beautiful home
Home décor tips, tricks, ideas and advice from experts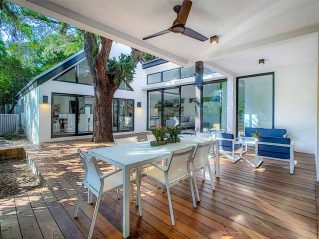 Protect and beautify your home with the best exterior paints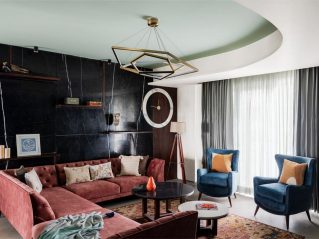 Marble wall designs for your space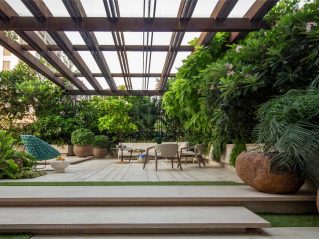 It's outdoor season and we need to talk about landscape design
The inspiration you need to elevate your day-to-day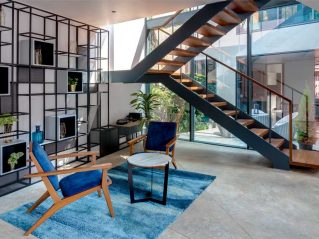 Celestially inspired, environmentally grounded in Goa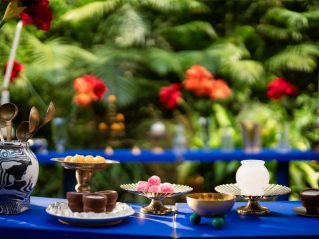 Eeshaan Kashyap sets the stage for a vibrant celebration in his garden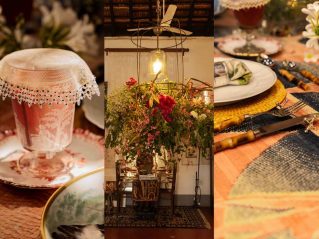 Style a garden on your table this festive season
Find inspiration for every room in your home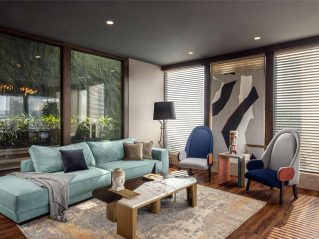 Exploring the differences between a drawing room and a living room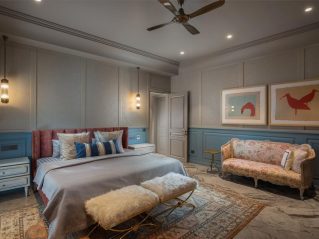 Small bedroom ceiling design ideas for a stylish sanctuary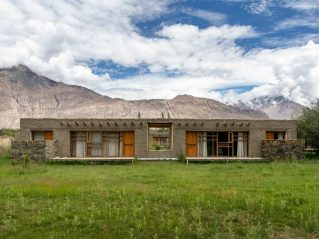 Sandeep Bogadhi, on building a life and practice in Ladakh
Design Ideas Living Room Designs Modular Kitchen Designs Bedroom Designs Bathroom Designs Dining Room Designs Pooja Room Designs Study Room Designs Balcony Designs Wardrobe Designs False Ceiling Designs Home Office Designs Crockery Unit Designs Bed Designs Tile Designs Flooring Designs Foyer Designs TV Unit Designs
Offerings Full Home Interiors Furniture & Decor Modular Kitchen
Testimonials
By City Mumbai Pune Ahmedabad Chennai Delhi Bangalore Kolkata Hyderabad Jaipur Thane Navi Mumbai Noida Nagpur Vadodara/Baroda Gurgaon Indore Coimbatore Bhubaneswar Lucknow
Furnishings
Living Room
Dining Room
Interior Design
Shop Online
Help Center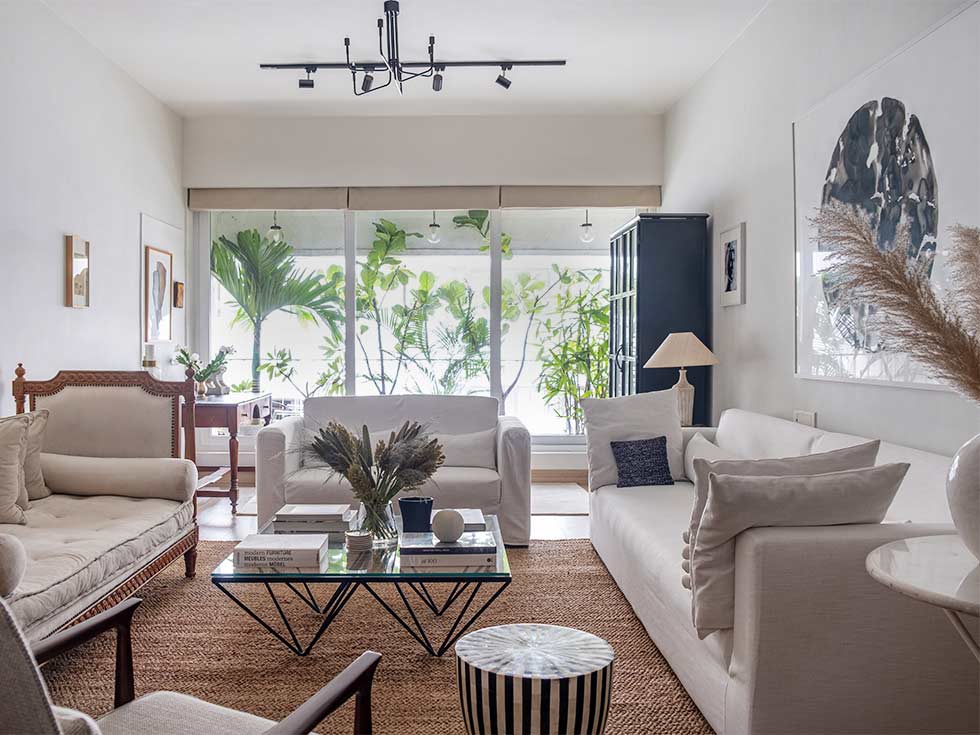 Need help designing your dream home?
Living Room Designs
Modular Kitchen Designs
Bedroom Designs
Bathroom Designs
Dining Room Designs
Pooja Room Designs
Study Room Designs
Balcony Designs
Wardrobe Designs
False Ceiling Designs
Home Office Designs
Crockery Unit Designs
Bed Designs
Tile Designs
Flooring Designs
Foyer Designs
TV Unit Designs
Full Home Interiors
Furniture & Decor
Modular kitchen
Navi Mumbai
Vadodara/Baroda
Bhubaneswar
Looking for expert guidance to design your
Leave your information and we will call you to book your preferred consultation slot
Interior Design Guides & How To's
Buying Guide - How To Choose The Right Study Table
Buying guide - how to choose the right study table
A study table is a great addition to ease out studying  or   working at home or at an office workspace. Here is a guide to help you make that choice for your space
The necessity for a study table for the bedroom ensures thorough privacy and ease for a  student/professional and helps keep the work organized.
Here are some essential guidelines that can help you make the final choice on how to choose the best quality study table.  From the best space-saving study table for   work from home  to the most productive simple study table for office work to a multi-purpose study table with cabinet and bedroom wall mounted study tables - let's dig all of it.
Things to Keep in Mind While Buying a Study Table  
1. evaluate the study table size:.
Size is one of the most crucial factors to contemplate while selecting a study table for academic/work purposes. Use a study table with the right size that is enough to accommodate your study material or laptop.  It is recommended that you have an estimate of the size necessities before you choose to buy one. The height, breadth and length should be in harmony with the space that is available in the room. If your room is not a spacious one, then you may opt for a linear table to save space and fit the aesthetic appeal. Bigger rooms can easily accommodate an L-shaped or U-shaped study table and  chair .
2. Consider the Storage Options of the Study Table:
Your study table should be professional enough to help you minimize the wastage of time and energy. A study table with storage facilities assures that you can easily access your everyday basic things without much effort. While most tables come with a fundamental drawer, opt for study tables with drawers open to keep your books and entrenched drawers to keep extra exercise books and other stationery items.
3. Remember the Room Décor and Aesthetic:
Why buy those monotonous and simple study table with wooden finish when you can opt for study tables with amazing designs? Well designed spaces encourage creativity, keep students focused & attentive and lead to peace. Modern study tables are designed to fit the present-day urban chic  interior décor . Pick a study table that has a suitable sort of design or pattern to correspond to your room interior. Few tables come with cabinets and cork boards for a contemporary look.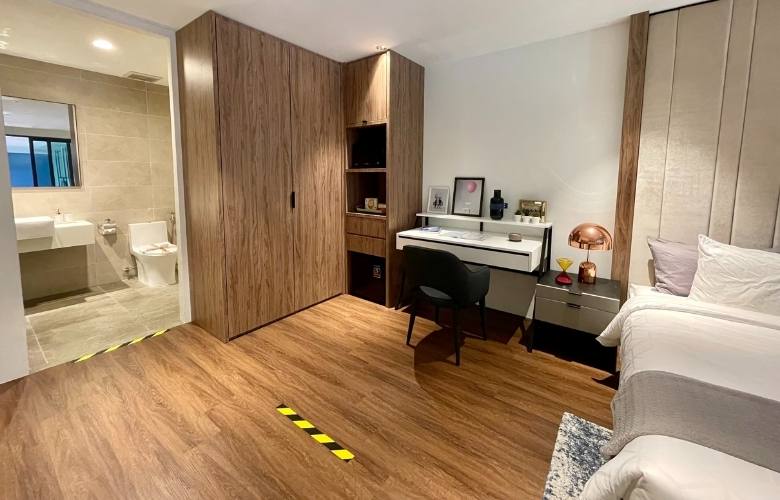 4. Pick Good Quality Material for your Study Table:
The material of any furniture signifies the longevity of that piece.Similarly, the material of a study table should be of rich quality to guarantee long-term use. Think buying a tad bit expensive material as an investment to be utilised by generations to come. While wood is one of the most widely used materials, you can consider wrought iron and semi wooden tables as well.
5. Consider the Study Table Ergonomics:
It is basic to evaluate your requirements before buying the  study table, particularly if the user will be a kid. The most beneficial approach to getting a comfortable table is to make the user sit at the table and confirm the table height.
6. The Right Chair:
Once you are done with all the elements that your study table needs to help you enhance your focus, all you need is an excellent chair to match it. Find a chair that has the competent height to match your study table.
What are the Different Types of Study Tables?
A huge variety of study table designs are available that suit any room décor or serve any specific purpose. The study table design ideas range from contemporary to minimalist to utility-rich. After considering and analysing all the factors for which you need a study table, you can select one from the vast range of study table designs.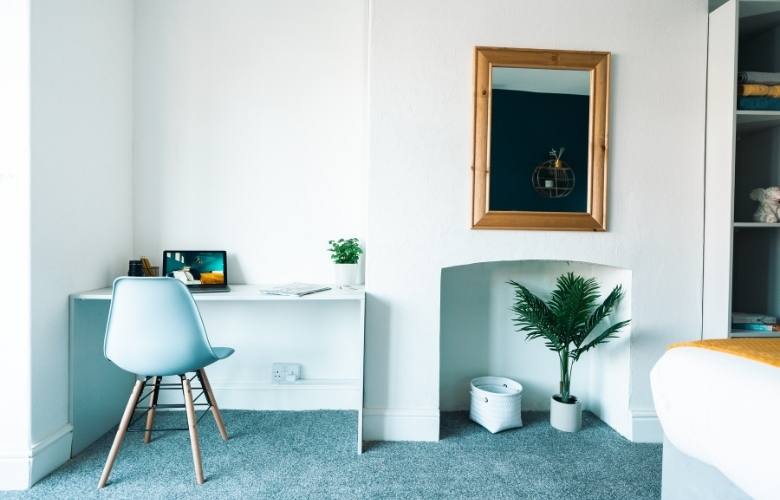 1. A Corner Table
When you have space limitations for the installation of a study table, a corner study table is a suitable solution. In such a compact arrangement, a corner table satiates your need for a piece of  furniture . With minimal composition, it comes with drawers for additional storage space. Another advantage of a corner study table is that the walls provide added utility area.
2. A Writing Table
A writing table has a minimal design with little storage space. It serves flawlessly against a wall and suits better with a laptop than with a desktop. With its conventional and relaxed style, it works perfectly in any space, at home or work. The simple design of this study table reflects a refined vibe with a sleek look that highlights the décor of your room. Apart from its simplistic traditional study table design, writing tables are also available in stylish and trendy designs.
3. A Standing Table
A standing table is an answer to the health discussion that arises due to being set to one sitting position. It has a smart look with flexible utility. This study table design comes in three main varieties:
An accessory to mount on your regular table for you to work standing up.
A complete desk which can be modified as per your height necessity.
A stand-up desk at a raised position.
4. A Wall-Mounted Table
A wall-mounted table is one of the most refined and contemporary study table design concepts that serve a significant objective of décor without occupying any floor area. This free table can be mounted on the wall of any room. The shelves area provide the right amount of space you need in a small area.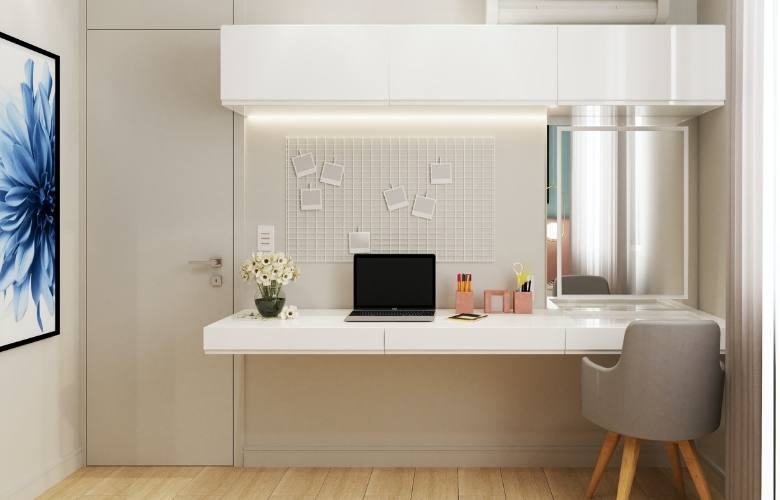 5. An Executive Study Table
An executive desk has a sturdy design with numerous functionalities. Its immensity comes with a smart and utility-rich structure that reflects a rich look that stands strong and stable in your room. This one comes with loads of storage drawers, a massive footprint, and gracefully carved designs. On top of these characteristics, it has a spacious surface area that gives you plenty of options for utilisation. All in all, an executive table imparts a great sense of brilliance and a timeless charm.
Why a Good Work or Study Table is a Must-Have
Study tables or work tables are not a luxury. They are essential in the present situation where either we are forced to stay home due to the pandemic or the world is shifting to remote work as a new normal. Here's why you must invest in a good study table: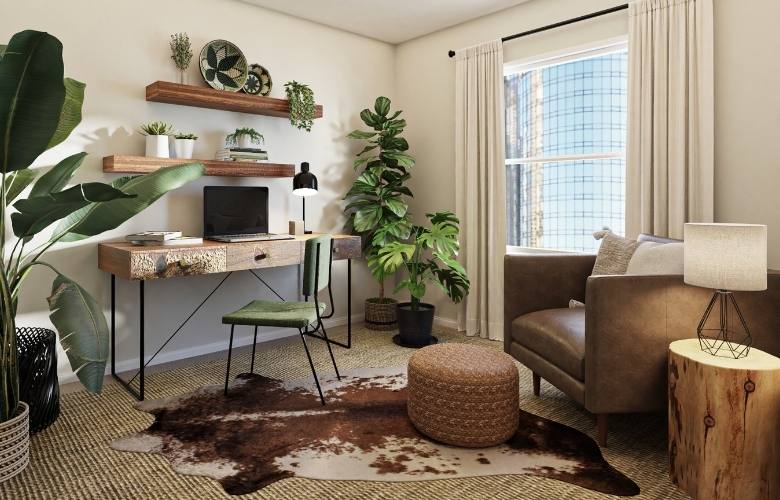 A good study table or work desk can help enhance productivity
It assures a good posture and fewer back pains or other health problems
It permits you to work and study with efficiency
Provides a formal vibe and improves your work from home/online study experience
With the help of Asian Paints Beautiful Homes, you can find your perfect study table. Here's how we can help you design/buy a perfect study table for your space:
With our vision and planning, you can design a budget-friendly small study table instead of big study table that is not only aesthetically pleasing but also successful for a small space.
Technique and precision are essential to us. We ensure that the design of the study table and chair is tailored to be practical and comprehensive for maximum utility.
Our tables come with ample customization opportunities, and you can make every nook and cranny serve a purpose.
We have a huge range of options to fulfill your dreams. From a study table with drawers  to a luxurious big study table, we can do it all for you.
We do not compromise on quality and craft best pieces despite having the most competitive low-cost smart study tables in the market.
We do not finalize the design until we have your sign-off.
Our current stores are spread across Amritsar, Tumakuru, Raipur, Jaipur, New Delhi, Kochi, Karur, Coimbatore, Bengaluru and Nashik. In addition, we are in the process of opening up state-of-the-art stores across several cities.

Ready to start
Speak to our design professionals
Leave your information here and receive a consultation with our interior design experts.
Similar Articles
Ready to start your journey to a beautiful home.
All Tiles / Kitchen Tiles (1951)
How to Clean Kitchen Floor Tiles
20 Dreamy Kitchen Design Ideas
2×2 Tiles
2×4 Tiles
4×4 Tiles
1×1 Tiles
4×8 Tiles
300×600 mm Tiles
395×395 mm Tiles
300×450 mm Tiles
200×1200 mm Tiles
800×800 mm Tiles
800×1200 mm Tiles
800×1600 mm Tiles
145×600 mm Tiles
195×1200 mm Tiles
295×295 mm Tiles
200×300 mm Tiles
250×375 mm Tiles
400×400 mm Tiles
148×600 mm Tiles
1000×1000 mm Tiles
Bathroom Tiles
Kitchen Tiles
Parking Tiles
Elevation Tiles
Bedroom Tiles
Outdoor Tiles
Terrace Tiles
Living Room Tiles
Balcony Tiles
Swimming Pool Tiles
Porch Tiles
Office Tiles
Pathway Tiles
Dining Room Tiles
Commercial Tiles
Restaurant Tiles
Hospital Tiles
Accent Tiles
Automotive Tiles
School Tiles
High Traffic Tiles
Stairs Tiles
Wooden Tiles
Marble Tiles
Texture Tiles
Mosaic Tiles
Granite Tiles
Stone Tiles
Pattern Tiles
Cement Tiles
Flower Tiles
Travertine Tiles
Slate Tiles
Statuario Tiles
Plain Tiles
Metallic Tiles
Bottochino Tiles
Book Match Tiles
Geometric Tiles
Carrara Tiles
Abstract Tiles
Monochrome Tiles
Stylized Tiles
Brick Tiles
Hexagonal Tiles
Limestone Tiles
Vitrified Tiles
Ceramic Tiles
Porcelain Tiles
Designer Tiles
Anti Skid Tiles
Digital Tiles
Double Charge Tiles
Highlighter Tiles
Full Body Vitrified Tiles
Polished Vitrified Tiles
Germ Free Tiles
Forever Tiles
Digital Glazed Vitrified Tiles
Stain Resistant Tiles
Printed Double Charge Tiles
Non Digital Tiles
Kerinox Tiles
Anti Static Tiles
Matte Finish Tiles
Glossy Tiles
Sugar Finish Tiles
Satin Finish Tiles
Super Glossy Tiles
Reactive Tiles
Lapato Finish Tiles
Sparkle Tiles Collection
Estilo Tiles Collection
FT Autumn 2020 Tiles Collection
Zenith Tiles Collection
Sahara Tiles Collection
Rhino Tiles Collection
Duazzle Tiles Collection
Inspire Tiles Collection
HD-P Elevation Tiles Collection
Inspire Planks Tiles Collection
Bathroom floor tiles
Living Room floor tiles
Kitchen floor tiles
Bedroom floor tiles
Porch/Parking Floor Tiles
Dining Room Floor Tiles
Outdoor/Terrace Floor Tiles
1200X2400 mm Floor Tiles
1200X1200 mm Floor Tiles
800X1600 mm Floor Tiles
800X800 mm Floor Tiles
600X1200 mm Floor Tiles
600×600 mm Floor Tiles
300 X 600 mm Floor Tiles
Plank Floor Tiles
Double Charge Vitrified Floor Tiles
Anti Skid Floor Tiles
Vitrified Floor Tiles
Full Body Vitrified Floor Tiles
Ceramic Floor Tiles
Forever Floor Tiles (Scratch Resistant)
Polished Glazed Vitrified Floor Tiles
Wooden Floor Tiles
Marble Floor Tiles
Abstract Floor Tiles
Brick Floor Tiles
Cement Floor Tiles
Stone Floor Tiles
Granite Floor Tiles
Book Match Floor Tiles

PGVT Calacatta Natura
600×1200 mm

GFT BDF Rustic Arc Jaiselmer
600×600 mm

DGVT Hardstone Brown
195×1200 mm
Multi-colour
Bathroom Wall tiles
Living Room Wall tiles
Kitchen Wall tiles
Bedroom Wall tiles
Exterior/Outdoor Wall Tiles
600X1200 mm Wall Tiles
600×600 mm Wall Tiles
300X600 mm Wall Tiles
1200X2400 mm Wall Tiles
1200X1200 mm Wall Tiles
800X800 mm Wall Tiles
300X450 mm Wall Tiles
Plank Wall Tiles
Designer Wall Tiles
Ceramic Wall Tiles
Vitrified Wall Tiles
Glazed Vitrified Wall Tiles
Highlighter Wall Tiles
Digital Wall Tiles
Polished Vitrified Wall Tiles
Porcelain Wall Tiles
Wooden Wall Tiles
Marble Wall Tiles
3D Wall Tiles
Mosaic Wall Tiles
Floral Wall Tiles
Brick Wall Tiles
Plain Wall Tiles
Geometric Wall Tiles

ODH Amelia Decor HL
300×600 mm

EHM Slump Block Cotto

ODH Bottichino Beige HL
300×450 mm
Bathroom wall Tiles
Bathroom Floor Tiles
Anti-skid Tiles
300X600 mm Bathroom Tiles
300X300 mm Bathroom Tiles
600X600 mm Bathroom Tiles
300X450 mm Bathroom Tiles
600X1200 mm Bathroom Tiles
200X300 mm Bathroom Tiles
250X375 mm Bathroom Tiles
Planks Bathroom Tiles
Anti Skid Bathroom Tiles
Ceramic Bathroom Tiles
Vitrified Bathroom Tiles
Highlighter Bathroom Tiles
Designer Bathroom Tiles
Light Bathroom Tiles
Glazed Vitrified Bathroom Tiles
3D Bathroom Tiles
Wooden Bathroom Tiles
Mosaic Bathroom Tiles
Geometric Bathroom Tiles
Floral Bathroom Tiles
Plain Bathroom Tiles
Texture Bathroom Tiles
Marble Bathroom Tiles

ODH Jagna HL

GFT SPH Sawtooth Blue HL

ODH Piano Floral HL
Kitchen Floor Tiles
Kitchen wall Tiles
Anti-skid Kitchen Tiles
300X600 mm Kitchen Tiles
600X600 mm Kitchen Tiles
300X450 mm Kitchen Tiles
300X300 mm Kitchen Tiles
600X1200 mm Kitchen Tiles
200X300 mm Kitchen Tiles
395X395 mm Kitchen Tiles
Plank Kitchen Tiles
Ceramic Kitchen Tiles
Highlighter Kitchen Tiles
Vitrified Kitchen Tiles
Designer Kitchen Tiles
Light Kitchen Tiles
Dark Kitchen Tiles
Glazed Vitrified Kitchen Tiles
Polished Vitrified Kitchen Tiles
Floral Kitchen Tiles
Mosaic Kitchen Tiles
Geometric Kitchen Tiles
3D Kitchen Tiles
Stylized Kitchen Tiles
Wooden Kitchen Tiles
Plain Kitchen Tiles
Texture Kitchen Tiles

ODH Diamond Cross HL

GFT SPH Geometric Grey HL

ODH Trapezoid Blue HL
Bed Room Tiles
Bedroom Floor Tiles
Bedroom Wall Tiles
Living Room Floor Tiles
Living Room Wall Tiles
Accent Wall Living Room Tiles
600×1200 mm Living Room Tiles
600×600 mm Living Room Tiles
1200×2400 mm Living Room Tiles
800×1600 mm Living Room Tiles
800×1200 mm Living Room Tiles
800X800 mm Living Room Tiles
1200×1200 mm Living Room Tiles
300×600 mm Living Room Tiles
Planks Living Room Tiles
Glazed Vitrified Living RoomTiles
Vitrified Living RoomTiles
Ceramic Living RoomTiles
Polished Glazed Vitrified Living RoomTiles
Double Charge Living RoomTiles
Digital Glazed Vitrified Living RoomTiles
Designer Living RoomTiles
Digital Living RoomTiles
Marble Living Room Tiles
Wooden Living Room Tiles
Granite Living Room Tiles
Bookmatch Marble Living Room Tiles
Cement Living Room Tiles
Onyx Living Room Tiles
Plain Living Room Tiles
Mosaic Living Room Tiles
Texture Living Room Tiles

PGVT Brown Streak Binaco

DGVT Rio Wood

Living room Marble Tiles
Bedroom Marble Tiles
Bathroom Marble Tiles
Kitchen Marble Tiles
600×1200 mm Tiles
600X600 mm tiles
800×2400 mm tiles
800X800 mm Tiles
300X600 mm tiles
300X450 mm tiles
300×300 mm Tiles
Glossy Finish
Super Glossy Finish
Matte Finish
Satin Matte Finish
White Marble Tiles
Green Marble Tiles
Pink Marble Tiles
Grey Marble Tiles
Red Marble Tiles
Brown Marble Tiles
Beige Marble Tiles
Blue Marble Tiles
Black Marble Tiles
Wooden Plank Tiles
Bedroom Wooden Tiles
Wooden Elevation Tiles
Wood Bathroom Tiles
Wood Kitchen Tiles
Wooden Balcony Tiles
300×600 mm Wooden Tiles
600×600 mm Wooden Tiles
Small Wooden Tiles
300×300 mm Wooden Tiles
295×295 mm Wooden Tiles
Plank Wooden Tiles
145×600 mm Wooden Tiles
195×1200 mm Wooden Tiles
200×1200 mm Wooden Tiles
Ceramic Wooden Tiles
Vitrified Wooden Tiles
Glazed Vitrified Wooden Tiles
Double Glazed Vitrified Wooden Tiles
Polished Glazed Vitrified Wooden Tiles
Polished Vitrified Wooden Tiles
Full Body Vitrified Wooden Tiles
Designer Wooden Tiles

ODH Unisquare Leaf HL

GFT ODP Aster Wood Brown

ODH Leathra HL
Living Room Vitrified Tiles
Bathroom Vitrified Tiles
Parking Vitrified Tiles
Kitchen Vitrified Tiles
1200X2400 mm Vitrified Tiles
1200X1200 mm Vitrified Tiles
800X1600 mm Vitrified Tiles
800X800 mm Vitrified Tiles
600X1200 mm Vitrified Tiles
600×600 mm Vitrified Tiles
300 X 600 mm Vitrified Tiles
Anti-skid Vitrified Tiles
Glazed Vitrified Tiles
Polished Glazed Vitrified Tiles
Marble Vitrified Tiles
Wooden Vitrified Tiles
Plain Vitrified Tiles
Onyx Vitrified Tiles
Statutario Marble Vitrified Tiles
Stone Vitrified Tiles
Travertine Marble Vitrified Tiles
Bookmatch Marble Vitrified Tiles

Canto Almond

DGVT Poplar Beige
145×600 mm

Star Sandune
Matte Finish Ceramic Tiles
Glossy Finish Ceramic Tiles
Regular Ceramic Tiles
600×600 mm Ceramic Tiles
300×450 mm Ceramic Tiles
300×600 mm Ceramic Tiles
395×395 mm Ceramic Tiles
Small Ceramic Tiles
Bathroom Ceramic Tiles
Kitchen Ceramic Tiles
Living Room Ceramic Tiles
Bedroom Ceramic Tiles
Outdoor/Parking Ceramic Tiles
High-Traffic Ceramic Tiles
Commercial/Office Area Ceramic Tiles
Elevation Ceramic Tiles
Wooden Ceramic Tiles
Marble Ceramic Tiles
Plain Ceramic Tiles
Mosaic Ceramic Tiles
Cement Ceramic Tiles
Geometric Ceramic Tiles
Floral Ceramic Tiles
Web Stories
Company Profile
Core Values
Awards &; Accolades
Leadership Team
Board of Directors
Manufacturing Capabilities
Product Quality
Corporate Office
Signature Company Showrooms
Orientbell Exclusive Boutiques
Store Locator
Project @ Orientbell
Residential Project
Commercial Project
Government Project
Industrial Project
Builders Contractors
Our Capabilities
Disclosures under Regulation 46 of SEBI (LODR) Regulations
Other Statutory Disclosures
Investor Information
Get to know us
Current Openings
Press Release
Latest News
Inspire 3.0 Collection
Granalt Collection
Paris Double Charge Tiles Collection
Versalia Vitrified Tiles Collection
Inspire – 800×1600
Inspire Art Collection
Timeless 2.0
Duazzle Elevation
Marvel Collection
River Tiles Collection
FT Autumn 2.0
Inspire Steps
Inspire Select
Serenity Collection
Inspire – Dora
Sahara Double Body
Floor Tiles
14 Modern Study Table Design Ideas for a Perfect Study or Workspace
27 Mar 2023, Read Time : 9 Min
There are numerous ways a study table can be designed, but it is necessary to design it in such a way that it proves to be functional and also turns out to look quite pretty and stunning. A study table can be quite an important part of one's house as it allows you to study, read, and work efficiently. It also helps you be more productive. A study table or a work table has become one of the major necessities that a person needs to have in their homes now, thanks to the post-Covid work-from-home culture. 
Here are a few ways in which you can design some pretty, sturdy, and functional study tables in your house.
Study Table Designs: Things to Remember
There are a few things that you must keep in mind while choosing a study table for your study. Some of the major things have been explained below. 
Check Your Requirements:
One of the basic things that you need to remember about study table design is that you should be aware of what your requirements are. It is of no use to spend an exorbitant amount of money on features, sizes, colours and shapes that you will never use. The study table should have everything that you need, but should still be simple enough so that it looks elegant and good.
Check the Space:
A lot of modern study table designs nowadays try to focus on minimalism and try to keep things as simple as possible. This is a great aesthetic choice, however, you should always consider the space available while designing a study table. Study table designs for small rooms will differ a lot from study table designs for larger rooms. Choose a design according to the space so that you can use it to its fullest. 
Understand the Flooring:
Different floors and rooms require different furniture. Marble tiles and wooden tiles are generally the best choices for any study room as they are not only sturdy and durable, but they also look chic and suit the 'professional' vibe of a study room or study area. You can also use other tiles such as mosaic and ceramic for a different and unique look. 
Storage is Necessary:
Make Most of the Variety of Materials: 
Wooden Study Tables:
Wooden study tables are iconic. Wood is one of the most used materials for designer study tables as well as simple study table designs. They look classy, are quite durable, and can work with almost any decor and colour scheme. 
Glass Study Tables:
Marble-top Study Table:
Metal study desks: 
Various Types of Study Tables and Designs
Many different types and styles of study table designs are available in the market. The design is not only dependent on the material and colour of the table, but also the shape, utility, functions, features, and much more. 
Here are a few types of study table designs that are commonly found in the market.
Study Table With Built-in Bookshelf Design: 
Study/Computer Table:
As mentioned earlier, most work nowadays happens with the help of computers. If you use a desktop system you need enough space to store all the accessories such as CPU, monitor, printer, etc., and also need good and accessible space for input devices such as mice and keyboards. A computer table can provide you with a seamless experience in dealing with computers and can help you increase your productivity.
Wall-Mounted Study Table Design:
If you are low on space and want to set up your study in a smaller room, then a wall-mounted study table design is perfect for you. There are many wall-mounted study table designs to choose from. These are sleek, stylish, and highly functional. They can be folded to save space and use it judiciously. Wall-mounted study tables can be suitable as study table designs for adults as well as children study table designs. 
Writing Desk:  
Corner Desk Design: 
Executive Desk: 
Modern Study Table Designs: 
Credenza desks and Tables: 
Credenza tables are perfect for people who have got a lot of things and would like to store them away at their work desks. These are generally made of wood, but can be made of other materials as well. They are shaped like cabinets and are normally used in kitchens and dining rooms, but this does not mean that you cannot use them in your study! Credenza-like tables are the best study table with storage designs especially if you want to use your space creatively. 
Simple Wooden Study Desk:
Nothing can beat the class and simplicity of a simple wooden study desk. The wooden study table design is a classic design that suits almost all interiors. These are sturdy, look good, and are functional, making them an asset for your study.
Storage Shelves Study Desk:
Study tables with storage designs are all rage currently. These desks have ample space for you to store your books and other equipment when you don't need them, enabling you to keep your desktop clutter-free.
L Shape Study Table Design:
L-shaped study tables are functional and provide a lot of space for you to work on. They also fit perfectly in a corner and look amazing next to windows.
Study Table with Wardrobes:
A wardrobe with a study table design is perfect for smaller rooms where you need to use every inch of space with care. These desks combine the functionality of a wardrobe with a table, making them ideal for homes where function is always preferred over aesthetics.
Folding Desk Design: 
Designer study tables such as folding desks are suitable for people who want to use their space in the best way possible. You can fold these desks and then store them away when you don't need them so that you can use the area for other work.
Creating a Study Table Space
People can get distracted often while working or studying especially if the atmosphere and the table are not conducive to studying. It is, therefore, necessary to set up a proper and dedicated study space for yourself so that you will stay focused on your work. Here are a few tips that you can use to create a study table space for yourself in your house.
Create a Space Without Distractions: Choose a space where you won't be distracted from time to time and can focus freely on your work.
Find a good desk and chair: It is necessary to find a comfortable chair and desk that matches your style and the decor of your house.
Adequate lighting: It is necessary to have proper lighting in your study room so that you can work without straining your eyes.
Arrange Supplies: Arrange your supplies in such a way that they are easily accessible.
Clock: You can also have a small clock on your desk to keep a track of your time.
Reduced clutter: Keep things organised and declutter your desk from time to time.
Personalise: Personalise your space in such a way that it feels like home to you and that you can work for longer durations without getting tired or bored. 
There are many different designs of study tables available in the market, but it is up to you and your needs that can help you decide which table to choose. Do remember to seek a balance between aesthetics and functionality so that you end up with a good and comfortable desk.
Leave a Reply Cancel reply
Your email address will not be published. Required fields are marked *
Save my name, email, and website in this browser for the next time I comment.
Mannika Mitra
Mannika Mitra is an Arts Graduate from the Delhi University & a Post-Graduate Diploma holder in Journalism and Mass Communication. She has worked as a digital producer with new agency; ANI, NDTV & Hindustan Times before joining Orientbell Tiles as a part of their digital and content marketing team. Her interest in interior design and knowledge of tiles comes from her family of architects and Tile Shop owners. In her quest to write useful blogs that help users pick the right tiles and renovation inspiration, she frequently does research with architects, tile dealers among others. Apart from writing content for the website she loves to travel, know about various cultures and binge watch on OTT platforms.
Related Posts
Things To Consider Before Installing A Wardrobe In Your Room
A Guide To Choosing The Right Sofa Set Design For Your Home
6 Creative and Inspiring Dining Room Design Ideas
Popular posts.
Shop Bestsellers: Most Popular Tiles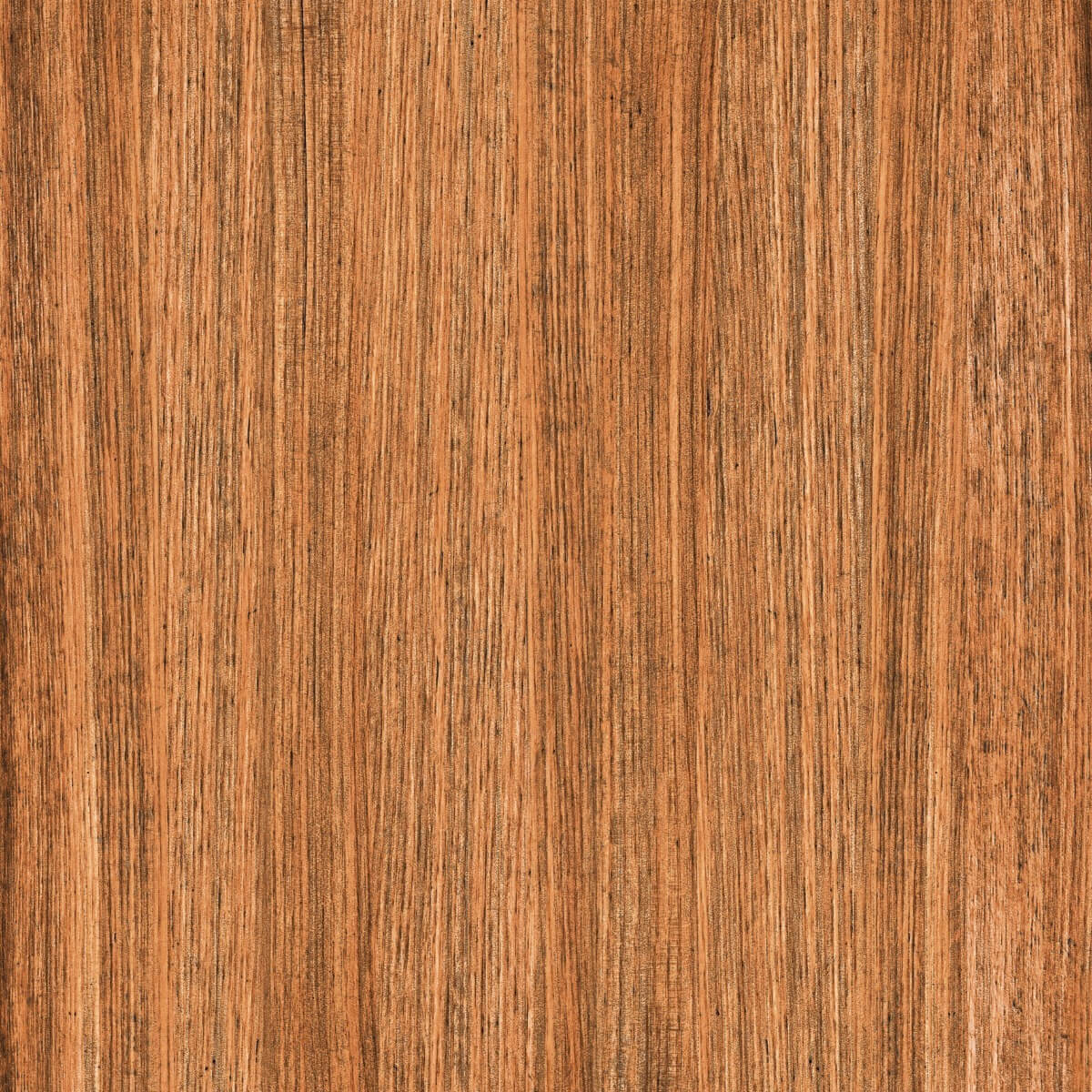 DGVT Yellow Birch Wood
MRP : ₹ 82 /sq. ft.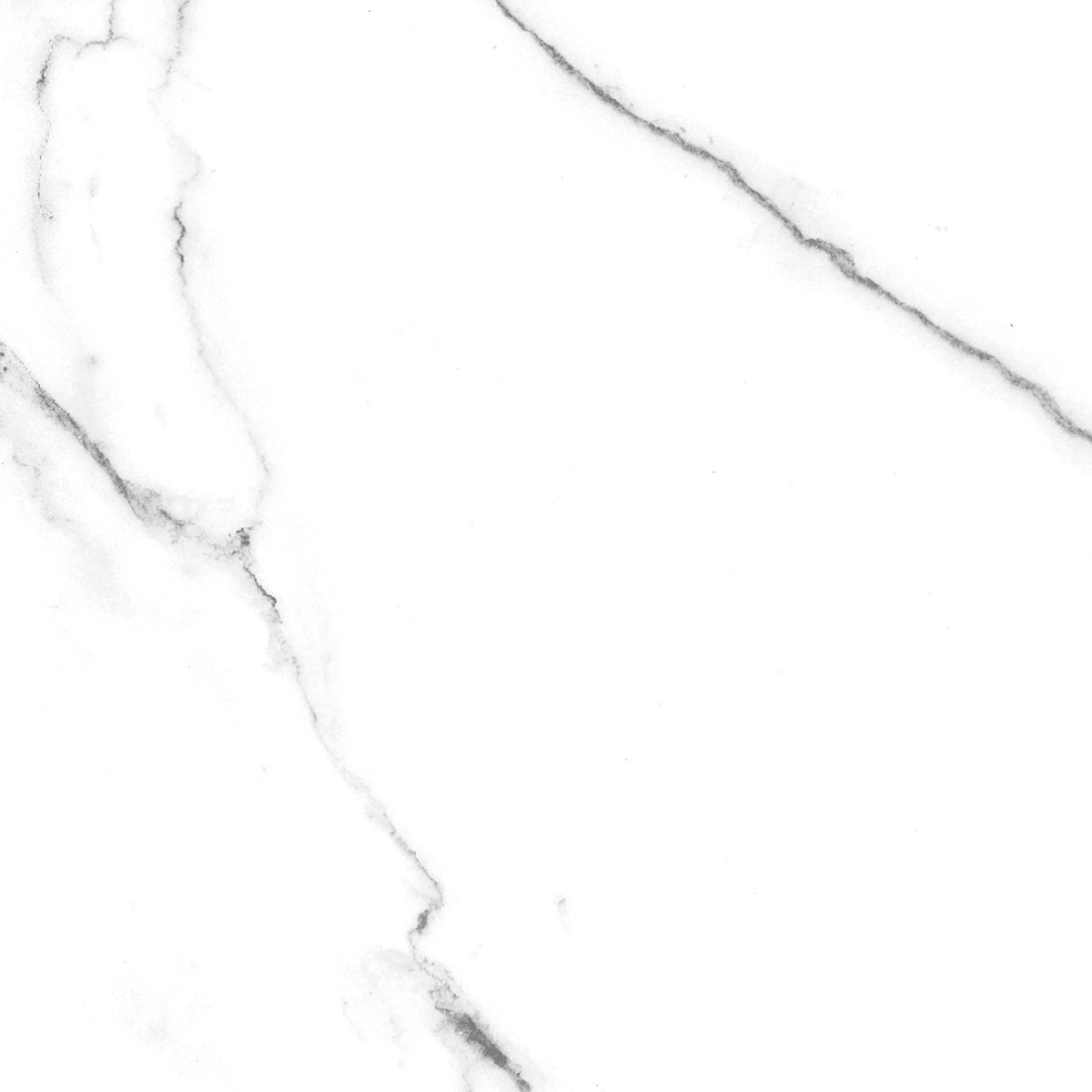 HFM Anti-Skid EC Statuario Bianco
MRP : ₹ 50 /sq. ft.

GFT Anti Viral Olive Grey
MRP : ₹ 65 /sq. ft.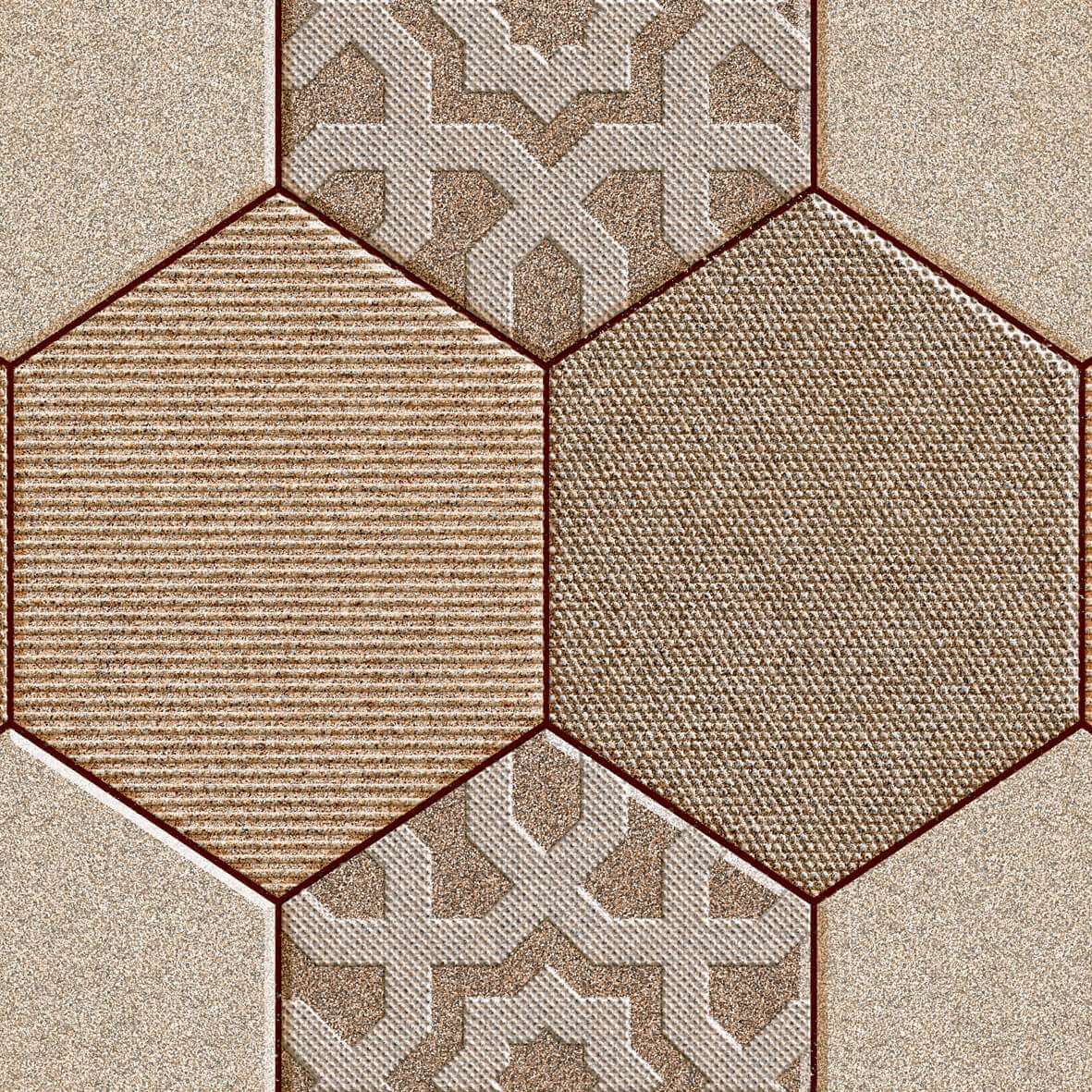 Hexa Sandune
MRP : ₹ 48 /sq. ft.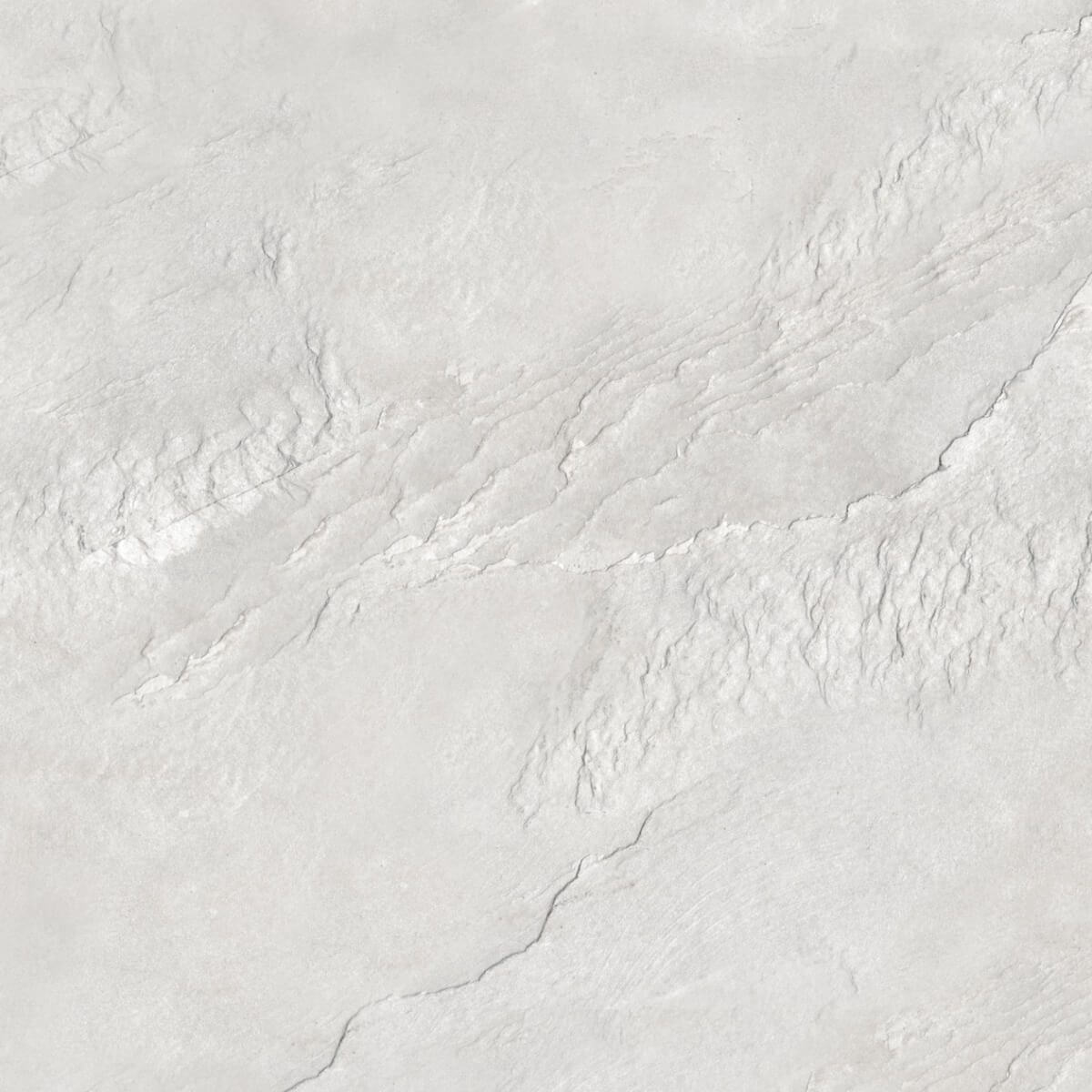 PCM Glacier White
MRP : ₹ 64 /sq. ft.
Trending Topics
Get updates on the latest tile designs....
Enter your email to recieve the most hottest news
Track order
Shopping list
Shopping cart
Desks & computer desks
Desks for work, desks for play.
Looking for a desk for your gaming zone? Or an office-approved one that you can use sitting and standing so you feel and work better? Whatever you need, you can find it in the IKEA range.
Sort and Filter
731 products in result.
LINNMON / ADILS Table, 100x60 cm (39 3/8x23 5/8 ")
More options linnmon / adils table 100x60 cm (39 3/8x23 5/8 ").
MICKE Desk, 73x50 cm (28 3/4x19 5/8 ")
More options micke desk 73x50 cm (28 3/4x19 5/8 ").
LAGKAPTEN / ALEX Desk, 140x60 cm (55 1/8x23 5/8 ")
More options lagkapten / alex desk 140x60 cm (55 1/8x23 5/8 ").
LAGKAPTEN / ADILS Desk, 120x60 cm (47 1/4x23 5/8 ")
More options lagkapten / adils desk 120x60 cm (47 1/4x23 5/8 ").
TORALD Desk, 65x40 cm (25 5/8x15 3/4 ")
MICKE Desk, 105x50 cm (41 3/8x19 5/8 ")
More options micke desk 105x50 cm (41 3/8x19 5/8 ").
LAGKAPTEN / ALEX Desk, 200x60 cm (78 3/4x23 5/8 ")
More options lagkapten / alex desk 200x60 cm (78 3/4x23 5/8 ").
LAGKAPTEN / ADILS Desk, 200x60 cm (78 3/4x23 5/8 ")
More options lagkapten / adils desk 200x60 cm (78 3/4x23 5/8 ").
VITTSJÖ Laptop table, 100x36 cm (39 3/8x14 1/8 ")
More options vittsjö laptop table 100x36 cm (39 3/8x14 1/8 ").
LAGKAPTEN / ALEX Desk, 120x60 cm (47 1/4x23 5/8 ")
More options lagkapten / alex desk 120x60 cm (47 1/4x23 5/8 ").
MICKE Desk, 142x50 cm (55 7/8x19 5/8 ")
More options micke desk 142x50 cm (55 7/8x19 5/8 ").
Classic IKEA, modern application
Lightwood has been an IKEA hallmark from the start. Not only because it looks great but for its versatility, durability, and affordability. This comes together beautifully in the new STENERIK laptop stand – while it also holds your screen high, eases eye strain, and facilitates proper posture.
This could be the start of something big
To think of all the journeys, traveled or imagined, that people have embarked on sitting at a desk! Find one that works for you, and take it from there.
The IKEA website uses cookies, which make the site simpler to use. Find out more about browser cookies.
Enjoy this post? Rate it!
How to choose a good study table 
Table of contents, size does matter, style is eternal, see if the price is right, sufficient storage , work from home, multipurpose study table, customized study table, key takeaways.
In this blog, we will focus on the study table as an important piece of furniture for working from home. Let's have a look at everything from the best table for working from home to the most efficient for office work, as well as multi-purpose and foldable tables.
It is essential to have good work. And here is why?
Study tables are not an extravagance. They're essential in the current circumstance when the epidemic has compelled everyone to stay at home. The following are some of the reasons why you should buy a nice table.
The correct work desk helps you become more productive.
It maintains excellent posture and reduces back pain and other health complications.
It enables you to work and study effectively.
It gives off an office atmosphere and improves your work or study-from-home experience.
When choosing a work table, there are several elements to consider. Here are some of the most crucial aspects to consider before buying one.
Do you know the ideal size for a study table? The size is determined by the needs of the individual. If you're seeking to buy a table online, keep these dimensions in mind.
Students and children's table – If you're searching for a single table that your children can share, choose a larger size so that it can store all of their stationery items and books and that they can all use the table simultaneously.
F or home or office – Here the size of the room or office cabin will determine the size of the table, whether you're looking for studying at home or a work table for the office.
Professional work desk – Do you work in a sector that necessitates the use of a large table? Graphic artists, software engineers, and coders must work simultaneously on two computer monitors. These professionals will need a large work table. Laptop users may want to choose a smaller desk.
Work tables for hobbies and activities – Those who like activities and have hobbies such as painting, craft, and other similar activities must select a work table that meets their space requirements and is appropriate for their interests.
The style of your study or work table is the next key consideration. If you search the terms 'study table' on the internet, you will find hundreds of results. It's that simple to buy a table online. However, how do you decide on a design and style? Here are some guidelines to help you select a suitable study table.
Consider your room's or home's general decor. Choose a table that complements your existing furnishings. For example, buy a wooden study table if you have wooden furnishings.
The material of a study table is one of the most crucial factors. You can have options such as wood, engineered wood, metal, glass, plastic, and many other innovative materials. However, if you have to move your table frequently, you may want to get a lightweight table, most likely constructed of engineered wood or plastic.
More often than not, the table design you choose is influenced by your budget. When looking for study tables online, you can expect to pay $2,000 or above. Evaluate your table based on your budget. You may get an idea of the pricing of study tables and work desks by looking at a few internet furniture retailers and also comparing prices.
As previously stated, the cost of study tables is determined by a variety of elements, like the design, make material and brand. It might cost anywhere from a few thousand to several lakhs.
Those seeking a long-lasting study table would have to pay just that extra. If you're looking for a table that you'll replace in a few years, a cheaper alternative is recommended.
Other significant factors influence the pricing of study tables. One is storage. Do you require a study table with storage for books, bags, and stationery? How much room do you need for storage? As a result, you'll have to decide if you want a large or small table, which will impact the cost.
Design matters too
The design is also important. It is probably the most considered factor other than price. Designer furniture is significantly more expensive than furniture made by a local carpenter or from local companies. You may have to pay a little extra for a personalized study table, but it will be worth it because you will be studying and working at a table that you enjoy.
Designer study tables options
A work-from-home study table should ideally have all the features found in your workplace cubicle. Consider a large tabletop for your desktop or laptop, as well as storage for your books and diaries, cellphone, and other essential items that you use daily.
If you want a versatile and portable study table that can be used for work, hobbies, and even as a snack or coffee table, choose a table that is simple and plain and can be used for a variety of purposes.
If you have a keen eye for attention to detail, you may consider ordering a customized study table. You may ensure that your work table matches your décor while also meeting all of your table needs by personalizing it.
The best study table ensures that you are comfortable. It is vital to achieve maximum comfort while studying. This is also helpful from the standpoint of relaxation and keeping correct body posture.
When reading or writing, using a study table can help you enhance your focus by concentrating your good energy in one location.
Finally, your study or work table should be comfortable for you and productive. If you choose a table that you dislike, it will affect your job as well.
We hope you enjoyed reading this blog post. If you have any doubts, you can reach us here .
You can also share your thoughts by leaving a comment below.
Liked this blog? Read next: How to concentrate on studies | 12 absolute tips for you!
Q1. Is the study table the ideal option for studying?
Answer – A study table facilitates the proper organization of study material such as books, stationery, laptop, etc. Hence, a study room with a study table is more important for the children, a children's study table is fully dedicated to them.
Q2. What is the recommended table height for studying?
Answer – Ideally, for a comfortable seating posture, a study table height must be somewhere around 26 to 30 inches.
Q3. What is the best color for a study table?
Answer – Green, light-green, pastel blue, cream, and white are all good study room colors. According to research, these study table colors have a calming effect on the mind, which helps with concentration. A study table in a dark color does not emit pleasant energy.
How useful was this post?
Click on a star to rate it!
Average rating 3.7 / 5. Vote count: 7
No votes so far! Be the first to rate this post.
People also liked
Top study destinations for various engineering branches
Clarkson University | Top 10 undergraduate programs
An essential guide to the grading system in the USA
Extracurricular activities | Striking the perfect balance between academics and fun
Exploring Canada's leading programs in Master of Renewable Energy
How to calculate CGPA in engineering | A comprehensive guide
Leave a reply cancel reply.
Your email address will not be published. Required fields are marked *
Start your journey with iSchoolConnect
Need help with your study abroad applications? Try iSchoolConnect for free!

Where to Study? USA | UK | Canada | Australia | Singapore | Netherlands | Ireland | Germany | New Zealand
Tests and Preparation GRE | GMAT | IELTS | TOEFL | SAT | PTE
Visa Process Student visa for USA | Student visa for Canada | Student visa for UK
Programs and Universities How to choose a university? | How to choose a career? | University interview tips
Application Process How to apply? | Letter of Recommendation (LOR) | Essay and Statement of Purpose (SOP) | Document checklist | Finance documents
Fees and Finances Cost of studying abroad | How to apply for scholarships? | Types of scholarships | Student loan | Accommodation | Part-time jobs
Calculators Calculate your chances of studying abroad | Calculate cost of studying abroad | Which scholarship are you eligible for?
Skip to main content
Skip to search
Skip to select language
Sign up for free
English (US)
console: table() static method
The console.table() method displays tabular data as a table.
This function takes one mandatory argument data , which must be an array or an object, and one additional optional parameter columns .
It logs data as a table. Each element in the array (or enumerable property if data is an object) will be a row in the table.
The first column in the table will be labeled (index) . If data is an array, then its values will be the array indices. If data is an object, then its values will be the property names. Note that (in Firefox) console.table is limited to displaying 1000 rows (first row is the labeled index).
Note: This feature is available in Web Workers
Collections of primitive types
The data argument may be an array or an object.
Collections of compound types
If the elements in the array, or properties in the object, are themselves arrays or objects, then their elements or properties are enumerated in the row, one per column:
Note that if the array contains objects, then the columns are labeled with the property name.
Restricting the columns displayed
By default, console.table() lists all elements in each row. You can use the optional columns parameter to select a subset of columns to display:
Sorting columns
You can sort the table by a particular column by clicking on that column's label.
The data to display. This must be either an array or an object.
An array containing the names of columns to include in the output.
Return value
None ( undefined ).
Specifications
Browser compatibility.
BCD tables only load in the browser with JavaScript enabled. Enable JavaScript to view data.
This Yassified Bible Is Trending as a 'Coffee Table Book' on TikTok
The Good and Beautiful Bible Study
Higherdose's internet-famous 'sauna blanket' is 20% off for black friday, original reporting on everything that matters in your inbox..
By signing up, you agree to the Terms of Use and Privacy Policy & to receive electronic communications from Vice Media Group, which may include marketing promotions, advertisements and sponsored content.

Asian (AFC) 2026 World Cup qualifying schedule, results, table
Posted: November 20, 2023 | Last updated: November 20, 2023
Asian qualifying for the 2026 World Cup will be a long journey, a gauntlet that will require — at a minimum — multiple group stages.
The Asian Football Confederation (AFC) will put eight teams directly into the 2026 World Cup, with a ninth team going to the inter-confederation playoffs in hopes of making the tournament.
[ MORE:  How will 48-team 2026 World Cup work?  ]
Only Africa and Europe will put more teams in the 2026 World Cup.
Current Premier League players Heung-min Son (Spurs, South Korea), Kaoru Mitoma (Brighton, Japan), and Saman Ghoddos (Brentford, Iran) are among those who will see their World Cup hopes rise and fall over the next three years — though all play on nations favored to qualify for the tournament.
Below you'll find the format, scores, and — eventually — tables, as dozens of nations bid to turn their World Cup dreams into reality.
Asian (AFC) 2026 World Cup qualification format
First round (Oct. 11-17, 2023): 20 teams, home-and-away
Second round (Nov. 2023 - June 2024): 36 teams, nine groups, top two from each group advance
Third round (begins Sept. 2024): 18 teams, three groups, top two from each group qualify for World Cup , third- and fourth-place teams to fourth round
Fourth round (begins Oct. 2025): Six teams, two groups, group winners qualify for World Cup , second-place teams to fifth round
Fifth round (November 2025): Two teams, winner goes to inter-confederation playoffs
Asian (AFC) World Cup qualification schedule — First round fixtures, results
Afghanistan 1-0 Mongolia
Maldives 1-1 Bangladesh
Singapore 2-1 Guam
Yemen 3-0 Sri Lanka
Myanmar 5-1 Macau
Cambodia 0-0 Pakistan
Chinese Taipei 4-0 Timor-Leste
Indonesia 6-0 Brunei
Hong Kong 4-0 Bhutan
Nepal 1-1 Laos
Mongolia 0-1 (0-2 agg) Afghanistan
Bangladesh 2-1 (3-2 agg) Maldives
Guam 0-1 (1-3 agg) Singapore
Sri Lanka 1-1 (1-4 agg) Yemen
Macau 0-0 (1-5 agg) Myanmar
Pakistan 1-0 (1-0 agg) Cambodia
Timor-Leste 0-3 (0-7 agg) Chinese Taipei
Brunei 0-6 (0-12 agg) Indonesia
Bhutan 2-0 (2-4 agg) Hong Kong
Laos 0-1 (1-2 agg) Nepal
Asian (AFC) 2026 World Cup qualification schedule — Second round
November 16
Australia 7-0 Bangladesh
Japan 5-0 Myanmar
South Korea 5-0 Singapore
Philippines 0-2 Vietnam
Thailand 1-2 China
Malaysia 4-3 Kyrgyzstan
Tajikistan 1-1 Jordan
Turkmenistan 1-3 Uzbekistan
Lebanon 0-0 Palestine
Iran 4-0 Hong Kong
Iraq 5-1 Indonesia
Oman 3-0 Chinese Taipei
UAE 4-0 Nepal
Qatar 8-1 Afghanistan
Saudi Arabia 4-0 Pakistan
Kuwait 0-1 India
Syria 1-0 North Korea
Yemen 0-2 Bahrain
November 21
Pakistan vs Tajikistan — 4am ET
Myanmar vs North Korea — 4:30am ET
Philippines vs Indonesia — 6am ET
Chinese Taipei vs Malaysia — 6am ET
Bangladesh vs Lebanon — 6:45am ET
Singapore vs Thailand — 7am ET
Vietnam vs Iraq — 7am ET
China vs South Korea — 7am ET
Hong Kong vs Turkmenistan — 7am ET
Uzbekistan vs Iran — 8am ET
Nepal vs Yemen — 8:15am ET
India vs Qatar — 8:30am ET
Palestine vs Australia — 9am ET
Kyrgyzstan vs Oman — 9am ET
Syria vs Japan — 9:45am ET
Bahrain vs UAE — 10:45am ET
Jordan vs Saudi Arabia — 11am ET
Afghanistan vs Kuwait — Noon ET
Asian (AFC) 2026 World Cup qualification tables — Second round groups
Qatar — 1-0-0 — +7 GD — 3 points
India — 1-0-0 — +1 GD — 3 points
Kuwait — 0-0-1 — -1 GD — 0 points
Afghanistan — 0-0-1 — -7 GD — 0 points
Japan — 1-0-0 — +5 GD — 3 points
Syria — 1-0-0 — +1 GD — 3 points
North Korea — 0-0-1 — -1 GD — 0 points
Myanmar — 0-0-1 — -5 GD — 0 points
South Korea — 1-0-0 — +5 GD — 3 points
China— 1-0-0 — +1 GD — 3 points
Thailand — 0-0-1 — -1 GD — 0 points
Singapore — 0-0-1 — -5 GD — 0 points
Oman — 1-0-0 — +3 GD — 3 points
Malaysia — 1-0-0 — +1 GD — 3 points
Kyrgyzstan — 0-0-1 — -1 GD — 0 points
Chinese Taipei — 0-0-1 — -3 GD — 0 points
Iran — 1-0-0 — +4 GD — 3 points
Uzbekistan — 1-0-0 — +2 GD — 3 points
Turkmenistan — 0-0-1 — -2 GD — 0 points
Hong Kong — 0-0-1 — -4 GD — 0 points
Iraq — 1-0-0 — +4 GD — 3 points
Vietnam — 1-0-0 — +2 GD — 3 points
Philippines — 0-0-1 — -2 GD — 0 points
Indonesia — 0-0-1 — -4 GD — 0 points
Saudi Arabia — 1-0-0 — +4 GD — 3 points
Jordan — 0-1-0 — 0 GD — 1 poin
Tajikistan — 0-1-0 — 0 GD — 1 poin
Pakistan — 0-0-1 — -4 GD — 0 points
United Arab Emirates — 1-0-0 — +4 GD — 3 points
Bahrain — 1-0-0 — +2 GD — 3 points
Yemen — 0-0-1 — -2 GD — 0 points
Nepal — 0-0-1 — -4 GD — 0 points
Australia — 1-0-0 — +7 GD — 3 points
Palestine — 0-1-0 — 0 GD — 1 point
Lebanon — 0-1-0 — 0 GD — 1 poin
Bangladesh — 0-0-1 — -7 GD — 0 points
More for You
Peanuts by Charles Schulz
Amazon Black Friday 2023: 9 Things for Less Than $25 That Are Worth Buying
Trump Serves Food to Soldiers and Police, Complains There's None Left for Him
Mysterious respiratory illness affecting dogs spreads across US
Carlton Pearson, influential Oklahoma megachurch founder who rejected hell, dies at age 70
Russia's Devastating New Weapon Hits Enemy Positions in War's First: Video
Angel Reese and LSU Saga Continues
X CEO Linda Yaccarino is reportedly getting texts from ad execs advising her to resign over Elon Musk's backing of antisemitic post
A Colorado court makes it official: Trump is an insurrectionist
Broom-Hilda by Russell Myers
Record-shattering roller coaster simulates falling from cliff with 155 mph speeds
China's Ex-Envoy Delivers 'Life-or-Death' Warning to US Over Taiwan
How to speak to someone with dementia
A Harvard professor claimed balls found in the ocean were alien tech. They may have just been industrial waste.
The Trump Trials: The Gag is Up
Animal Crackers by Mike Osbun
Video shows Buffalo Bills stadium buried in snow after massive storm | CNN
SpaceX Starship explodes after reaching space for the first time
Joe Manchin Leaves Two Republicans At Risk of Losing Their Seats
Japan 'directly approaching' Iran-backed Houthi rebels over hijacked cargo ship