Skip to Content
Skip over Site Identifier
Region and language Service & Support
Deutsch Deutsch
Service & Support
Skip over Generic Navigation
Contact Contact
Support Request Support Request
Skip over Search
Skip over Site Explorer
Site Explorer Site Explorer
[S7-300] Changing IP Address (already assigned)
Created by: grzegorz_g at: 9/29/2016 3:01 pm (6 replies), rating (6) thanks 5, all about step 7 (tia portal), presales info, catalog and ordering system online, technical info, contact & partners, follow us on.

In my last few articles I've covered unboxing my new Siemens Starter Kit, assembling the hardware, connecting power, installing and licensing the TIA Portal software, and creating my first project.
In this article, i will continue with the journey by connecting to the cpu so i can add it to my new tia portal project..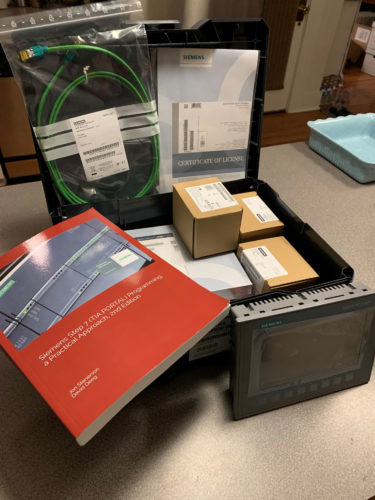 Under the area of "online access", I was able to find the S7 Controller (distinguishable by the MAC Address) and assign an IP Address to it. I assigned 192.168.1.2 to the CPU.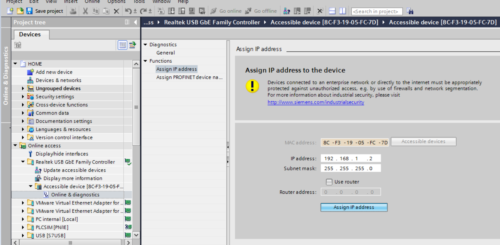 Adding the S7 1200 PLC to the TIA Portal Project
What I have found is that there are multiple ways to add a device (PLC/HMI/Drive) to the project.
Here I can add the CPU and I/O modules manually or I can upload the hardware information by selecting an "Unspecified CPU 1200" and then clicking the "Detect" link as shown in the next couple of screenshots. I went through this both ways, deleted the device and re-added it multiple times to get more familiar with the software.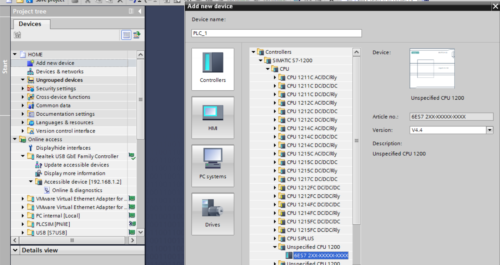 After selecting the Unspecified CPU 1200, click the "Detect" link shown below: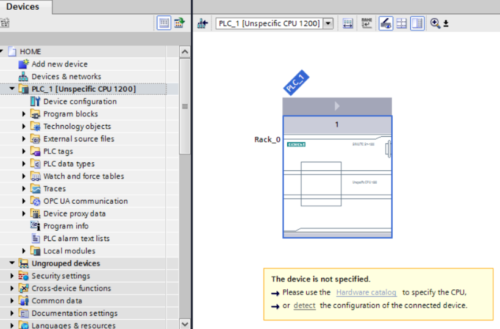 Click the "Detect" button here to Upload the Chassis Configuration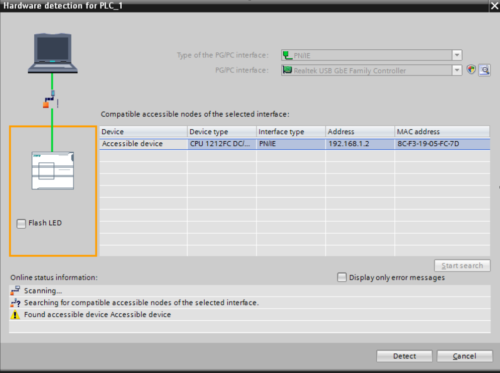 I now have my chassis information as it is installed.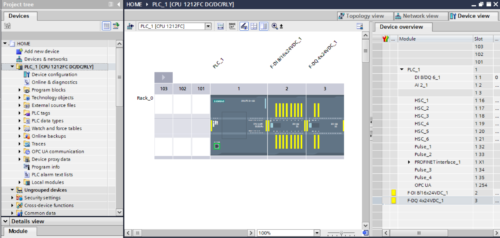 Hardware Setup – Self Inflicted Issue that I ran into
Initially, I ran into an issue with the additional I/O Modules. They would not show up and when I tried to add them manually, they would not be recognized.
The modules displayed the error "not reachable". The I/O Modules also physically only flashed a Red LED light. I had connected the modules together and it looked to be correct.
Finally, after looking at the manual and looking a little closer, I realized that each additional module needed 24 VDC applied to it.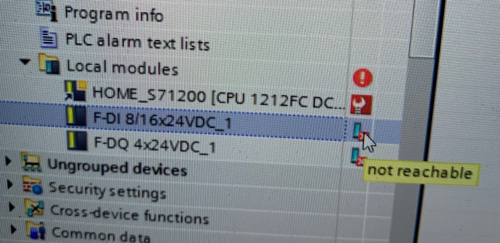 After connecting 24VDC to each additional module, I was able to communicate with them easily.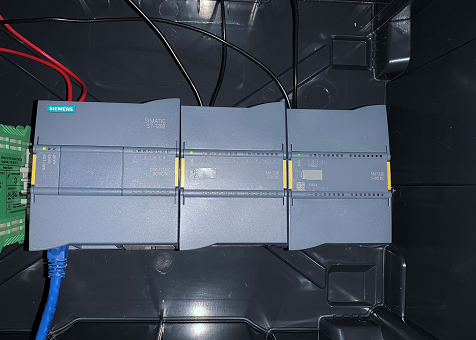 Controller Properties
Initially, to get a successful compile and be able to download to the CPU, I had a couple of errors that were resolved in the CPU General Properties.
I had to Enable F-activation for the fail-safe modules
I had to select an access level for the PLC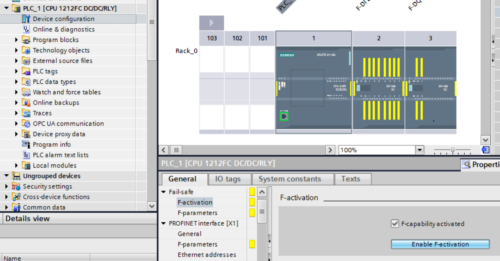 While in the CPU properties, I also gave the Controller a name: HOME_S71200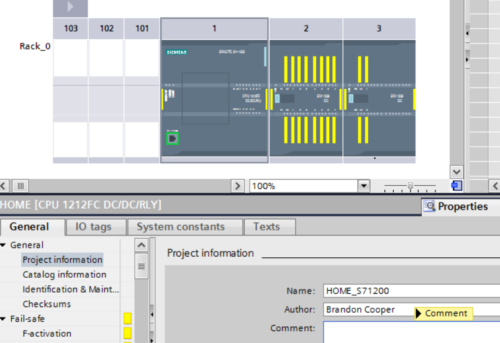 To compile the project, you can right-click on the CPU and select compile, then select hardware and software (only changes) as shown below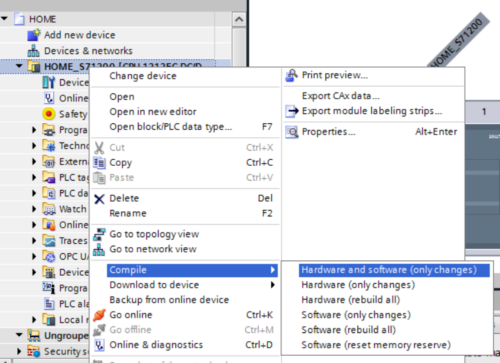 Download the Project
In the same fashion as compiling the project, I right-clicked on the CPU and selected "Download to device, then Hardware and software (only changes ) to download to the CPU.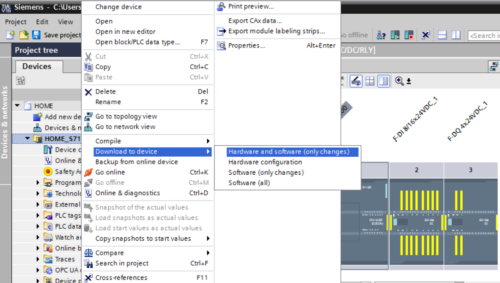 Here, I select the CPU that I wish to load to and select the "Load" button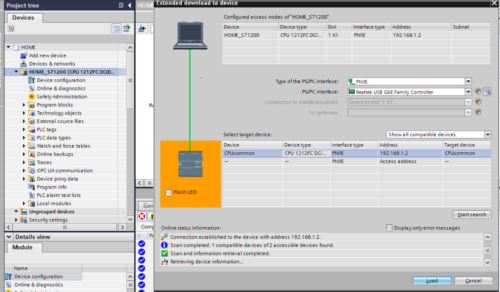 Moving along with my "HOME" project, I was able to connect with the S7 1200 easily via my EtherNet adapter and assign an IP address.
I was also able to detect and/or manually add the modules to the project, compile the project and download the project to the CPU.
I will leave off here as this makes a stopping point for this article. My initial work with TIA Portal is very positive and the software is user friendly.
Written by Brandon Cooper Senior Controls Engineer and Freelance Writer
Have a question? Join our community of pros to take part in the discussion! You'll also find all of our automation courses at TheAutomationSchool.com .
Sponsor and Advertise: Get your product or service in front of our 75K followers while also supporting independent automation journalism by sponsoring or advertising with us! Learn more in our Media Guide here , or contact us using this form .
Rockwell Patch Rollup – How To Download and Install (2022) - August 4, 2022
Studio 5000 – Resolve .Net Framework 3.5 Installation Error 0x80D05001 - July 26, 2022
Studio 5000 – v34: What's New - May 9, 2022

RELATED ARTICLES MORE FROM AUTHOR
First look: siemens simatic ipc tablet md-34a (m5e39), tia portal cloud, subscription bundles, and more (p177), siemens wincc v8 features and add-ons (p168), leave a reply cancel reply.
Save my name, email, and website in this browser for the next time I comment.
The Automation Blog™ is the internet's most popular independent Industrial Automation News and Product How-To website. Since rebranding as The Automation Blog™ in 2013, we've helped millions of visitors get up to speed on the latest industrial automation technologies, as well as teach them how to use current and legacy automation products. Special thanks to our Sponsors , Advertisers , and Community Members who make it possible for us to continue our work! The Automation Blog™, The Automation Show™, The Automation Podcast™, The Automation Minute™, The Automation Guy™, The Automation Exchange™, The Automation Forums™, as well as Automation Tech Tips™, Automation Tech Talk™, Automation Files™, Automation Tutorials™, Automation Exchange™, Automate News™, Automate Show™, Automation Show™ and Automation Morning Show™ are trademarks of Insights In Automation® All rights reserved. Other trademarks are property of their respective companies.
Quick Links:
Feedback & Information
Copyright © 1999- 2023 Insights In Automation® All Rights Reserved. The content found on this site is solely for the use of our audience and may not be copied, republished, or reproduced in anyway without our express written consent. It also may not be used to train any computer, ai, or other system. You can read our Privacy Policy here and our additional Terms here. .
404 Not found