Plugged In: For UMaine Extension Staff and Volunteers
Elements of a research project or proposal: questions to consider.
Introduction: Problem or Question
What exactly do you want to study?
What is your research question or questions?
Why is it worth studying?
What is the purpose or significance of your study?
Does the proposed study have practical significance?
How are you defining your terms?
What are the limitations of your study?
What is the researcher's perspective or viewpoint?
Literature Review
What have others said about this topic?
What theories address it and what do they say? What research has been done previously?
Are there consistent findings or do past studies disagree?
Are there flaws in the body of existing research that you feel you can remedy?
Methods & Subjects
What inquiry approach are you using?
Will you conduct an experiment or survey?
Will you undertake field research, or are you going to focus on the reanalysis of statistics already created by others?
What is the setting for the research?
Who or what will you study in order to collect the data?
Who are the subjects in general and who is available for study? How will you reach them?
Will it be appropriate to select a sample? If so, how will you do that?
If there is any possibility that your research will have an impact on those you study, how will you ensure that they are not harmed by the research?
Measurement
What are the key variables in your study?
How will you define and measure them?
Do your definitions and measurement methods duplicate or differ from those of previous research on this topic?
Are you developing your measurement device (for example, questionnaire) or will you be using something previously developed by others?
When developing a measurement device to measure your study group, how will you determine the validity of the instrument?
For existing instruments, how do you know it is valid for your sample and how will you establish reliability for your sample? (Reliability should always be reported for the study sample, not the development samples reported in manuals.)
Data Collection
How will you actually collect the data for your study (observation, interviews, document analysis, focus group, photography and video, etc.)?
Data Analysis
What kind of analysis do you plan to conduct?
What is the purpose and logic of your analytical approach? Are you interested in precise description?
Do you intend to explain why things are the way they are? Do you plan to account for variations in some quality (for example, why are some students more liberal than others)?
What possible explanatory variables will your analysis consider, and how will you know if you've explained the variables adequately?
How can you verify and establish the trustworthiness of your study?
Scholarly Work
How will this research lead to scholarly work?
What level of scholarly work makes sense?
What is your end goal?
What are the avenues for presenting or sharing your research findings?
Where do you want to share your work?
What did you learn?
What worked and what didn't?
How does your data answer or inform your research question(s)?
Conclusions & Recommendations
How can you apply or use what you learned?
How might others use it?
What were the limitations of your research?
What implications are there for further research?
If you are writing a research proposal, include:
Schedule – provide a schedule for the various stages of research (this is good to do for any project).
Budget – If you are asking someone to give you money to pay the costs of your research, you will need to provide a budget specifying where the money will go. Large, expensive projects include budgetary categories such as personnel, equipment, supplies and expenses such as telephones and postage. Even for a more modest project which you will pay for yourself, it's a good idea to spend some time anticipating any expenses involved: office supplies, photocopying, computer disks, telephone calls, transportation, and so on.
Source: Babbie, E. (1992). The Practice of Social Research , Sixth Edition. Belmont, CA: Wadsworth Publishing Company; Creswell, J.W. (1998). Qualitative Inquiry and Research Design: Choosing Among Five Traditions . Thousand Oaks, CA: Sage Publications; Patton, M.Q. (1990). Qualitative Evaluation and Research Methods . Newberry Park, CA: Sage Publications.
Excerpted and adapted from Lisa Phelps and Judith Graham, Elements of a Social Research Report or Proposal: Questions to Consider (2002).
Hardest Research Proposal Questions and Best Sample Answers
Featured Expert: Dr. Michela Insenga, PhD
Practicing with sample research proposal questions and answers can have great benefits for any major research project such as a dissertation or thesis. This is often the final step before you finally get your doctorate degree. However, before all of that, you must first craft a research proposal. This is a detailed outline that will transform into the thesis that you will eventually have to defend in front of a panel of distinguished academics. It is always important to be aware of what thesis defense questions you will be asked when it is all said and done, but you may have to start justifying your research a little earlier on with the completion of a research proposal.
In this article, we include sample questions and answers you could be faced with when submitting your research proposal, some tips for preparing your responses, as well as the benefits of seeking professional help from a grad school advisor .
>> Want us to help you get accepted? Schedule a free strategy call here . <<
Article Contents 13 min read
What to expect for your research proposal.
Early on in your PhD process, you may have to submit a research proposal that details the scope of your research and what you plan to for an eventual thesis or dissertation project. You have already learned how to find a PhD topic , so now it is time to put your passion for your field into practice and start to manifest the ideas swimming in your head.
This document should include the specific topic you would like to research, what angle you will be taking for your research, as well as your justification for choosing this subject. Regardless of whether or not your goals are the same as when you wrote your research interest statement sample , you must still provide an update about what your project is going to examine.
Should you go to grad school? Watch this video:
The purpose of the research proposal is to convince your supervisor that you are on the right direction. You are essentially providing a roadmap for your supervisor through your motives in undertaking this project and how you plan to complete it. Your supervisor will have to evaluate whether or not your project is relevant to the degree you are completing and manageable within the time constraints or other limitations you have.
As a result, you may have to undergo a research proposal defense or your supervisor will ask guiding questions about the state of your project. While this is still very early in the process, it is a great way for getting to know how to prepare for a thesis defense , as the questions you will be have a similar intent. Receiving guidance on your research before spending a lot of time on it can be more beneficial to you as you complete coursework or any other responsibilities as a graduate student. Questions from your supervisor can make your think critically about the end result of your result, and will hopefully lead to a better result.
Be Very Familiar With Your Proposal
This sounds like an obvious tip, but PhD research proposals can be 1500-2000 words long and can be a lot of information to remember at once. Once it is complete, try and have as great of a grasp of the material as you can. Before going into any meeting where you will discuss your work, make sure to become reacquainted with the information you have found and the goals you are hoping to achieve. Re-read your proposal several times to both proofread it for typos or other errors, but also to become comfortable with its contents. You want to make sure that your answers line up with the document you are officially submitting as your proposal.
Ask for Advice
If you are having trouble creating your proposal, you can always consult thesis writing services to help you plan out and put your thoughts into words. Professionals can also help with your speaking ability when responding and help you strategize so that you deliver efficient responses that sum up your research faithfully. Either together with an advisor or on your own, you can predict the obvious questions that are coming and prepare yourself to answer them. If your supervisor will be overseeing your proposal, try to anticipate what concerns they will have. Come up with a list of questions yourself, so you can workshop how you answer them.
Use Strategies to Answer Questions
Just like preparing for graduate school interview questions , you can develop strategies for how to answer questions about your research proposal. Keep your answers direct. You can also pose questions about areas you are unsure about. Do not be afraid to not have all the answers. At this point of your research, you are not expected to know everything point. The purpose of your proposal is to see where you are at right now and what you need to adjust on to make the best final product possible. Your supervisor or other academics that will pose questions about your proposal are not out to get you. They have years of experiences with similar projects, and are likely are qualified to give helpful feedback on your work in progress.
1. What is your research project about?
This answer should be a short summary about your research project. This question may seem like this simplest of them all, but you need to have a solid direction on where you want your thesis to go in order for it be effective. It does not need to be as complete as if you were to be summarizing your final product, since your project is still in its development stages. For instance, a sociological study regarding gendered tendencies towards deviant behaviors on the internet might be formatted in this manner:
For this research project, I plan to examine the rise of online deviant sociological behaviour on social media platforms during recent global shutdowns such as the COVID-19 pandemic and how gender identity and sexual orientation amplify these concerns. These acts of deviance can include instances of catfishing, deception, pornography, obscenity, cyber bullying, flaming, among others. I will also relate these findings to psychological impacts of both the perpetrators and victims or other relevant criminal behaviors that do not take place online, pointing out the differences between common trends for men vs. women in these altercations.
2. Why did you select this particular topic?
This question is meant to assess your motivation for choosing the subject of your research proposal. It is possible that you have previously touched on this kind of question during your graduate school interview when answering "Why do you want to do a PhD?" . This answer is one that could get a little more into your personal inclination towards the research you pursue. Focus on your particular interests and shape it to the goals of the project. For example, if you conducted a study called, "Forgotten Minds: Book History and Women's Lost Contributions in 18th and 19th-century England" then you can frame your answer in this way:
As a scholar of the marriage industrial complex that permeated British society in past centuries, I am interested in the ways that a patriarchal structure can silence the marginalized voices of others, as matrimony often did for women. This is all the more evident in the interdisciplinary field of book history, where women's contributions to the publishing were often ignored, erased, or overshadowed by their husbands. I wanted to indicate any trends that can be discovered by examining the roles of women in 18th and 19th-century printing houses and potentially unearth the forgotten stories of women who worked in these instances.
3. Does your project have a working title?
Titles are very important for academic articles or formal dissertation projects. If you have already learned how to publish as a graduate student , you will know that the title is how other academics or students will find your work when searching through journals and databases. You need to make sure your title is accurate to the research provided. At this point, your title will likely not be final, but it always important to be thinking about.
Sample Answer: My tentative title is "Take a Chill Pill: Natural and Traditional Methods for College Student Anxiety Levels". I chose this title because it represents both the holistic self-care methods such as meditation and exercise as well as prescription medication. It also points out the focus group immediately, since the study will examine current college students between the ages of 18-24 and indicate any patterns for how they manage stress among unprecedented times.
4. What scope do you think your project will have?
Your proposal will likely touch on several points related to your topic, but it is not really plausible to have a project that considers every single aspect imaginable. You may need to narrow this down as you further develop your research. Start thinking of the boundaries you may have to set as you progress through your work.
Sample Answer: This study will examine consumption trends related to the snack food industry. To start with, I have chosen over 25 products from different companies will be able to be listed and reviewed in the final thesis submission.
5. What makes your project original?
Being a publishing academic is all about filling the gaps in scholarship. Make sure to point out what makes your project stand out from others in the field.
Sample Answer: The project focuses on how remote working and telemedicine shifts the delivery of family medicine procedures in Montreal, Quebec, Canada. It does engage with similar studies on the topic of telemedicine, but will add a new perspective by discussing family doctors practicing in the greater Montreal area, specifically, which is a subset I have not yet found within existing scholarship.
6. How is your research in conversation with existing scholarship?
While your research must add something to the field, it also should be in a dialogue with other published works. Explain your process surrounding the other studies you have used to guide your own thesis.
Sample Answer: As my project is related to how autoimmune disorders such as rheumatoid arthritis present themselves in young adults, I have included fundamental studies on the topic from Dr. Arthur Golden and Dr. Melina Rizzo, as well as other more current examples of scholarship. My study will utilize their concepts in relation to a focus group that is below the age of 30.
7. What kind of research methodology will you be using?
How you will be accessing this research is just as important as the research itself. Try to have a clear path about the measures you will take to complete your study.
Sample Answer: I aim to use detailed and meticulously written surveys about women's birth experiences at hospitals or affiliated birthing centers. These results will act as the main foundation for my study on maternity health care and treatment.
8. Have you found there to be any interesting developments so far?
Was there any part of the part of the process that you did not expect? For this response, detail any new directions your research has taken as of writing your proposal.
Sample Answer: While looking for evidence that suggests that gender socialization of children affects their behaviour, I was surprised to find out that there is a discrepancy between the emotional responses in animated characters based on gender. Female or feminine-presenting characters are shown smiling on screen much more than their male counterparts, and the masculine-presenting characters were generally more likely to be shown as upset or even violent. That is a development in my research that I did not initially think of or foresee.
9. What do you think your biggest limitations for this research will be?
Look into the work you will have to do for your eventual full-length research project. What do you see being the most difficult part?
Sample Answer: I am looking into the nutritional benefits of drug store chewable gummy multivitamins. However, based on an individual's prior health conditions or genetic makeup, the results may vary or be distorted. I am presuming that this will be a major limitation as I write my thesis.
10. What will be the dependent and independent variables of this project?
When researching, there are different variables that can potentially affect your results. An independent variable is not affected by other variables in your study, while dependent variables also change if other variables do.
Sample Answer: My study will investigate the impact of guidance counselling for junior and senior high school students. The independent variable is the type of help they require, such as college applications, social development skills, or academic performance. The dependent variable would be the actual outcomes of said counselling.
11. What is your provisional research timeline?
Even if it is not 100% stuck to, try to have a detailed timeline in mind about when research will be completed and how you will fulfill all of your obligations prior to the respective deadlines.
Sample Answer: The provisional research timeline for my proposal is designed to ensure systematic progress and timely completion of all research objectives. My timeline is divided into five phases:
Preparation Phase (4 weeks): In this initial stage, I will conduct a thorough literature review to familiarize myself with existing research and identify potential gaps. Simultaneously, I will finalize the research questions and establish the overall framework for my study.
Data Collection and Analysis (8 weeks): During this phase, I will gather primary data through surveys and interviews, ensuring data collection aligns with ethical guidelines. Once collected, I will proceed with data analysis, utilizing appropriate statistical methods to extract meaningful insights.
Literature Integration (4 weeks): Building upon the analyzed data, I will integrate my findings with existing literature to provide a comprehensive context for my research.
Drafting and Revision (6 weeks): I will dedicate this phase to writing the research proposal. The initial draft will be critically reviewed and refined through multiple iterations to enhance clarity and coherence.
Finalization and Submission (1 week): In the final phase, I will incorporate feedback from peers and advisors and polish the research paper to its final form. The completed research paper will be submitted by the designated deadline.
This provisional timeline, spanning 23 weeks, allows for flexibility and contingency plans to accommodate unforeseen challenges. Regular progress assessments and adjustments will be made to ensure timely completion and adherence to all obligations.
12. Who are the demographics who will be most interested in your research?
An important aspect of your research to think about will be who will be the most interested in reading it, as well as who it impacts the most.
Sample Answer: The demographics most interested in my research are likely to be professionals and policymakers within the healthcare industry. Given the focus of my research on implementing technology-driven solutions to enhance patient care and improve healthcare outcomes, healthcare practitioners, administrators, and researchers would find the findings particularly relevant.
Additionally, technology enthusiasts, innovators, and entrepreneurs interested in the intersection of healthcare and technology are also expected to show interest in the research. This group may be keen to explore potential commercial applications of the proposed solutions or seek opportunities for collaboration.
Moreover, the research would significantly impact patients and healthcare consumers. As technology increasingly plays a vital role in healthcare delivery, patients would be interested in understanding how these advancements can positively influence their healthcare experiences and overall well-being.
To ensure the research's reach and impact, I will disseminate the findings through academic publications, conferences, and workshops. Additionally, I will aim to engage with relevant professional organizations, healthcare institutions, and technology forums to stimulate interest and foster practical applications of the research outcomes.
By targeting these demographics, the research can make a meaningful contribution to the field of healthcare technology and help drive advancements that benefit both healthcare providers and patients alike.
13. What do you hope to be the significance of your research?
This is the "So what?" of your research. Will your research have lasting impacts? Evaluate which current issues your research could resolve.
Sample Answer:
The significance of my research lies in its potential to revolutionize healthcare delivery through technology-driven solutions. By addressing current issues such as inefficiencies in healthcare systems, lack of patient engagement, and suboptimal outcomes, my research aims to foster lasting impacts. Implementing technology to improve patient care, streamline processes, and enhance healthcare accessibility could lead to better health outcomes, reduced costs, and an overall improvement in the quality of healthcare services.
14. Are there any ethical issues or debates surrounding your research project?
Some projects are directly tied to ethics and moral issues that are currently being debated. It would be important to mention any ties to these issues and how your research is part of a larger conversation.
Sample Answer: While my research primarily focuses on technology-driven solutions to enhance healthcare, there are potential ethical considerations surrounding data privacy and security. As the research involves collecting and analyzing patient data, ensuring the confidentiality and informed consent of participants is paramount. Additionally, discussions about the responsible use of artificial intelligence in healthcare and potential biases in algorithms are relevant to the larger conversation on the ethical implications of technology in healthcare. Addressing these issues will be crucial to maintaining the integrity and societal benefit of the research.
15. Do you have any personal predictions for the outcome of your research?
If you haven't yet conducted surveys or a thorough literature review, relay what you think will happen and any other concerns to your supervisor.
Sample Answer: As of now, without conducting surveys or an extensive literature review, I anticipate that the research will demonstrate the potential of technology in positively impacting healthcare outcomes and patient experiences. However, I am also aware that challenges related to data security, technology adoption, and ethical considerations may arise during the research. I will keep my supervisor informed about any unexpected findings and concerns throughout the study to ensure a comprehensive evaluation of the research outcomes.
Now that you have seen some sample answers, here are some additional questions you can take on:
What sample groups are you using and why?
What secondary sources do you plan to use?
What do you believe is the strongest point in your research?
Are there any biases that could exist in your research or your secondary sources?
What are some ways your findings will be put into practice?
What was the approach you took when starting your project?
What phenomenon are you trying to understand with this research?
How has your research project changed from when you started this degree?
Do you see any foreseeable weaknesses or blind spots in your study?
What measurement instrument did you use for this research?
What theoretical framework is your research based on?
Is the literature you chose up to date?
What pertinent information have you found so far?
Does your research have any use for policy makers?
What do you plan to do with this research project once you have graduated?
When you are wondering, "should you pursue a master's or a PhD?" , you truly need to consider the importance of research within the discipline you choose. Part of being an academic is the ability to contribute to the field and, by extension, society as a whole. The research proposal and the subsequent dissertation may be the last step to complete your degree, but it is also can be the first real step of your professional career.
Any meeting with your supervisor or instant where you have to defend your work is simply part of the process of being a working academic. This can have lasting implications for the future of your career, as knowing how to conduct and present research effectively is key to learning how to find a job in academia . That being said, the first step is putting yourself in the best position to succeed. Using PhD consultants can make all the difference for your project. If you are currently applying to graduate school, these trained experts can help you get into the school of your dreams or assist with finding programs that suit your skillset. They can also provide pointers on your research, as many of them have been in your shoes before.
A research proposal is a concise and structured document that outlines the key objectives, methodology, and significance of a proposed research project, aiming to convince others about the value and feasibility of the study.
A typical research proposal for a doctoral thesis is usually between 10 to 20 pages, depending on the specific requirements of the academic institution and the complexity of the research project.
To find the right research topic for a doctoral thesis, consider your interests, expertise, and the significance of the topic in your field. Engage with relevant literature, consult with advisors and experts, and identify gaps or unresolved issues to narrow down your focus.
Yes, you can and you should include your research on your grad school CV .
Most graduate programs will ask you to defend your research proposal. However, if it's a smaller project, a review of the proposal may be sufficient.
To prepare for a research proposal or thesis defense, thoroughly review your research work, anticipate potential questions, and practice presenting your findings in a clear and concise manner to effectively communicate your research objectives, methodology, and results.
Some mistakes to avoid when writing a research proposal include: lack of clarity in research objectives, insufficient literature review, neglecting to address potential limitations, and failing to align the proposal with the funding agency's guidelines or the university's requirements.
Yes, you can always reach out to thesis writing services for some guidance.
Want more free tips? Subscribe to our channels for more free and useful content!
Apple Podcasts
Like our blog? Write for us ! >>
Have a question ask our admissions experts below and we'll answer your questions, get started now.
Talk to one of our admissions experts
Our site uses cookies. By using our website, you agree with our cookie policy .
FREE Training Webinar:
How to make your grad school application stand out, (and avoid the top 5 mistakes that get most rejected).
Time Sensitive. Limited Spots Available:
We guarantee you'll get into grad school or you don't pay.
Swipe up to see a great offer!

UNITED STATES
台灣 (TAIWAN)
TÜRKIYE (TURKEY)
Academic Editing Services
- Research Paper
- Journal Manuscript
- Dissertation
- College & University Assignments
Admissions Editing Services
- Application Essay
- Personal Statement
- Recommendation Letter
- Cover Letter
- CV/Resume
Business Editing Services
- Business Documents
- Report & Brochure
- Website & Blog
Writer Editing Services
- Script & Screenplay
Our Editors
Client Reviews
Editing & Proofreading Prices
Wordvice Points
Partner Discount
Plagiarism Checker
APA Citation Generator
MLA Citation Generator
Chicago Citation Generator
Vancouver Citation Generator
- APA Style
- MLA Style
- Chicago Style
- Vancouver Style
Writing & Editing Guide
Academic Resources
Admissions Resources
How to Write a Good Research Question (w/ Examples)
What is a Research Question?
A research question is the main question that your study sought or is seeking to answer. A clear research question guides your research paper or thesis and states exactly what you want to find out, giving your work a focus and objective. Learning how to write a hypothesis or research question is the start to composing any thesis, dissertation, or research paper. It is also one of the most important sections of a research proposal .
A good research question not only clarifies the writing in your study; it provides your readers with a clear focus and facilitates their understanding of your research topic, as well as outlining your study's objectives. Before drafting the paper and receiving research paper editing (and usually before performing your study), you should write a concise statement of what this study intends to accomplish or reveal.
Research Question Writing Tips
Listed below are the important characteristics of a good research question:
A good research question should:
Be clear and provide specific information so readers can easily understand the purpose.
Be focused in its scope and narrow enough to be addressed in the space allowed by your paper
Be relevant and concise and express your main ideas in as few words as possible, like a hypothesis.
Be precise and complex enough that it does not simply answer a closed "yes or no" question, but requires an analysis of arguments and literature prior to its being considered acceptable.
Be arguable or testable so that answers to the research question are open to scrutiny and specific questions and counterarguments.
Some of these characteristics might be difficult to understand in the form of a list. Let's go into more detail about what a research question must do and look at some examples of research questions.
The research question should be specific and focused
Research questions that are too broad are not suitable to be addressed in a single study. One reason for this can be if there are many factors or variables to consider. In addition, a sample data set that is too large or an experimental timeline that is too long may suggest that the research question is not focused enough.
A specific research question means that the collective data and observations come together to either confirm or deny the chosen hypothesis in a clear manner. If a research question is too vague, then the data might end up creating an alternate research problem or hypothesis that you haven't addressed in your Introduction section .
The research question should be based on the literature
An effective research question should be answerable and verifiable based on prior research because an effective scientific study must be placed in the context of a wider academic consensus. This means that conspiracy or fringe theories are not good research paper topics.
Instead, a good research question must extend, examine, and verify the context of your research field. It should fit naturally within the literature and be searchable by other research authors.
References to the literature can be in different citation styles and must be properly formatted according to the guidelines set forth by the publishing journal, university, or academic institution. This includes in-text citations as well as the Reference section .
The research question should be realistic in time, scope, and budget
There are two main constraints to the research process: timeframe and budget.
A proper research question will include study or experimental procedures that can be executed within a feasible time frame, typically by a graduate doctoral or master's student or lab technician. Research that requires future technology, expensive resources, or follow-up procedures is problematic.
A researcher's budget is also a major constraint to performing timely research. Research at many large universities or institutions is publicly funded and is thus accountable to funding restrictions.
The research question should be in-depth
Research papers, dissertations and theses , and academic journal articles are usually dozens if not hundreds of pages in length.
A good research question or thesis statement must be sufficiently complex to warrant such a length, as it must stand up to the scrutiny of peer review and be reproducible by other scientists and researchers.
Research Question Types
Qualitative and quantitative research are the two major types of research, and it is essential to develop research questions for each type of study.
Quantitative Research Questions
Quantitative research questions are specific. A typical research question involves the population to be studied, dependent and independent variables, and the research design.
In addition, quantitative research questions connect the research question and the research design. In addition, it is not possible to answer these questions definitively with a "yes" or "no" response. For example, scientific fields such as biology, physics, and chemistry often deal with "states," in which different quantities, amounts, or velocities drastically alter the relevance of the research.
As a consequence, quantitative research questions do not contain qualitative, categorical, or ordinal qualifiers such as "is," "are," "does," or "does not."
Categories of quantitative research questions
Qualitative research questions.
In quantitative research, research questions have the potential to relate to broad research areas as well as more specific areas of study. Qualitative research questions are less directional, more flexible, and adaptable compared with their quantitative counterparts. Thus, studies based on these questions tend to focus on "discovering," "explaining," "elucidating," and "exploring."
Categories of qualitative research questions
Quantitative and qualitative research question examples.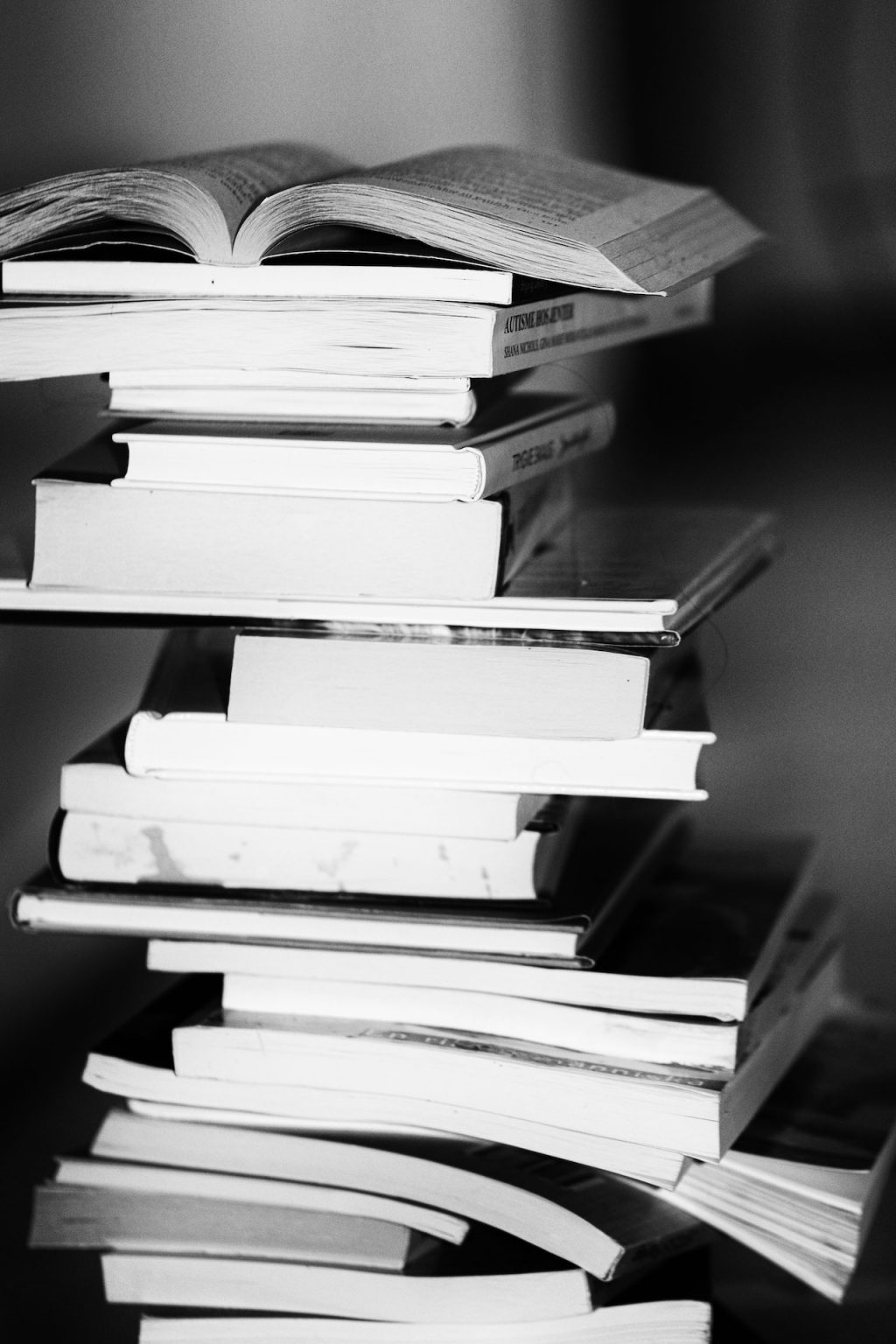 Good and Bad Research Question Examples
Below are some good (and not-so-good) examples of research questions that researchers can use to guide them in crafting their own research questions.
Research Question Example 1
The first research question is too vague in both its independent and dependent variables. There is no specific information on what "exposure" means. Does this refer to comments, likes, engagement, or just how much time is spent on the social media platform?
Second, there is no useful information on what exactly "affected" means. Does the subject's behavior change in some measurable way? Or does this term refer to another factor such as the user's emotions?
Research Question Example 2
In this research question, the first example is too simple and not sufficiently complex, making it difficult to assess whether the study answered the question. The author could really only answer this question with a simple "yes" or "no." Further, the presence of data would not help answer this question more deeply, which is a sure sign of a poorly constructed research topic.
The second research question is specific, complex, and empirically verifiable. One can measure program effectiveness based on metrics such as attendance or grades. Further, "bullying" is made into an empirical, quantitative measurement in the form of recorded disciplinary actions.
Steps for Writing a Research Question
Good research questions are relevant, focused, and meaningful. It can be difficult to come up with a good research question, but there are a few steps you can follow to make it a bit easier.
1. Start with an interesting and relevant topic
Choose a research topic that is interesting but also relevant and aligned with your own country's culture or your university's capabilities. Popular academic topics include healthcare and medical-related research. However, if you are attending an engineering school or humanities program, you should obviously choose a research question that pertains to your specific study and major.
Below is an embedded graph of the most popular research fields of study based on publication output according to region. As you can see, healthcare and the basic sciences receive the most funding and earn the highest number of publications.
2. Do preliminary research
You can begin doing preliminary research once you have chosen a research topic. Two objectives should be accomplished during this first phase of research. First, you should undertake a preliminary review of related literature to discover issues that scholars and peers are currently discussing. With this method, you show that you are informed about the latest developments in the field.
Secondly, identify knowledge gaps or limitations in your topic by conducting a preliminary literature review . It is possible to later use these gaps to focus your research question after a certain amount of fine-tuning.
3. Narrow your research to determine specific research questions
You can focus on a more specific area of study once you have a good handle on the topic you want to explore. Focusing on recent literature or knowledge gaps is one good option.
By identifying study limitations in the literature and overlooked areas of study, an author can carve out a good research question. The same is true for choosing research questions that extend or complement existing literature.
4. Evaluate your research question
Make sure you evaluate the research question by asking the following questions:
Is my research question clear?
The resulting data and observations that your study produces should be clear. For quantitative studies, data must be empirical and measurable. For qualitative, the observations should be clearly delineable across categories.
Is my research question focused and specific?
A strong research question should be specific enough that your methodology or testing procedure produces an objective result, not one left to subjective interpretation. Open-ended research questions or those relating to general topics can create ambiguous connections between the results and the aims of the study.
Is my research question sufficiently complex?
The result of your research should be consequential and substantial (and fall sufficiently within the context of your field) to warrant an academic study. Simply reinforcing or supporting a scientific consensus is superfluous and will likely not be well received by most journal editors.
Editing Your Research Question
Your research question should be fully formulated well before you begin drafting your research paper. However, you can receive English paper editing and proofreading services at any point in the drafting process. Language editors with expertise in your academic field can assist you with the content and language in your Introduction section or other manuscript sections. And if you need further assistance or information regarding paper compositions, in the meantime, check out our academic resources , which provide dozens of articles and videos on a variety of academic writing and publication topics.
Have a language expert improve your writing
Run a free plagiarism check in 10 minutes, generate accurate citations for free.
Knowledge Base
Starting the research process
Writing Strong Research Questions | Criteria & Examples
Writing Strong Research Questions | Criteria & Examples
Published on October 26, 2022 by Shona McCombes . Revised on November 21, 2023.
A research question pinpoints exactly what you want to find out in your work. A good research question is essential to guide your research paper , dissertation , or thesis .
All research questions should be:
Focused on a single problem or issue
Researchable using primary and/or secondary sources
Feasible to answer within the timeframe and practical constraints
Specific enough to answer thoroughly
Complex enough to develop the answer over the space of a paper or thesis
Relevant to your field of study and/or society more broadly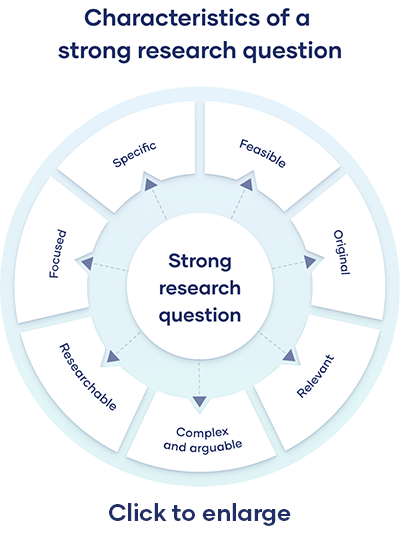 Table of contents
How to write a research question, what makes a strong research question, using sub-questions to strengthen your main research question, research questions quiz, other interesting articles, frequently asked questions about research questions.
You can follow these steps to develop a strong research question:
Choose your topic
Do some preliminary reading about the current state of the field
Narrow your focus to a specific niche
Identify the research problem that you will address
The way you frame your question depends on what your research aims to achieve. The table below shows some examples of how you might formulate questions for different purposes.
Using your research problem to develop your research question
Note that while most research questions can be answered with various types of research , the way you frame your question should help determine your choices.
A faster, more affordable way to improve your paper
Scribbr's new AI Proofreader checks your document and corrects spelling, grammar, and punctuation mistakes with near-human accuracy and the efficiency of AI!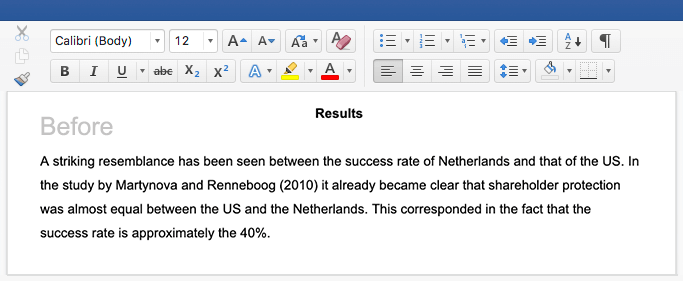 Proofread my paper
Research questions anchor your whole project, so it's important to spend some time refining them. The criteria below can help you evaluate the strength of your research question.
Focused and researchable
Feasible and specific, complex and arguable, relevant and original.
Chances are that your main research question likely can't be answered all at once. That's why sub-questions are important: they allow you to answer your main question in a step-by-step manner.
Good sub-questions should be:
Less complex than the main question
Focused only on 1 type of research
Presented in a logical order
Here are a few examples of descriptive and framing questions:
Descriptive: According to current government arguments, how should a European bank tax be implemented?
Descriptive: Which countries have a bank tax/levy on financial transactions?
Framing: How should a bank tax/levy on financial transactions look at a European level?
Keep in mind that sub-questions are by no means mandatory. They should only be asked if you need the findings to answer your main question. If your main question is simple enough to stand on its own, it's okay to skip the sub-question part. As a rule of thumb, the more complex your subject, the more sub-questions you'll need.
Try to limit yourself to 4 or 5 sub-questions, maximum. If you feel you need more than this, it may be indication that your main research question is not sufficiently specific. In this case, it's is better to revisit your problem statement and try to tighten your main question up.
Prevent plagiarism. Run a free check.
If you want to know more about the research process , methodology , research bias , or statistics , make sure to check out some of our other articles with explanations and examples.
Methodology
Sampling methods
Simple random sampling
Stratified sampling
Cluster sampling
Likert scales
Reproducibility
 Statistics
Null hypothesis
Statistical power
Probability distribution
Effect size
Poisson distribution
Research bias
Optimism bias
Cognitive bias
Implicit bias
Hawthorne effect
Anchoring bias
Explicit bias
The way you present your research problem in your introduction varies depending on the nature of your research paper . A research paper that presents a sustained argument will usually encapsulate this argument in a thesis statement .
A research paper designed to present the results of empirical research tends to present a research question that it seeks to answer. It may also include a hypothesis —a prediction that will be confirmed or disproved by your research.
As you cannot possibly read every source related to your topic, it's important to evaluate sources to assess their relevance. Use preliminary evaluation to determine whether a source is worth examining in more depth.
This involves:
Reading abstracts , prefaces, introductions , and conclusions
Looking at the table of contents to determine the scope of the work
Consulting the index for key terms or the names of important scholars
A research hypothesis is your proposed answer to your research question. The research hypothesis usually includes an explanation (" x affects y because …").
A statistical hypothesis, on the other hand, is a mathematical statement about a population parameter. Statistical hypotheses always come in pairs: the null and alternative hypotheses . In a well-designed study , the statistical hypotheses correspond logically to the research hypothesis.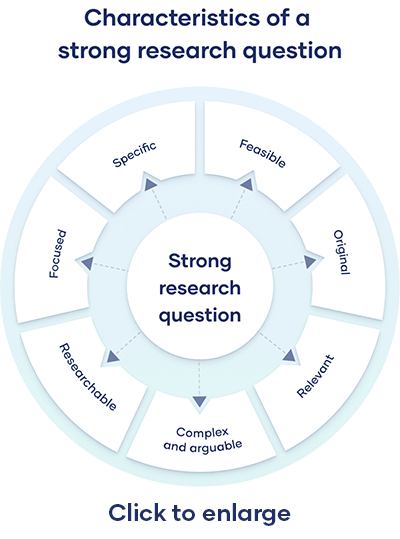 Formulating a main research question can be a difficult task. Overall, your question should contribute to solving the problem that you have defined in your problem statement .
However, it should also fulfill criteria in three main areas:
Researchability
Feasibility and specificity
Relevance and originality
Cite this Scribbr article
If you want to cite this source, you can copy and paste the citation or click the "Cite this Scribbr article" button to automatically add the citation to our free Citation Generator.
McCombes, S. (2023, November 21). Writing Strong Research Questions | Criteria & Examples. Scribbr. Retrieved November 29, 2023, from https://www.scribbr.com/research-process/research-questions/
Is this article helpful?
Shona McCombes
Other students also liked, how to define a research problem | ideas & examples, how to write a problem statement | guide & examples, 10 research question examples to guide your research project, what is your plagiarism score.