Periodic Table Worksheets for 7th Grade
Grade 7 science worksheets.
The  periodic table  is an organized arrangement of the chemical elements, in order of their atomic number (number of protons), electron configurations, and their chemical properties. This ordering segregates elements according to their periodic trends that are elements with similar behavior in the same column.
How is the periodic table of the elements arranged?
The periodic table is a vital tool in chemistry, organizing elements based on their properties and atomic structure. It provides a systematic framework to understand and predict element behavior, aiding in scientific research, chemical education, and technological advancements. By studying the periodic table, scientists can identify trends, make predictions, and discover new elements. It serves as a fundamental reference for understanding the properties of elements and their significance in various chemical processes and industries.
Schedule a Free session to clear worksheet doubts
No credit card required, no obligation to purchase. Just schedule a FREE Sessions to meet a tutor and get help on any topic you want!
Learn how Elements are Named in the Periodic Table | 7th Grade
All elements are shown by a square on the Periodic Table of Elements and each of them is marked by its own series of letters.   Carbon is C, Calcium is Ca, and Hydrogen is H.
The elements are given in increasing order of the atomic number. And every square has the elements' atomic number and atomic mass.
The atomic number means the number of protons in the nucleus or the electrons orbiting the nucleus. That is number of protons= number of electrons orbiting the nucleus of an atom = atomic number.
The atomic mass is the average mass of the protons, electrons and neutrons in a single atom.
An atom of carbon with protons and neutrons (nucleus) in the centre and electrons orbiting.
Parts of the Table
What is meant by a group and a period in the periodic table?
Groups are the vertical column and represent element families. There are 18 groups of the elements. They have similar chemical and physical properties.
For example, Group 18 has the noble gases – Helium, Neon, Argon, Radon, Krypton and Xenon which have low melting and boiling points, and they each are colorless, odorless, tasteless, and nonflammable. The group is called as low chemical reactive group.
Our mission is to provide high quality online tutoring services, using state of the art Internet technology, to school students worldwide.
Home Tutoring Test Prep Worksheets Pricing About Us Blog Free Class Login Terms of service Privacy Policy Money Back Guarantee Technical requirements FAQs Job Opportunities Sitemap
Connect with us +1-628-272-0788
Online test prep and practice SCAT CogAT SSAT ISEE PSAT SAT ACT AP Exam
Science Tutoring Physics Tutoring Chemistry Tutoring Biology Tutoring
Math Tutoring Pre-Algebra Tutoring Algebra Tutoring Pre Calculus Tutoring Calculus Tutoring Geometry Tutoring Trigonometry Tutoring Statistics Tutoring
English Tutoring Reading Writing Grammar
Quick links Free Worksheets Fact sheet Sales Partner Opportunities Parents Passive Fundraising Virtual Fundraising Our Expert Tutors Safe and Secure Tutoring Interactive Online Tutoring After School Tutoring Elementary School Tutoring Middle School Tutoring High School Tutoring Home Work Help Math Tutors New York City Press
©2022 eTutorWorld           Terms of use             Privacy Policy             Site by Little Red Bird          
©2022 eTutorWorld Terms of use Privacy Policy Site by Little Red Bird
Chemistry Learner
It's all about chemistry.
Chemical Bonds
Chemical Reactions
Materials Chemistry
Organic Chemistry
Periodic Trends
Periodic Table Groups
How to Read Periodic Table
Naming Covalent Compounds Worksheets
Net Ionic Equation Worksheets
Types of Chemical Reactions Worksheets
Word Equations Worksheets
Valence Electrons Worksheets
Graphing Periodic Trends Worksheets
Periodic Trends Ionization Energy Worksheets
Atomic Structure And Isotopes Worksheets
Periodic Table Worksheets
The periodic table consists of natural and artificial elements arranged in increasing atomic numbers. Several properties like the atomic number, atomic mass, chemical symbol of the element, and oxidation state are listed in the periodic table. These worksheets are designed so that they test students' knowledge of periodic table elements and their associated properties.
Suitable for: Grade 5, Grade 6, Grade 7, Grade 8, Grade 9, Grade 10
Download PDF
Trending Topics
© 2023 ( Chemistry Learner )
Child Login
English Language Arts
Summer Review Packets
Animals and Their Young
Animal Habitats
Atoms and Molecules
Electricity
Five Senses
Flower Activities
Food Chain and Food Web
Food Groups and Nutrition
Fruit and Vegetables
Healthy and Unhealthy Foods
Herbivores, Carnivores, and Omnivores
Human Body Systems
Landforms and Bodies of Water
Life Cycle of a Butterfly
Life Cycle of a Chicken
Life Cycle of a Frog
Living and Non-living Things
Needs of Plants and Animals
Parts of a Flower
Parts of a Plant
Parts of the Body
Periodic Table
Photosynthesis
Plant and Animal Cell
Push and Pull
Rocks and Minerals
Simple Machines
Solar System
States of Matter
The Rock Cycle
Transportation
Vertebrates and Invertebrates
Water Cycle
Social Studies
Holidays and Events
Worksheets >
Science >
Periodic Table Worksheets
Know your periodic table soup to nuts with our periodic table worksheets. A tabular display of chemical elements, the periodic table helps students feel at home with chemical elements and keeps them thoroughly and immaculately informed of the atomic numbers, electronic configurations, and chemical properties of elements. This promising set of printable worksheets for grade 5 through grade 8 includes a color-coded periodic table chart, completing the periodic table and identifying periodic table families, completing the missing parts in a table, a periodic table MCQ, and more. One of these worksheets can be downloaded for free.
Periodic Table | Chart
Help grade 5, grade 6, and grade 7 children crack an intriguing aspect of chemistry! Get the hang of a periodic table that delineates aspects of a chemical element: its mass, electron configuration, chemical properties, and more.
Identifying Periodic Table Families
There are various families of elements like alkali metals, basic metals, transition metals, and more. In this color-coded pdf worksheet, 5th grade and 6th grade students complete the missing parts and identify the nine periodic table families.
Subatomic Particles
An atomic number is the number of protons in a nucleus; a mass number is the number of protons and neutrons. The task in this printable worksheet is to write the missing pieces of information in a table.
Identifying the Elements
Watch 7th grade and 8th grade students display an elite knowledge of elements in this periodic table MCQ pdf, where they read each fact and recognize which of the three given elements best represents it.
Periodic Table | Testing Your Knowledge
On the left side of this middle school pdf exercise is part of the information about an element, and on the right side is a question that tests students' awareness of its name, symbol, atomic number, or atomic mass.
Become a Member
Membership Information
Privacy Policy
What's New?
Printing Help
Testimonial
Copyright © 2023 - Math Worksheets 4 Kids
Members have exclusive facilities to download an individual worksheet, or an entire level.
periodic table worksheet middle school
All Formats
Resource types, all resource types, periodic table worksheet middle school.
Rating Count
Price (Ascending)
Price (Descending)
Most Recent
Periodic table close reading worksheet puzzle 6 7 8th grade jr high Texas TEKS
Periodic table elements lesson worksheet atomic mass 6th 7th 8th middle school
Periodic Table Worksheet Activity in Digital and Print with Differentiation
Periodic Table Families Worksheet Periodic Trends Review Middle School
Middle School Periodic Table /Atomic Structure Worksheet /Homework
Middle School Periodic Table Worksheet
Periodic table mystery worksheet 2 Jr. High Texas TEKS 6.5A
Middle School Chemistry Periodic Table Vocabulary Worksheet
Periodic table mystery worksheet Jr. High Texas TEKS 6.5A
Atoms Elements and Periodic Table Unit Curriculum Bundle for Middle School
Calculating Protons Neutrons & Electrons from Atomic & Mass Number Worksheet
Periodic Table Element Groups Worksheet on Metals Nonmetals & Metalloids
Mendeleev History of the Periodic Table of Elements Worksheet
Chemistry Curriculum for Middle School with PPTs Worksheets Labs & Assessments
Drawing Electron Dot or Lewis Dot Diagrams for Periodic Table Elements Worksheet
Middle School Physical Science Worksheet Set
Atomic Structure and the Periodic Table Unit - Worksheets and Activities
Elements Worksheets Periodic Table Packet NGSS MS-PS1 TEKS 6.5A
Physical Science Curriculum Middle School With PPTs Worksheets Lab Assessments
Periodic Table : Worksheets and Resources NGSS MS-PS1-1
Science Christmas Worksheet Activity Middle and High School
Isotopes Worksheet on Isotope Ratios Percent Abundance and Weighted Averages
Atomic Structure Atoms Worksheet Protons Neutrons Electrons NGSS MS-PS1-1
Periodic Table Double Puzzle Worksheet
We're hiring
Help & FAQ
Privacy policy
Student privacy
Terms of service
Tell us what you think
Join for FREE
Printable Worksheets
Online Lessons
Test Maker™
Printable Games
Worksheet Generator
Plans & Pricing
Printable & online resources for educators
Test Maker TM
Browse All Questions
Questions With Images
Advanced Search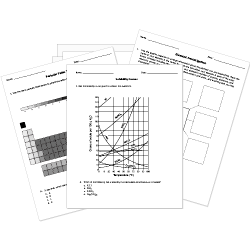 Share/Like This Page
Filter by grade.
You are browsing Grade 7 questions. View questions in All Grades .
Grade 4 Grade 5 Grade 6 Grade 7 Grade 8 Grade 9 Grade 10 Grade 11 Grade 12 College Graduate Continuing Education
Browse Questions
All Subjects w/ Images (7037)
By ELA/Literacy Standard
By Math Standard
All Subjects (20671)
English Language Arts (6182)
English as a Second Language ESL (4512)
Health and Medicine (452)
Life Skills (110)
Math (3739)
Physical Education (419)
Acids and Bases
Atomic structure, biochemistry, bonds and mixing, kinetics and equilibrium, molecules and compounds, organic chemistry, periodic table and elements, properties of matter, solvents, solutes, and solubility, earth science, scientific methods and applications.
Social Studies (3532)
Study Skills and Strategies (37)
Technology (78)
Vocational Education (2)
Seventh Grade (Grade 7) Periodic Table and Elements Questions
You can create printable tests and worksheets from these Grade 7 Periodic Table and Elements questions! Select one or more questions using the checkboxes above each question. Then click the add selected questions to a test button before moving to another page.
happening at regular intervals
happening very rarely
happening frequently
happening three or four times a year
atomic mass
atomic projection
atomic number
up and down
across the table
from the corners
atomic number.
chemical symbol.
atomic mass.
chemical formula.
7 rows, 18 columns
7 rows, 20 columns
10 rows, 30 columns
9 rows, 19 columns
melting point
boiling point
pure substance
Charles Darwin
Albert Einstein
Eli Whitney
Dmitri Mendeleev
Privacy Policy
Terms of Use
FREE Printable Worksheets
Common Core ELA Worksheets
Common Core Math Worksheets

English Language Arts
Graphic Organizers
Social Studies
Teacher Printables
Foreign Language
Home > Science Worksheets > Periodic Table
Noted scientist Dmitri Mendeleev was touted as creating the first version of the Periodic Table. He showed that a certain arrangement of elements could lead us to understand the properties of other elements that were related to each other. He also used it to predict the properties of elements that were either not discovered yet or not normally found in nature. Elements on the table are ordered by their number of protons which is equivalent to their atomic number. The elements on the table can be found at room temperature in all of the various phases. Students can use the Periodic Table to help them predict the outcome of chemical reactions and the stability of compounds in the modern science classroom. Elements that exist in the same column of the table tend to not only similar chemical properties, but also form similarly charged ions. As you progress from right to left in a row of elements several trends emerge: the amount of energy required to remove an electron increases, the radius of an atom of the element decreases, as well as the increased tendency to attract a pair electrons. This really helps us also write the chemical formulas for compounds and balance chemical equations.
The worksheets range from finding basic information about particular elements that are found in nature to working on determine atomic operations such as neutron numbers. These worksheets start by thoroughly explaining the information that can be found on a single atom of an element on the table. We then look into all the compositional math that exists for these elements. We show you how to determine the number of protons, neutrons, and electrons found in a stable atom of each element. As we progress, we will present students with fun puzzles that helps sum up everything we can learn from this marvel of science.
Get Free Worksheets In Your Inbox!
Print periodic table worksheets, click the buttons to print each worksheet and associated answer key., understanding table data.
Use the values shown in the boxes below to label the parts of the picture of the entry for Nitrogen.

Atomic Numbers- Electrons, Neutrons, and Protons
Because neutrons and protons are almost the same mass, the total number of protons and neutrons in an atom is the atomic mass. Therefore, by subtracting the atomic number from the atomic mass you can calculate the number of neutrons.

Using the Periodic Table of Elements Sheet 1
Use the chart and your knowledge of chemistry to complete the blanks for atoms of each element. You will learn the not only find the atomic number, mass, and symbol, but you will learn how to translate that to a a number of protons, neutrons, and electrons for a stable atom.
Worksheet 2
Round Atomic Mass to the nearest whole number.
The Periodic Puzzle
The location of an element into columns can give information about its chemical properties. Provide the letter of the element in the table above that best fits the description below.
Periodic Crossword
They mostly describe Groups and Periods that elements are arranged in, but there will be the occasional extensive question for you too.