Writing a Business Plan
While it may be tempting to put off, creating a business plan is an essential part of starting your own business. Plans and proposals should be put in a clear format making it easy for potential investors to understand. Because every company has a different goal and product or service to offer, there are business plan templates readily available to help you get on the right track. Many of these templates can be adapted for any company. In general, a business plan writing guide will recommend that the following sections be incorporated into your plan.
The executive summary is the first section that business plans open with, but is often the last section to actually be written as it's the most difficult to write. The executive summary is a summary of the overall plan that highlights the key points and gives the reader an idea of what lies ahead in the document. It should include areas such as the business opportunity, target market, marketing and sales strategy, competition, the summary of the financial plan, staff members and a summary of how the plan will be implemented. This section needs to be extremely clear, concise and engaging as you don't want the reader to push your hard work aside.
Company Description
The company description follows the executive summary and should cover all the details about the company itself. For example, if you are writing a business plan for an internet café, you would want to include the name of the company, where the café would be located, who the main team members involved are and why, how large the company is, who the target market for the internet cafe is, what type of business structure the café is, such as LLC, sole proprietorship, partnership, or corporation, what the internet café business mission and vision statements are, and what the business's short-term objectives are.
Services and Products
This is the exciting part of the plan where you get to explain what new and improved services or products you are offering. On top of describing the product or service itself, include in the plan what is currently in the market in this area, what problems there are in this area and how your product is the solution. For example, in a business plan for a food truck, perhaps there are numerous other food trucks in the area, but they are all fast –food style and unhealthy so, you want to introduce fast food that serves only organic and fresh ingredients every day. This is where you can also list your price points and future products or services you anticipate.
Market Analysis
The market analysis section will take time to write and research as a lot of effort and research need to go into it. Here is where you have the opportunity to describe what trends are showing up, what the growth rate in this sector looks like, what the current size of this industry is and who your target audience is. A cleaning business plan, for example, may include how this sector has been growing by 10% every year due to an increase in large businesses being built in the city.
Organization and Management
Marketing and sales are the part of the business plan where you explain how you will attract and retain clients. How are you reaching your target customers and what incentives do you offer that will keep them coming back? For a dry cleaner business plan, perhaps if they refer customers, they will get 10% off their next visit. In addition, you may want to explain what needs to be done in order for the business to be profitable. This is a great way of showing that you are conscious about what clear steps need to be taken to make a business successful.
Financial Projections & Appendix
The financial business plan section can be a tricky one to write as it is based on projections. Usually what is included is the short-term projection, which is a year broken down by month and should include start-up permits, equipment, and licenses that are required. This is followed by a three-year projection broken down by year and many often write a five-year projection, but this does not need to be included in the business plan.
The appendix is the last section and contains all the supporting documents and/or required material. This often includes resumes of those involved in the company, letters of reference, product pictures and credit histories. Keep in mind that your business plan is always in development and should be adjusted regularly as your business grows and changes.
Privacy Policy
Terms of Service
© 2023 Ask Media Group, LLC
Your Guide to Writing a Business Plan
If you're starting a new business, then you need an effective plan. Not only does this enable you to plan your company, but it also gives potential clients an insight into how your business works. A business plan is also vital if you want to attract investors or secure a loan from the bank. Drafting a business plan is a complex process, but it doesn't have to be. This guide will ensure you create a definite plan to impress investors and clients. 
When creating your business plan, there are some essential elements you must include. The Executive Summary provides a description of your business, and what you hope to achieve. People usually write at least one page, but leave their Executive Summary until last.
You'll also need to detail what your business offers and define your target audience. This makes it easier for people to see whether your company has a chance of succeeding. The opportunity section is also an excellent way for you to see what competitors offer and how you can create a USP to stand out from the competition. 
Appealing to Investors
Every business that wants growth and prosperity must ensure they promote themselves to potential investors. Business plans aren't just about what the business is, but who is part of it too. Detail your current team members and explain what they bring to the company. Investors want to know they're making a wise investment.
Your current finances and financial forecast are also essential aspects of your business plan. Look at your products, how much you're selling them for and what kind of profit margin you expect to gain. It's also vital you detail your outgoings and look at how various economic situations could affect your finances. 
Writing a Winning Executive Summary
There are problems in every market, and a successful business solves that problem. If you can show how you'll be able to offer solutions in your business plan, you'll appeal to investors. Choose your target audience based on research and ensure you show your research. There are many ways to conduct market research including defining SOMs, SAMs and TAMs. 
TAM stands for Total Available Market and comprises everyone you want your product to reach. Your Segmented Addressable Market (SAM) is a specific portion of the market you'll target. This is important because it shows you're able to direct your product at the right people and not just everyone. Your SOM (Share of the Market) is what you feel you'll gain with your product.  
How to Determine Pricing
Pricing your product is one of the most challenging things you'll have to do. There are many things to consider, such as how much it's worth and making sure you don't charge unrealistically. Many new businesses believe undercharging is the best way to go, but doing this can undermine your company's authority and cause fewer people to be interested in investing.
Market-based pricing involves looking at your competitors and evaluating their prices. Which company has the most customers? How does their pricing match others? These are all vital aspects you should consider. Remember, customers expect quality and a fair price, so make sure you combine the two. 
Future Goals
Investors and banks want to know that you've considered what the future will hold for your company. When you write your business plan, be sure to take into account how you see the company growing, what you'll do to ensure it thrives and that you understand the potential risks. Banks and investors want to know that you can build a business and are aware of the obstacles you'll have to overcome.
Starting your own business doesn't have to be difficult. If you ensure you produce a robust business plan, it can be an exciting process. Your business is part of your future, so start by outlining your goals and look forward to seeing results. 
Privacy Policy
Terms of Service
© 2023 Ask Media Group, LLC
How to Write a Letter of Recommendation
People may need letters of recommendation in a variety of situations, such as applying for admission to school, applying for a job or even trying to rent an apartment. Are you writing a letter of recommendation for someone? Here's what to include in and leave out of an effective letter.
A professional or personal acquaintance may ask you for this type of letter. The document outlines the nature of your relationship with the person in question and why you recommend the person for the job or other need. A letter of recommendation needs to include specific information, and sometimes the person requesting the letter may ask you to mention something specific, such as an attribute or a situation that illustrates why he or she is a good candidate. Letters of recommendation need to be detailed and personal.
Points to Include
An effective letter of recommendation can include a short opening paragraph that describes your relationship to the person you're recommending. Next, segue into a brief overview of the person's skills or accomplishments as they pertain to the purpose for the letter. For example, if you're writing to a prospective employer, mention specific qualifications that make the person an ideal prospect for the job. Include examples of these qualifications if possible by explaining a situation in which your acquaintance demonstrated them. Finish the letter with a brief summary that outlines why you're making the recommendation.
What Not to Say
Sending a weak or even damaging letter of recommendation is definitely not something you want to do. Avoid writing anything that sounds less than enthusiastic. Don't provide mere generalities about the person, and try not to sound impersonal with just an overview of facts. Making your recommendation letter another version of the person's resume can potentially create an impersonal letter. Make sure you flesh out your letter so it's engaging, full of insight and more than a paragraph or two long.
Letter of Recommendation Sample
If you're not sure how to write a letter of recommendation, you might peruse sample letters available on the internet. These letters include the basics to cover so you can use them as guides as you create your own letter. You might also use a template for the letter of recommendation. After downloading a template, you can simply add your personal information and details to make it yours.
Ideas for Other Types of Letters
Writing letters may seem outdated, but there are many situations that demand written communication. You may need to write a letter of request, letter of complaint, letter of gratitude and thanks or a letter of concern. Looking at sample letters can make the letter-writing process easier. Letters of encouragement can be a meaningful way of reaching out to professional or personal acquaintances. And, a letter of congratulations might be in order if the acquaintance for whom you wrote the letter of recommendation finds success in their endeavor.
Privacy Policy
Terms of Service
© 2023 Ask Media Group, LLC
Readers' Comments
Blog >> How to Write a Recommendation Report + Recommendation Report Template!
How to Write a Recommendation Report + Recommendation Report Template!
Making decisions requires the vigilant evaluation of options.   A recommendation report proposes multiple potential solutions to a problem and concludes by recommending the best one. Compared to  white papers , recommendation reports are more overtly persuasive, since they make a final recommendation that is informed by research and evidence. Read our advice all the way to end to download our free recommendation report template. Or better yet, if you're ready to level-up your professional writing game, definitely check out our expert-crafted  recommendation report template pack —an exclusive item in our   Templates for Busy Professionals™  series.
Watch our video about the reasons why you should write a recommendation report plus get a sneak-peak into our templates. If you're ready to propel your professional potential, be sure to check out our online, on-demand writing course,   Wordsmith: A Grammar & Writing Course for Busy Professionals . Now let's jump into recommendation reports…
What sections are typically included in a recommendation report?
Executive summary.
Begin with an "executive summary" that briefly introduces and summarizes your purpose for writing this report. This section establishes reader expectations for what is to follow. Make sure to state clearly here your reasons for writing this report, and what is contained within the report.
Problem Statement
All recommendation reports address a real and important problem. The Problem Statement is perhaps the most important part of the report because it articulates this problem clearly, providing a strong sense of need for the options you will explore in the rest of the report. The Problem Statement is where you justify the purpose of this report.
To justify the options you recommend, you must first understand the specific needs of the business, organization, or stakeholders you are writing for (i.e. What does the organization need? Why? What is the background of this problem? Who are the major stakeholders? What has been tried in the past? Why didn't it work?). Your Problem Statement will serve as your introduction to the options discussed in this report.
Description of Options
This is the heart of a recommendation report. In this section, you describe a set number of possible ideas (typically 3) for solving the problem cited at the beginning of your report. Your ideas should be creative and well-planned.  Each option (which should be described in 1-2 paragraphs) should include the following information:
a cohesive, comprehensive overview of this option/idea;
information about how this option answers the need cited at the beginning of your report;
specific details about how this idea could be implemented; and
justifications as to why this option will work.
Evaluation Criteria & Evaluations of Each Option
After describing the three options, you should outline criteria for evaluating those options. The criteria should be based on the information outlined in your Statement of Need. After listing and justifying evaluation criteria, you should evaluate each option based on its ability to answer your criteria.
Final Recommendation
After describing and evaluating your options, you will recommend the one you think is best and provide a discussion of the reasons why you recommend it. In other words, defend your recommendation thoroughly in this section.
The conclusion to a recommendation report should re-emphasize the final recommendation and offer suggestions about how the audience/reader could move toward implementation.
Works Cited
Recommendation reports sometimes require in-depth research that can range from conducting interviews and surveys to reading peer-reviewed journal articles or other related documents. You should cite this information so that future readers can find the articles and resources you used. The citation style you use should be based on the industry you're writing for; the chemical industry will expect ACS Style, medical professionals will expect AMA, humanities audiences will expect MLA, social sciences will expect APA, and so on.
Point of View: Should I Use Third Person or First Person?
Like most business reports, this should be written professionally. This usually means avoiding too much personal narrative, and instead relying on third person. For example (third person): "This report overviews three options for community partnership with Feed My Starving Children." However, it is perfectly fine to use the collective first person sparingly throughout the report, especially to indicate something practical that you did. For example (collective first person): " We  designed this campaign with a special emphasis on bold color in order to draw the viewer's attention to the innocence of childhood imagination, and in order to contrast that with the hopelessness of hunger." OR "In this report,  we  overview three options…" Notice that these three examples are not opinionated (as one might fear when using first person). Instead, they merely acknowledge that  a real, living, breathing human wrote this report and developed these options.  For this reason, first person is great when it's used for these rhetorical purposes.
Get Our Recommendation Report Templates!
If you're ready to start building a professional-quality recommendation report, be sure to get our   Recommendation Report Template Pack —a robust set of highly designed report templates with expert writing advice built right in. If you've ever found yourself needing to argue for a specific course of action in your organization, a recommendation report will help you analyze a problem, product, population, or process and make clear recommendations about the best path forward.
Recommended Readings
Here are some of our favorite resources on recommendation reports:
Dr. T. Miles' Recommendation Report
NASA Education Recommendation Report 
Learn more about our online business writing courses.
Related Content
Untold Announces Launch of Narratize, an AI-Powered Storytelling Platform
Untold announced the launch of Narratize, an AI-powered storytelling platform that drives innovation success by effectively and efficiently transforming scientific, technical, and medical insights into compelling stories. Narratize was created to help busy innovators to connect, communicate, and innovate through the power of story.
Nailing Your Message-Market Fit
Find your message-market fit to ensure that even in a sea of content, you stand out with validated claims and evidence-based insights.
3 Tips for Building a Strong Innovation Pitch
Based on our research and work helping innovators build their pitch narratives, here are our 3 Tips for Building a Strong Inovation pitch.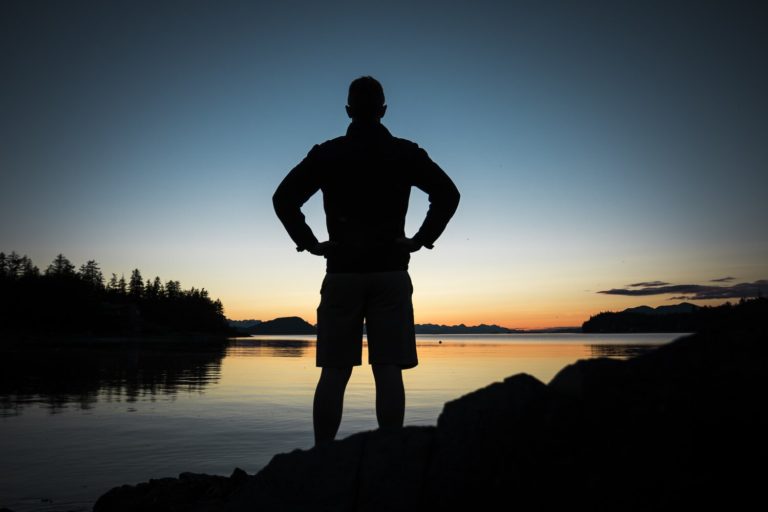 Innovation Storytelling Framework: The Hero's Journey
The Hero's Journey story framework details a journey that transforms the main character and the world they impact. See how it's used in innovation.
View our offerings
Meet our team.
(859) 866-1916
© 2020 Untold. All right reserved.
Privacy Policy          Terms of Service
Business Management & Marketing
How to write a business report with example, introduction .
A business report plays a significant role for management executives because they have to make decisions based on the findings of the report. Companies and businesses use the business report for various functions depending on their industry needs and requirements. Today, we'll discuss how to write a business report, its types, and an example of a business report.
What is a Business Report?
A business report is a document comprises of information, research finding, research data, and other details in order to help the company and management to set goals, objectives, plans, and make-decision. However, the length of the official business report depends on the topic, information, and data, and it ranges from one page to a number of pages.
Types of Business Reports
Some of the main types of business reports are as follows;
Yardstick Report
A yardstick report allows you to offer various solutions relevant to a particular situation.
Situational Report
As the name implies, a situational report focuses on the information of a particular situation of conference or an event.
Periodic Report
The periodic report allows companies to improve their plans, processes, functions, products, and services. It would check the efficiency or comprise of information like profit/loss. For instance, monthly sale reports of a retail store.
Research Studies Report
Research study report focuses on a particular problem and offers recommendations in order to solve a problem.  
Feasibility Report
A feasibility report allows you to study the result of an idea and it comprises benefits of the idea, cost, and potential problems. The report would help you to find the profitability of the proposal, the feasibility of the deadline, and whether you could increase the budget or not.
Compliance Report
Businesses and companies create compliance reports when they want to prove their accountability that they investing the capital accurately and following the rules and regulations. For instance, an account consultancy firm publishes a compliance report to show that the business is obeying the federal laws.
Investigative Report
An investigative report tells the riskiness of an opportunity. It helps businesses and management to see the potential problem in the purchase or the investment. You could write an investigative report to study the problem in the merger or acquisition.
Recommendation/Justification Report
Recommendation and justification report allows you to present an idea to the management and it comprises of benefits, cost, and risk factors. For instance, you're planning to purchase a machine for the office. Now, you have to persuade the management of your recommendations of a certain machine with strong arguments.
How to Write a Business Report
It's time to discuss how to write a business report, some of the main steps are as follows;
When it comes to writing a business report, you should deem it as a project. First of all, you have to plan the goal that you want to achieve before conducting and start writing it. Once you plan it, then it would become easier for you to write a clear and simple style report.
Checkout Format
Many businesses and companies have got a business report format for their correspondence. Therefore, you should check the company's record or ask someone in order to find the company's specific report format that you could use. A predefined format and style would help you to be more professional.
Title
The title of the business report should be short and brief and keep in mind that it should be visible, clear, and at the beginning of the report. However, you should also mention the names of the team members who assisted you in writing and research the report along with the date.
Table of Content
The table of content is necessary for long and complicated formal business reports and it should be after the title and author's name. TOC comes at the beginning of the report, however, you have to create after finalizing the report. You should create a list of all the main headings that appear on various pages, and number them accordingly.
Summary
A summary is optional in the business report. It provides an overview of the whole report and makes it easier for people to have an idea of it. If your report is short, then you should ask the reader whether he would like the summary or not. However, it's important to have it in the longer reports. Although it comes at the beginning of the project you have to write it at the end of the report by including various notes and recommendations.
The summary gives an insight into the finding and conclusion that you have drawn. That's why it's important to offer an overview of the report to the reader, and they would easily read it in a short time without going through the details.
Introduction
The introduction lets the reader know about the reason and purpose of writing the report, focusing on the subject, and a little background information. It also offers a summary of the main arguments and definitions.
Methodology
In the methodology section, your focus is on explaining the research methods and techniques you have used in preparing the report. It could be like quantitative method, qualitative method, interviews, etc. You also explain to the reader why you chose a certain method in acquiring the information.
Finding
Here you talk about the results of your research. While doing so, you should discuss the outcomes rationally and logically with sufficient information and data to back them up. It should prove the reasons for your conducting the research.
The best way to organize and present your data and finding is to use headings, subheadings, numbers, table format, or bullets. You could also use infographics, graphics, and images to illustrate the outcomes of your finding. While using graphics, you should make sure that they should be relevant to the report.
Recommendation/Conclusion
In the recommendation section, you provide your recommended course action based on your assessment and find. If you're setting any goals, then they should be measurable. However, you should let them know-how method, technique, and goal you used or set would impact the company.
Bibliography/Appendices
It includes articles, books, and periodicals that you have used in your research of writing the report. It also comprises tables, charts, summaries, notes, maps, questionnaires, etc. You should create a list of all the sources in alphabetical order.
Editing/Proofreading
After writing the report, you should edit and proofread your report in order to make sure that it doesn't have grammatical and spelling errors. A well-written and error-free report would make your report clear, concise, and credible. You should avoid using difficult and slang words, however, tech terms are acceptable.
Example of Business Report
Here's an example of a business report as follows; 
(Picture credit for belowmentioned report goes to indeed.com)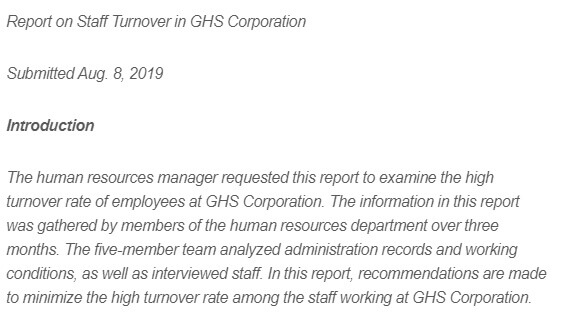 Conclusion: How to write a business report 
After an in-depth study of how to write a business report, we've concluded that writing a report plays a key role in professional business. If you're planning to write a report, then follow the abovementioned suggestions and format. Hopefully, it would work out for your project. If you have any questions, leave them in the comment box below.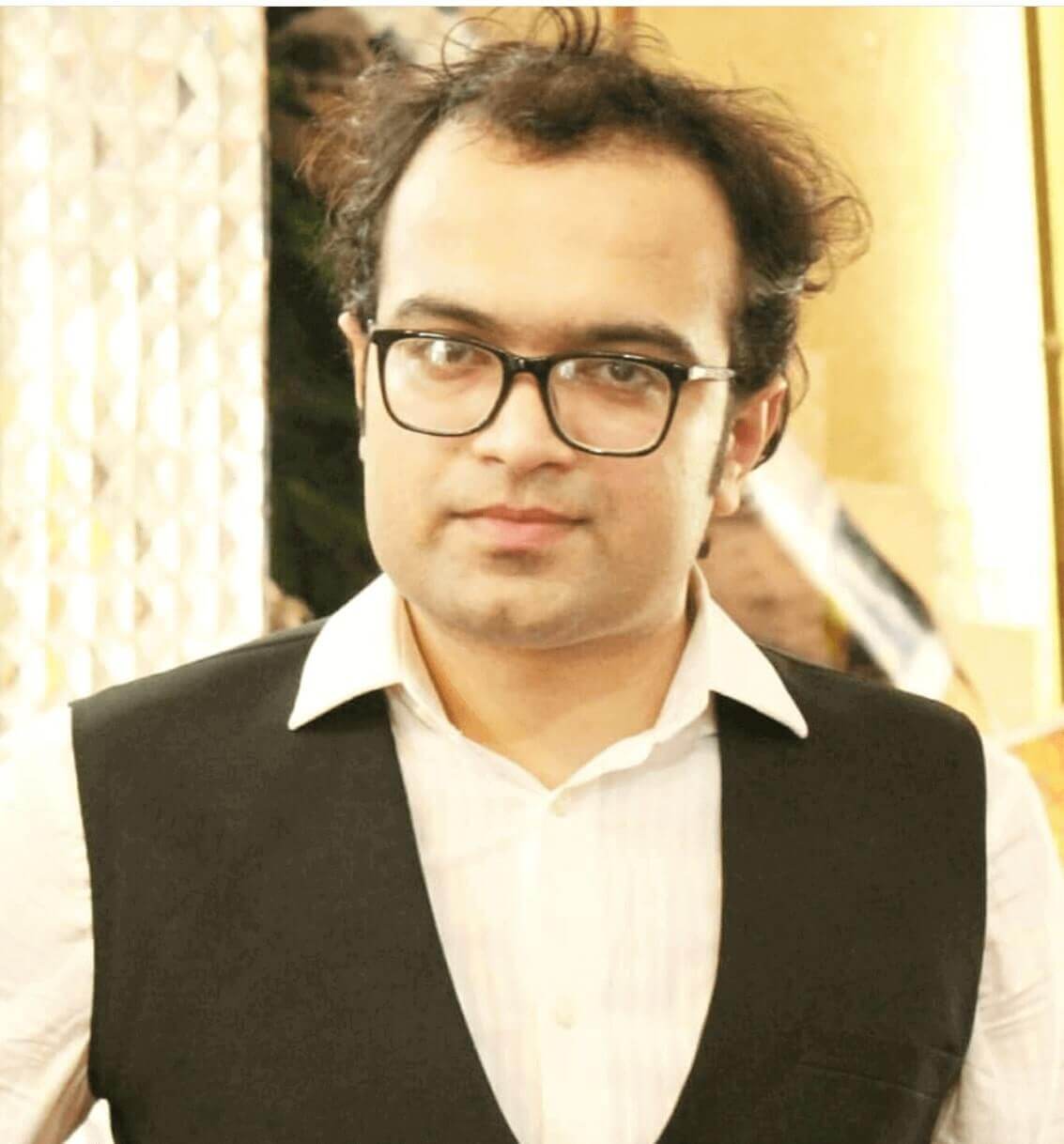 Ahsan Ali Shaw is an accomplished Business Writer, Analyst, and Public Speaker. Other than that, he's a fun loving person.
Related Posts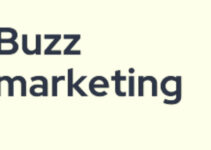 What is Buzz Marketing? Campaign, Benefits, Examples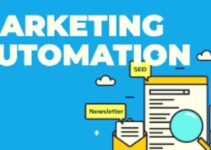 What is Marketing Automation? How It Works, Uses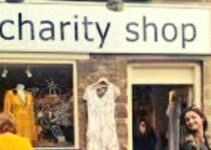 How to Open a Charity Shop 
Boards & Committees
Event Management
Financial Management
Funding & Sponsorship
Legal Issues
Sport Industry
Policy Development
Service Delivery
Risk Management
Computer Help
WRITING TIPS
Rules of Writing
Document Structure
Clarity of Information
Writing for the Reader
Writing of Sentences
Personal Pronouns
Good Grammar
DOCUMENT COMPONENTS
Acknowledgments
Table of Contents
Terms of Reference
Executive Summary
Introduction
Headings/Sub-Headings
Headers and Footers
Numbering Tables
Recommendations
The Conclusion
Referencing
Recommendations are not always a required feature when writing a report.
However, in circumstances where Recommendations do appear in a report, they have paramount importance.
Recommendations are given when a report provides information about the result of an investigation, research and /or inquiry. A matter is investigated because there is a problem or issue.
The Recommendations state what is recommended to correct the problem or issue.
Recommendations are usually numbered.
A report that provides information on risks associated with computers in a business, may provide recommendations on how to control these risks.
For example, the report might contain recommendations as follows:
Attention! Your ePaper is waiting for publication!
By publishing your document, the content will be optimally indexed by Google via AI and sorted into the right category for over 500 million ePaper readers on YUMPU.
This will ensure high visibility and many readers!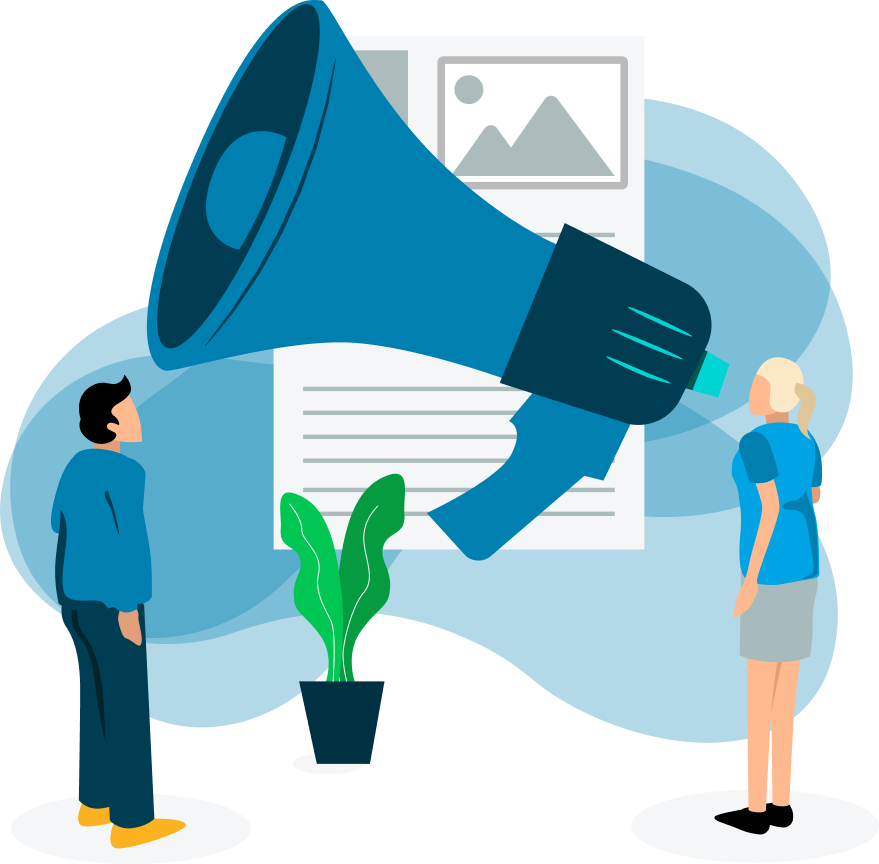 Your ePaper is now published and live on YUMPU!
You can find your publication here:
Share your interactive ePaper on all platforms and on your website with our embed function
RECOMMENDATIONS ON BUSINESS PLAN PREPARATION 1 ...
environmental
recommended
recommendations
preparation Create successful ePaper yourself
Turn your PDF publications into a flip-book with our unique Google optimized e-Paper software.
It is advisable:• to outline a corporate history of the Recipient of Funds;• to describe the nature and key areas of activities of the Major ProjectParticipants, specifying their location;• to provide dynamics of the basic financial indicators of the Recipient of Fundsand/or a Group (revenues, gross and net profitability, net profit, total assets,debt-to-equity ratio, etc.) over the past years;• if the Recipient of Funds is a member of a Group – to present a diagram of theGroup's organization chart or its fragment, inclusive of the Major ProjectParticipants if they also are members of the Group, indicating their shares incharter capital and other relations between the Group members.6. Product DescriptionThis section should include description of a product (product line1 1 ) to bemanufactured in accordance with the project, as well as analysis of its competitivestrengths and weaknesses.Please, disclose:• information about dominant segment of the product programme that generatessubstantial sales revenue (no detailed information on each product (productline) item required), including (if applicable) purpose and range of use, briefdescription and basic characteristics, any quality certificates, patentability andcopyright, mandatory licensing of production, environmental and other safetyof the product, its disposal upon completion of operation;• degree of the product readiness for release and sale (if applicable, indicatestage of the product development, e.g. a concept, test sample, finishedproduct). Specify whether this product was earlier sold on the Russian marketor abroad and whether the Project Participants have any previous experienceof manufacturing and selling the product.It is recommended:• to enumerate basic qualitative characteristics of the product (product line),analyse its consumer utility (indicating, in particular, target consumer),possible substitutes, as well as related goods and services;• to analyse the product life cycle, indicate planned changes in the range ofproducts and future upgrade of the product.7. Market AnalysisDiscuss the sales market the product and/or services under the project are intendedfor, as well as short-term market outlook.1 For the purposes of this document, a product line is a group of related products with similar prices, qualitativecharacteristics and target consumers.
Give the current market analysis, including:• current and potential (estimated) market volume;• degree of the market saturation;• market dynamics (in particular, new players, sales dynamics, key changes andtrends, present stage of the market life cycle);• market structure (main segments);• market concentration indicators;• major direct competitors and those producing substitute goods;• impediments to entering the industry (including legal barriers, limited accessto major resources, limitations on the scale of production);• seasonality of demand and supply;• major sales channels and methods of sales promotion (advertising,merchandising, etc.);• pricing principles, historical prices for the product and forecasted pricechanges;• speed of innovations and technological upgrade in the industry;• extent of the state regulation in the market (industry);• other relevant information.It is advisable that the market be divided into segments by geographical, price, social(industrial) and other features that clearly distinguish a target group of customers theproduct is intended for.In case of tight state regulation in the market (industry), as well as participation inthe project of government bodies and agencies, it is recommended to give anoverview on legal and regulatory framework in a separate section. Such an overviewshould include information on price (rate) regulation, antimonopoly regulation,mandatory permits and other relevant data.This section should also comprise:• estimated sales or other indicator of demand on the market in general and inthe segments, where it is supposed to position the product (works, services)intended for realization under the project (normally, a forecast should be madefor no less than five years);• analysis of competition in the industry (preferably, Michael Porter's 'fivecompetitive forces' model, which implies analysing the bargaining power ofsuppliers, established and potential direct rivals, as well as competitorsproducing substitute goods).It would be also advisable to discuss:• major rivals: their market position (location, market share), current and
estimated productive capacity, basic competition strategy, competitivestrengths and weaknesses (obligatory in case of oligopoly when there areseveral major market players);• industry in general (overall dynamics of sectoral enterprises; profitabilitylevel, asset structure, asset turnover, standard cost structure, depreciation offixed assets, utilization of production capacities/technological equipment,other relevant factors).If the project is aimed at construction of a pre-agreed number of facilities (productivecapacities) for sale to a particular customer under a provisional agreement (a signedcontract) on purchase of facilities (productive capacities); or at realization ofproducts/works/services intended for a single buyer, it is recommended to provideanalysis of the prime customer's (buyer's) demands instead of the market analysis.8. Action PlanDescribe overall strategy for the project delivery. Give schedule of the projectdelivery specifying projected commencement date and duration of the main stages(pre-investment, investment/commissioning, operational, liquidation), as well as theinterim phases.Please include productive capacities/other investment facilities commissioning plan(in the form of a diagram or flow chart), if applicable, with critical (test) points beingindicated.Furthermore, you may give schedules of design and survey, as well as exploration,construction, assembling, balancing, commissioning and other relevant works underthe project, specifying their duration and/or calendar progress chart (as a diagram orflow block), other action plans and schemes.Action timetables, schemes and plans of work under the project can be set out insupplements to the business plan.9. Sales Plan and Marketing StrategyThis section relates to the targeted sales dynamics (targeted operating rate) andestimated market share, as well as the respective strategy, inclusive of thecompetition strategy.In this section, it is required:• to indicate estimated sales volume (operation intensity) in physical units,estimated selling prices (tariffs) and/or estimated sales earnings in terms ofcash with consideration for the analysis set out in the market analysis section;• to describe marketing strategy employed under the project, e.g., extendedproduct concept (analysis of the product differentiability aimed at its increasedattractiveness to customers, in particular through upgrading its design, addingnew services, using a trade mark, etc.), pricing strategy, distribution policy
(choice of sales channels) and sales promotion (in particular, in case actualsales deviate from the estimated);• to indicate the current and estimated market share of the company (if it isexpected to increase the market share);• to describe competition strategy (entry to the market, increase andmaintenance of the targeted market share). If product differentiation ispossible, it is required to give comparative competitive analysis of the productto be manufactured under the project (strengths and weaknesses as comparedto rivals). In case of oligopoly, it is required to give comparative analysis ofthe rivals' strategies, which should be accounted for in the project marketingstrategy.For innovation projects, it is recommended to address the legal protection ofintellectual ownership rights to the product (technology).If the project is aimed at construction of a pre-agreed number of facilities (productivecapacities) for sale to a particular customer under a provisional agreement (a signedcontract) on purchase of facilities (productive capacities); it is recommended toprovide an agreed preliminary timetable of commissioning productive capacities andtransfer (realization) of the facilities instead of the marketing strategy and sales plan.10. Production (Operational) PlanBusiness plan must contain:• output plan by products (product lines) or facilities operational plan devisedwith consideration for estimated sales (operating rate) identified in the salesplan and marketing strategy section;• short description of industrial process (workflow diagrams) or business model(description of major business processes) at the operational stage of the projectdelivery. If it is expected to outsource some part of the industrial process orany of the business processes, name major proposed contractors and justify thechoice;• short description of production (construction) techniques and equipment to beused for manufacturing of finished products (construction of facilities), as wellas the reasons for the choice. Stress the novelty and competitiveness of thetechniques (equipment) according to the Russian and international standardsand the Project Participants' experience of their use;• unit costs of raw materials and power, as well as running and working timeconsumed for major business processes or for a unit of output.If high quality is among competitive edges of the product, it would be advisable todescribe the quality control system.11. Resources AnalysisGive analysis of material, organizational, human and other resources required for the
project delivery.What resources the Major Project Participants already have and what resources arestill to be obtained to deliver the project (production/construction site; infrastructure(power-, heat- and water-supply, transport, etc.); machinery and equipment; rawmaterials, power, components; contractors' services and works; labourresources/staff; managerial resources, etc.)Business plan should comprise:• description of a production/construction site (if required for the projectdelivery), namely, location, in particular, proximity to sales and raw materialsmarket; sufficiency of space; availability and quality of adjacent infrastructureand service lines, including storage facilities; depreciation of buildings andservice lines; redesign or upgrade required; other relevant factors behind thechoice;• information about sustainable logistic support if the project deals withconstruction of a new enterprise/factory/facility from a zero cycle (specifypotential suppliers and their location);• analysis of the project managerial resources (CVs of executives and projectdevelopers to be attached to the business plan). Also, discuss managers anddevelopers' interest in successful delivery of the project (e.g., through transferof the Recipient of Funds' equities/shares into the ownership, use of options aswell as other incentive schemes (remuneration, etc.).It is recommended:• to define key resources and analyze the respective resources markets,including current and estimated demand for and supply of resources, marketstructure and price dynamics;• in case of labour-intensive production or works and services being the coreproduct under the project, to give labour resources analysis in an separatesection or supplement. Such analysis should contain:• information about staff needed for the project delivery, including thenumber of staff by categories, skills and qualification required , proposedsalary level;• available staff (if any), including its composition and qualification, trainingneeded, employee turnover, salary level.12. Environmental Impact of the ProjectPlease supply the following information:• data on the project impact on the environment and its compliance withenvironmental laws effective in the project implementation country,• if the project comprises objects of state environmental assessment and stateproject documentation assessment, list of these objects;
• list of environmental standards and regulatory documents in the projectimplementation country (apart from the Russian Federation),• results of the state environmental assessment, state project documentationassessment, independent environmental assessment, other activities aimed attesting the conformity of the project to environment protection requirements(if any), or a schedule for receipt of results (provided no results are availableby the beginning of the project assessment),• indexes of environmental efficiency of natural resources employment, indexcalculation procedure,• conclusions in respect of environmental efficiency indexes taking into accountindustry average and project implementation dynamics values,• description of measures to be taken to protect the environment, to increase thenatural resources employment efficiency, to improve environmental situation(indicating costs and schedule of realization).13. Financial PlanThis section must comprise:• input data, assumptions and estimates underlying the financial forecast;• key financial indicators (ratios) by years of the project delivery (see section3.3.2);• pro-forma financial statements (see section 3.3.1);• outcomes of assessments as to how changes in key risk factors affect thefinancial forecast (see section 3.5);• other relevant information, including diagrams that illustrate and detail resultsof the financial forecast.14. Financing SchemeThe section is to detail:• total financing appetite (by major categories of investment costs);• preliminary structure of financing sources;• amount of own funds to be invested in the project by the Recipient of Fundsand its shareholders/participants);• possible additional (stand-by) financing by the Recipient of Funds or otherProject Participants;• proposed amount and form of the Bank's participation;• preliminary schedule of granting, servicing and repaying debt to the Bank andthe Bank's withdrawal from the charter capital (in case of respectivefinancing);• proposed methods of the Bank's control over the intended use of funds (e.g.
More documents
Recommendations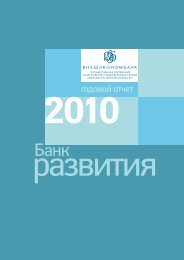 Page 4 and 5: It is advisable:• to outline a co
Page 6 and 7: estimated productive capacity, basi
Page 8 and 9: project delivery.What resources the
Extended embed settings
Inappropriate
You have already flagged this document. Thank you, for helping us keep this platform clean. The editors will have a look at it as soon as possible.
Mail this publication
Delete template.
Are you sure you want to delete your template?
DOWNLOAD ePAPER
This ePaper is currently not available for download. You can find similar magazines on this topic below under 'Recommendations'.
Save as template?
Help & Support
tuxbrain.com
ooomacros.org
nubuntu.org
Terms of service
Privacy policy
Cookie policy
Cookie settings
Choose your language
Main languages
Further languages
Performing this action will revert the following features to their default settings:
Hooray! Your file is uploaded and ready to be published.
Saved successfully!
Ooh no, something went wrong!
Search Search Please fill out this field.
Career Planning
Finding a Job
Business Reference Letter Examples
What to Include in the Letter
How to Start Your Letter
The body of the letter, letter closing.
Business Reference Letter Samples
Business Reference Letter Template
Business reference letter example, business reference email examples, more reference letter examples.
Chris Cross / Getty Images
A business reference is a recommendation provided on behalf of a client, vendor, or other business associate or contact. You may be asked to provide a business reference letter to verify the quality of a contract company's work to a new client.
The reference you write may recommend the business to other clients or, in general, provide an endorsement of a contact for business purposes. It's important to be honest in your assessment of the company's offerings: Don't agree to write one if you haven't had a good experience with the company. Instead, gracefully decline to provide a reference if you don't feel that you can provide a strong recommendation.
What to Include in a Business Reference Letter
A reference letter can be sent via post or email and should maintain a professional appearance, tone, and formatting. Use standard business letter format when you're writing a reference.
It's important for your recommendation to be professionally written and formatted, so it will make the best impression.
A business reference letter should begin with an appropriate salutation, end with a professional close , and include the following:
The writer's contact information (name, title, company, address, phone, email)
The recipient's contact information (name, title, company, address) (in a printed letter only)
Professional salutation
The body of the letter (a few paragraphs highlighting why you are providing a recommendation)
Professional closing
In a printed letter, the writer's contact information is at the top of the page. In an email, the contact information is at the bottom. The recipient's contact information can be omitted from an emailed letter.
A traditional, "snail mail" business letter should begin with your contact information and the contact information of the person to whom the recommendation is being sent.
When sending an email, include "Reference" or "Recommendation" in the subject line in addition to the company's or person's name. This will help ensure that the recipient instantly understands what the content of your message is and opens the letter for review.
Start your letter by explaining how you know the individual or company that you're recommending. If you've used them repeatedly or have an ongoing relationship, mention that as well.
The body of your letter should provide information and detailed examples of the high quality of the product or service you have been provided.
Be specific so you can show the reader why you are recommending the product or service.
You should also mention how pleased you were with the work and offer to elaborate on or clarify any points in the letter.
Include your contact information in the final paragraph of a letter or in your email signature, so it's easy for the recipient to follow up if they need more information.
End your letter with a professional closing and your signature:
For a printed letter, leave a space for your written signature then type your name.
For an email, add a closing then type your name.
Examples of Business Reference Letters
The following are examples of business reference letters recommending the services provided by a company or individual. They can be used to help you create your own letters, but be sure to tailor them to your specific situation.
Download the letter template (compatible with Google Docs and Word), or read the text version below.
The Balance
Business Reference Letter Example (Text Version)
Jason Lee 123 Business Rd. Business City, NY 54321 555-555-5555 jason.lee@email.com
April 12, 2022
James Smith Sparkleshine Cleaning Service 321 Business Ave. Business City, NY 54321
Dear Mr. Smith,
It is with much enthusiasm that I am writing to recommend the services of the Sparkleshine Cleaning Service.
I have been using Sparkleshine to clean my offices for the past five years and have always been completely satisfied with their performance. They do an excellent job, are always punctual, and offer the most competitive rates in town.
We have also hired them on occasion for extra jobs, such as cleaning after a move, cleaning the Venetian blinds, deep cleaning the kitchenette, etc. They have been very reasonably priced, and always do exactly what we ask of them.
I'm happy to recommend the services of Sparkleshine. If you have any questions, please feel free to contact me.
Signature (printed letter)
The following are examples of business references sent via email.
Email Business Reference Example #1
Subject:  Stephen Davison Reference
Dear Ms. O'Malley,
I have been acquainted with Stephen Davison for three years, in his capacity as a web designer for my small business. He completely overhauled my website and has been responsible for its ongoing maintenance and search engine optimization as well.
Stephen's design and optimization, I believe, are largely responsible for the dramatic increase in traffic to my site, and for the resulting increase in profits for the business. He is easy to work with, thinks creatively, and effectively communicates his ideas. He has been a true game-changer in identifying and enhancing the areas of my website that weren't performing as well as they could have, and thus he has my highest endorsement.
If you have any additional questions or need clarification, please feel free to contact me.
Best regards,
Tawny Birkenstock tawnybirk@email.com 777-777-7777
Email Business Reference Example #2
Subject:  Reference for Kip's Kennels
Dear Mr. Small,
As a dedicated pet owner, I searched long and hard for a kennel where I felt comfortable leaving my precious companions. After doing plenty of research, and visiting several other kennels in the area, I found Kip's Kennels about two years ago. My pets haven't been boarded anywhere else since.
The staff at Kip's is knowledgeable, courteous, and friendly. They truly care about every pet as they do their own, and the facility is always spotless. Unlike most of the kennels in our area, they also offer daily updates via email or text to reassure you while you are separated from your pet.
I highly recommend Kip's Kennels to care for your pets while you are out of town. If you have any further questions or would like to speak with me about my experience, please feel free to contact me.
Tom Sparks thomas.sparks@email.com 222-222-2222
Review more examples of reference letters for a variety of circumstances and get free templates to download.
Key Takeaways
A business reference is a recommendation provided on behalf of a client, vendor, or business associate.
Don't agree to write a reference if you can't provide a strong endorsement.
In your letter, share examples of the quality of the product or service and offer to provide additional information on your recommendation.
By clicking "Accept All Cookies", you agree to the storing of cookies on your device to enhance site navigation, analyze site usage, and assist in our marketing efforts.
Join for Free
Login Workplace Premium Workplace Content Cyber My account Sign out
How We Help
Be more efficient
Streamlining your business
How to write an executive summary for your business plan
An executive summary is a synopsis of all the key sections of your business plan, and it's one of the most important parts of your plan. .
It should enable the reader to see at a glance your organisation's core capabilities, strengths, past achievements, and strategic focus and direction, as well as provide an explanation of how these factors set your business apart.
An executive summary should explain succinctly why you wrote the report, emphasise your conclusions and recommendations, and include the essential information used to support those conclusions. 
It's important readers like investors and lenders can grasp this information quickly and are encouraged to read on.
In other words, your executive summary should be able to be read as a separate, standalone document, communicating the whole story independently of the full business plan.
What to include in an executive summary
Think of your executive summary as an introduction to your business. Include:
your mission statement  
company information and management team
growth highlights 
products/services
financial information 
The market and your customer
market opportunity
marketing and sales
competition and your competitive advantage
business operations
financial projections and plans
summary of future plans.
Small business cyber security with big business credentials
Access to  training videos, checklists and phishing simulations, legal and policy templates valued at more than $5,000. 
Best practices for writing an executive summary
Make it compelling. Investors and lenders read this section first, and you want them to continue reading. For example, if you're selling a business idea to investors, include highlights that will encourage potential investors to read on. This might be related to growth rates, your competitive edge, or an exciting new technology.
Focus on providing a summary. The business plan itself will provide the details. Keep it short and concise, but ensure you explain clearly why you have arrived at your conclusions. The suggested length is one to three pages. 
Don't introduce any information that isn't covered in the business plan.
Organise it according to the sequence of information presented in the full plan.
Write it after you have completed the plan and decided on your recommendations.
Use keywords from the main plan to ensure continuity.   
Insert the executive summary as the first section, after or before the table of contents, even though it will be the last component you have written.  
Create the summary by rephrasing information – don't just cut and paste. 
Include all key fundamentals of the proposed business from the body of the plan, including the financial implications.
Identify the purpose of the plan and include at least the major recommendations or requests.
Be clearly articulated, positive, reasoned, concise and to-the-point.
When using an executive summary and business plan to apply for a loan or funding, state clearly and definitively:
how much you want
how you're going to use it
how the money will make your business more profitable
how you'll repay the loan.
And finally, remember it's important to finish with a compelling closing sentence or two that answers the reader's key question: "Why is this a winning business?"
Explore more products
Help us support, advocate and improve conditions for more Australian businesses.
Compare, switch and save with our free energy comparison service.
Energy Comparison Service
Enjoy unlimited access to business articles, tools and resources as little as $1 per day*.
Premium Workplace Content
Free business grant finder.