How to Create a Strategic Plan
Looking for a way to take your company in a new and profitable direction? It starts with strategic planning. Keep reading to learn what a strategic plan is, why you need it and how you can strategically create one.
When it comes to business and finance, strategic planning will help you allocate your resources, energy and assets. When implemented, a strategic plan will begin to move your operations in a more profitable direction. The primary goal of the plan is to ensure you and any other stakeholders are on the same page and striving to reach the same goal.
Creating a strategic plan requires a disciplined effort. Once you put the plan into action, it will influence the segment of customers that you target, how you serve those customers and the experience those customers have.
Assess the Current Infrastructure and Operations
The first step in creating a strategic plan is to carefully assess your existing infrastructure and operations. You can do this through a SWOT analysis, which is an analysis of the company's strengths, weaknesses, opportunities and threats. The goal here is to pinpoint the resources that you use to carry out your day-to-day operations, to look at your monthly revenue patterns, to list any company challenges related to the customer experience and, most importantly, to look at your marketing methods and ways to improve the overall customer experience.
Creation of Mission Statement and Objectives
The next step is to create a mission statement. You may already have one, but it's important to note your mission at the top of the strategic plan document you create. This ensures everyone is focused on the same goal. Your mission statement should cover why you started the company and what you intend to accomplish through the products and services that you offer.
In addition to the mission statement, make sure to outline both short- and long-term objectives. List the objectives according to their priority and designate certain managers or employees to be responsible for each one. Also, jot down the resources that will be used to achieve each objective.
Measure Performance
Now that you know what you're trying to achieve and who is responsible for each goal, it's time to deploy the plan and measure its progress. A weekly meeting is extremely important for all managers and stakeholders provide feedback. Your goal is to determine if the company is headed in the right direction. If not, you'll need to revise the strategic plan accordingly.
Strategic Plans Are Ongoing
Once your strategic plan helps you achieve several objectives, it's smart to regroup and set new objectives. As your company grows, you can set new goals to ensure the company keeps moving forward. You can share the success of your strategic plan with potential investors as a way to tap into new capital funding.
Privacy Policy
Terms of Service
© 2023 Ask Media Group, LLC
How it works
Transform your enterprise with the scalable mindsets, skills, & behavior change that drive performance.
Explore how BetterUp connects to your core business systems.
Build leaders that accelerate team performance and engagement.
Unlock performance potential at scale with AI-powered curated growth journeys.
Build resilience, well-being and agility to drive performance across your entire enterprise.
Transform your business, starting with your sales leaders.
Unlock business impact from the top with executive coaching.
Foster a culture of inclusion and belonging.
Accelerate the performance and potential of your agencies and employees.
See how innovative organizations use BetterUp to build a thriving workforce.
Discover how BetterUp measurably impacts key business outcomes for organizations like yours.
A demo is the first step to transforming your business. Meet with us to develop a plan for attaining your goals.
Best practices, research, and tools to fuel individual and business growth.
View on-demand BetterUp events and learn about upcoming live discussions.
The latest insights and ideas for building a high-performing workplace.
The online magazine that helps you understand tomorrow's workforce trends, today.
Innovative research featured in peer-reviewed journals, press, and more.
Founded in 2022 to deepen the understanding of the intersection of well-being, purpose, and performance
We're on a mission to help everyone live with clarity, purpose, and passion.
Join us and create impactful change.
Read the buzz about BetterUp.
Meet the leadership that's passionate about empowering your workforce.
For Business
Strategic planning: Read this before it's that time again
Understand Yourself Better:
Big 5 Personality Test
Jump to section
What is strategic planning?
What is strategic plan management?
Benefits of robust strategic planning and management
10 steps in the strategic planning process.
Plans are worthless, but planning is everything. - Dwight D. Eisenhower
It's that time again.
Every three to five years, most larger organizations periodically plan for the future. Many times strategic planning documents are shelved and forgotten until the next cycle begins. On the other hand, many smaller and newer organizations, propelled by urgency, may not devote the necessary time and energy to the strategic planning process.
Only 63% of businesses plan more than a year out. They fail to see that — contrary to Alice in Wonderland's Cheshire cat — "any way" does not take you there.
For all organizations, a more rigorous annual planning process is critical for driving future success, profitability, value, and impact.
John Kotter, a former professor at Harvard Business School and noted expert on innovation says, " Strategy should be viewed as a dynamic force that constantly seeks opportunities, identifies initiatives that will capitalize on them, and completes those initiatives swiftly and efficiently."
There's hardly a better case that can be made for dynamic planning than in the tech industry, where mergers and acquisitions are accelerating exponentially. Companies need to be nimble enough to navigate rapid change . In this case, planning should occur quarterly.
Strategic planning is an ongoing process by which an organization sets its forward course by bringing all of its stakeholders together to examine current realities and define its vision for the future.
It examines its strengths and weaknesses, resources available, and opportunities. Strategic planning seeks to anticipate future industry trends . During the process, the organization creates a vision, articulates its purpose, and sets strategic goals that are long-term and forward-focused.
Those strategic goals inform operational goals and incremental milestones that need to be reached. The operational plan has clear objectives and supporting initiatives tied to metrics to which everyone is accountable . The plan should be agile enough to allow for recalibrating when necessary and redistributing resources based on internal and external forces.
The output of the planning process is a document that is shared across the enterprise.
Strategic planning for individuals
Strategic planning isn't just for companies. At BetterUp, strategic planning is one of the skills that we identify, track, and develop within the Whole Person Model . For individuals, strategic planning is the ability to think through ways to achieve desired outcomes. Just as strategic planning helps organizations realize their goals for the future, it helps individuals grow and achieve goals in a unified direction.
Working backward from the desired outcome, effective strategic planning consists of coming up with the steps we need to take today in order to get where we want to be tomorrow.
While no plan is infallible, people who develop this skill are good at checking to make sure that their actions are in alignment with the outcomes that they want to see in the future. Even when things don't go according to plan, their long-term goals act as a "North star" to get them back on course. In addition, envisioning desired future states and figuring out how to turn them into reality enhances an individual's sense of personal meaning and motivation.
Whether we're talking about strategic planning for the company or the individual, strategic plans can go awry in a variety of ways including:
Unrealistic goals and too many priorities
Poor communication
Using the wrong measures
Lack of leadership
The extent to which that document is shelved until the next planning cycle or becomes a dynamic map of the future depends on the people responsible for overseeing the execution of the plan.
What is strategic plan management?
"Most people think of strategy as an event, but that's not the way the world works," according to Harvard Business School Professor Clayton Christensen. "When we run into unanticipated opportunities and threats, we have to respond. Sometimes we respond successfully; sometimes we don't. But most strategies develop through this process. More often than not, the strategy that leads to success emerges through a process that works 24/7 in almost every industry."
Strategic business management is the ongoing process by which an organization creates and sustains a successful roadmap that moves the company in the direction it needs to move, year after year, for long-term success. It spans from research and formulation to execution, evaluation, and adjustment. Given the pace of change, strategic management is more relevant and important than ever for assigning measurable goals and action steps
Many organizations fail because they don't have the strategic management team at the table right from the beginning of the planning process. A strategic plan is only as good as its ability to be executed and sustained.
A strategic management initiative might be driven by an internal group — many companies have an internal strategy team — or an outside consulting firm. Ultimately company leaders need to own executing and sustaining the strategy.
Strategic management teams
In this Harvard Business Review article, Ron Carucci from consulting firm Navalent reports that 61% of executives in a 10-year longitudinal study felt they were not prepared for the strategic challenges they faced upon being appointed to senior leadership roles. Lack of commitment to the plan is also a contributing factor. In addition, leaders attending to quarterly targets, crisis management , and reconciling budgets often consider the execution of a long-term strategy a low priority.
A dedicated strategic management team works with those senior leaders and managers throughout the organization to communicate, coordinate and evaluate progress against goals. They tie strategic objectives to day-to-day operational metrics throughout the enterprise.
A good strategic management group can assist in creating a culture of empowerment and learning . It holds regular meetings with employees. It sets a clear agenda and expectations to make the strategic plan real and compelling to the organization through concrete objectives, results, and timelines.
Strategy development is a lot of work, but the benefits are lasting. After all, as the saying goes, "If you fail to plan, you plan to fail." Taking the time for review and planning activities has the following benefits:
Organizations and people are set up to succeed
Increased likelihood of staying on track
Decreased likelihood of being distracted or derailed
Progress through the plan is communicated throughout the organization
Metrics facilitate course correction
Budgets enterprise-wide are based on strategy
Cross-organization alignment
Robust employee performance and compensation plans
Commitment to learning and training
A robust strategic planning process gets everyone involved and invested in the organizations
Employees inform management about what's working or not working at the operational level
Innovation is encouraged and rewarded
Increased productivity
1. Define mission and vision
Begin by articulating the organization's vision for the future. Ask, "What would success look like in five years?" Create a mission statement describing organizational values and how you intend to reach the vision. What values inform and determine mission, vision, and purpose?
Purpose-driven strategic goals articulate the "why" of what the corporation is doing. It connects the vision statement to specific objectives, drawing a line between the larger goals and the work that teams and individuals do.
2. Conduct a comprehensive assessment
This stage includes identifying an organization's strategic position.
Gathering data from internal and external environments and respective stakeholders takes place at this time. Involving employees and customers in the research.
The task is to gather market data through research. One of the most critical components of this stage is a comprehensive SWOT analysis that involves gathering people and bringing perspectives from all stakeholders to determine:
W eaknesses
O pportunities
Strengths and weaknesses — In this stage, planners identify the company's assets that contribute to its current competitive advantage and/or the likelihood of a significant increase in the organization's market share in the future. It should be an objective assessment rather than an inflated perspective of its strengths.
An accurate assessment of weaknesses requires looking outward at external forces that can reveal new opportunities as well as threats. Consider the massive shift in multiple industries whose strategy has been disrupted by the COVID-19 pandemic. While it was disastrous to the airline and restaurant industries' business models , tech companies were able to seize the opportunity and address the demands of remote work.
Michael Porter's book Competetive Strategy: Techniques for Analyzing Industries and Competitors claims that there are five forces at work in an industry that influence that industry's ability to develop a competitive strategy. Since the book was published in 1979, organizations have turned to Porter's theory to create their strategic framework.
Here are the 5 forces (and key questions) that determine the competitive strategy for most industries.
Competitive rivalry : When considering the strengths of an organization's competitors it's important to ask: How do our products/services hold up to our competition? If the rivalry is intense, companies need to consider what capacity they have to gain leverage through price cuts or bold marketing strategies. If there is little competition, the organization has a substantial gain in the market.
Supplier power: How might suppliers influence strategy? For example, what if suppliers raised their prices? To what extent would a company need a particular supplier for our product(s)? Is it possible to switch suppliers in a way that is more cost effective and efficient? The number of suppliers that exist will determine your ability to keep costs low.
Buyer power: To what extent do buyers have the ability to shop around right into the hands of your competitors? How much power does your customer base have in determining price? A small number of well-informed buyers shifts the power in their direction while a large pool may give you the strategic advantage
Threat of substitution: What is the threat of a company's buyer substituting your services/products from the competition? What if the buyer figures out another way to access the services/products that it offers?
Threat of new entry: How easy is it for newcomers to enter the organization's market?
3. Forecast
Considering the factors above, determine the company's value through financial forecasting . While almost certainly to become a moving target influenced by the five forces, a forecast can assign initial anticipated measurable results expected in the plan or ROI: profits/cost of investment.
4. Set the organizational direction of the business
The above research and assessment will help an organization to set goals and priorities. Too often an organization's strategic plan is too broad and over-ambitious. Planners need to ask, "What kind of impact are we seeking to have, and in what time frame?" They need to drill down to objectives that will have the most impact.
5. Create strategic objectives
This next phase of operational planning consists of creating strategic objectives and initiatives. Kaplan and Norton posit in their balanced scorecard methodology that there are four perspectives for consideration in identifying the conditions for success. They are interrelated and must be evaluated simultaneously.
Financial : Such considerations as growing shareholder value, increasing revenue, managing cost, profitability, or financial stability inform strategic initiatives.
Customer-satisfaction: Objectives can be determined by identifying targets related to one or some of the following: value for the cost, best service, increased market share, or providing customers with solutions.
Internal processes such as operational processes and efficiencies, investment in innovation, investment in total quality and performance management , cost reduction, improvement of workplace safety, or streamlining processes.
Learning and growth: Organizations must ask: Are initiatives in place in terms of human capital and learning and growth to sustain change? Objectives may include employee retention, productivity, building high-performing teams, or creating a pipeline for future leaders .
6. Align with key stakeholders
It's a team effort. The success of the plan is in direct proportion to the organization's commitment to inform and engage the entire workforce in strategy execution. People will only be committed to strategy implementation when they're connected to the organization's goals. With everyone pulling in the same direction, cross-functional decision-making becomes easier and more aligned.
7. Begin strategy mapping
A strategy map is a powerful tool for illustrating the cause-effect of those perspectives and connecting them to between 12 and 18 strategic objectives. Since most people are visual learners, the map provides an easy-to-understand diagram for everyone in the organization creating shared knowledge at all levels.
8. Determine strategic initiatives
Following the development of strategic objectives, strategic initiatives are determined. These are the actions the organization will take to reach those objectives. They may relate initiatives related to factors such as scope, budget, raising brand awareness, product development, and employee training.
9. Benchmark performance measures and analysis
Strategic initiatives inform SMART goals to which metrics are assigned to evaluate performance. These measures cascade from senior management to management to front-line workers. At this stage, the task is to create goals that are specific, measurable, attainable, relevant, and time-based informing the operational plan.
Benchmarks are established against so that performance can be measures, and a time frame is created. Key performance indicators (KPI's) are assigned based on organizational goals. These indicators align workers' performance and productivity with long-term strategic objectives.
10. Performance evaluation
Assessment of whether the plan has been successful . It measures activities and progress toward objectives and allows for the creation of improved plans and objectives in order to improve overall performance .
Think of strategic planning as a circular process beginning and ending with evaluation. Adjust a plan as necessary. The pace at which review of the plan is necessary may be once a year for many organizations or quarterly for organizations in rapidly evolving industries.
Prioritizing the strategic planning process
The strategic planning meeting may have a reputation for being just another to-do, but it might be time to take a second look. With the right action plan and a little strategic thinking, you can reinvigorate your business environment and start planning for success.
It's that time to get excited about the future again.
Meredith Betz
Betterup Fellow Coach, M.S.Ed, M.S.O.D.
Contingency planning: 4 steps to prepare for the unexpected
4 reasons why you can't afford to skip out on succession planning, strategic plan vs. work plan: what's the difference, the only guide you'll ever need for career planning, declining capabilities in productivity and wellness signal a need for worker support, how to excel at life planning (a life planning template), what is strategic plan management and how does it benefit teams, strategy versus tactics: planning and executing on your goals, what is an action plan how to become a real-life action hero, similar articles, everything you need to know about strategic leadership, when you need to set the direction, swot analysis is a classic tool, how organizational effectiveness enhances how you work and grow, strategy vs. tactics: the difference is execution, stay connected with betterup, get our newsletter, event invites, plus product insights and research..
3100 E 5th Street, Suite 350 Austin, TX 78702
Platform Overview
Integrations
BetterUp Lead
BetterUp Manage™
BetterUp Care™
Sales Performance
Diversity & Inclusion
Case Studies
Why BetterUp?
News and Press
Leadership Team
Become a BetterUp Coach
BetterUp Labs
Center for Purpose & Performance
Leadership Training
Business Coaching
Contact Support
Contact Sales
Privacy Policy
Acceptable Use Policy
Trust & Security
Cookie Preferences
Gartner client? Log in for personalized search results.
Insights / Executive Leadership / Article
9 steps to successful functional strategic planning.
May 29, 2023
Contributor: Jackie Wiles
Take these steps to ensure your strategic planning process is productive, adaptable and tied to enterprise goals.
Only 29% of strategists agree their organizations change plans fast enough to respond to disruption. Gartner's latest research shows companies that do this have a common attribute: Their business and function leaders are highly engaged in the strategy planning process.
While functional leaders should never develop strategic plans in a vacuum, today's disrupted conditions make it especially critical for functional strategic plans to account for a variety of scenarios and be able to change with pivots in enterprise strategy.
"The key is to abide by some key principles of any strategic planning process — whether at the enterprise, business-unit or functional levels," says Marc Kelly, VP at Gartner. "And eliminate everything that isn't necessary and sufficient to communicate an effective strategy."
Download now: Build a Better Strategic Plan for Your Function
Commit to being strategic-minded
Before you even start your functional planning process, commit to keeping a strategic mindset. Don't allow yourself to be hijacked by short-termism, tactical execution plans and other check-the-box activities. All too often, concerns about meeting short-term targets, fear of failure and a preoccupation with operational issues overwhelm aspiration. 
This principle applies to your mindset on cost management and budgeting . Commit to a strategic approach wherever and whenever you decide which initiatives to pursue and fund. 
View your function's cost architecture through the lens of business value, and view cost optimization as a continuous discipline focused on directing resources (time, capabilities and budget) to differentiating growth initiatives , such as digitalization. 
Be clear on the best budgeting approach(es) for your function's needs, considering what type of purpose-driven budgeting best supports your strategy execution.
Download now: Your Guide to Optimizing Costs Strategically, Not Tactically
Then take a methodical step-by-step approach
The best functional plans identify select initiatives that will drive enterprise ambitions and commit the capacity (time, budget, talent and technology) necessary to execute successfully. These nine steps provide a guide by which functional leaders can ensure a rigorous approach to planning, however adaptive their enterprise's strategy .
Step 1: Outline expectations
Clearly define the enterprise and business context upfront for all stakeholders to prevent managers and executives from misunderstanding one another and derailing the process. 
Outline for your function the responsibilities, process timelines and expected outcomes for each participant, especially in cases where the planning and budgeting processes cross functions. Identify which stakeholder(s) will ultimately sign off on your strategy and budget plans.
Step 2: Verify the business context
Enterprise mission , which defines your organization's reason for being and the goals it will continually pursue. 
Example: One electric-car maker's mission "to accelerate the world's transition to sustainable energy " reflects its absolute commitment to moving toward sustainable practices and reminds employees of the company's broader purpose.
Enterprise vision , which embodies the organization's abstract but realistic aspirations, including underlying values, principles and beliefs that support its decision-making processes.
Example: One aerospace company's vision "to be the premier international defense, aerospace and security company" is realistic and more alluring than the status quo. It's directional and focused.
Make sure your function's employees know how the mission and vision apply to their specific work. Be clear what impact business priorities, challenges and pivots will have on your function's imperatives, opportunities, risks and priorities.
Step 3: Set goals and objectives
Enterprise strategy translates business aspirations into:
Goals: Individual or combined undertakings that, when achieved, drive differentiated value in the longer term.
Example: Become the largest supplier of renewable electricity in Europe.
Objectives: Discrete and measurable steps that describe how you will achieve a specific goal (see step 4 for the actions required for this).
Example: Increase wind capacity by 200% overall in three years, with 10 new wind farms across five regions in Europe.
Once clear on the enterprise plan, you can evaluate the current state of your functional activities, identify the future state, and set goals and objectives accordingly.
Step 4: Assess your capabilities
Identify key functional capabilities required to execute on your action plan. Ask business partners to assess how they perceive your function's strengths and weaknesses. Your assessment and that of your business partners should broadly align. Regardless, generate a prioritized list of functional capabilities to bolster or gaps to fill as a result of your findings.
Step 5: Develop an action plan
This is the stage at which you take your general assessment of goals and objectives and translate them into detailed action steps with assigned responsibilities. This functional action plan should be a formal document that summarizes the sequence of steps or initiatives required to attain an objective. This is the primary source of information for how you will execute, monitor, control and close out objectives.
Action plans are subject to change once surprise events occur, so be prepared to respond with an adaptive strategy to respond to change as and when you can handle it.
Step 6: Set measures and metrics
The terms measure and metric are often used interchangeably, but they are different.
A measure is an observable business outcome (for example, employee engagement ). Measures allow you to evaluate the efficacy of your action plans. Agree on them in advance to avoid reporting biases.
A metric describes the actual data collected to quantify the measure (say, the percentage of "satisfied" employees according to an annual survey ).
Make sure measures and metrics are complete enough to account for a range of variables. For example, don't only use customer satisfaction to measure engagement. Also track critical factors, such as discretionary effort and intent to stay.
Step 7: Put your strategy on one — yes, one — page
Simply and clearly state the key elements of your strategic plan: where the functional organization is, where it is going and how it will get to the future state. 
Capture an overview on a single page that communicates how you are adding value today and demonstrates how you plan to impact the business over the next year. Include a statement of strategy, a before-and-after description of the state of your function, one or two critical assumptions underpinning the strategy, and five to seven initiatives required to meet the functional objectives established to support business goals.
Step 8: Drive the plan home
Do this by evangelizing the objectives and strategy across your function and company. The one-page strategy template is a helpful tool, as it makes the plan easy for others to consume, but you'll still need a deliberate process for communicating the plan — and ensuring that key constituencies understand and agree with it. 
You must develop a clear and consistent message that drives buy-in and commitment among functional leadership and engagement and motivation among the workforce, with all stakeholders clear on how your priorities are changing and why.
Step 9: Prepare to respond to change
Once the strategic plan is adopted and shared, it's critical to measure progress against the objectives, revisit and monitor the plan to ensure it remains valid, and adapt the strategy as business conditions change. To do this:
Monitor triggers to track the effectiveness of the strategic plan.
Cancel underperforming projects quickly.
Track and validate assumptions periodically. 
Lastly, make sure you have an agreed-upon action plan for specific steps to take or decisions to make to increase the chances of success when monitoring triggers an alarm.
This article has been updated annually to reflect new events, conditions and research.
Experience Gartner Conferences
Join your peers for the unveiling of the latest insights at Gartner conferences.
Recommended resources for Gartner clients*:
Adapting Plans to Respond to Disruption: Build Business-Compatible Planning Experiences The Quintessential Guide to Strategic Planning Waste-Free Strategic Planning Strategic Planning Playbook
*Note that some documents may not be available to all Gartner clients.
Subscribe to the Latest Insight
By clicking the "Continue" button, you are agreeing to the Gartner Terms of Use and Privacy Policy.
Audit and Risk
Customer Service and Support
Technology/Service Providers
Human Resources
Information Technology Professional
Investment Professional
Legal and Compliance
Marketing and Communications
Marketing at a Technology/Service Provider
Procurement
Research and Development
Supply Chain
Please provide the consent below
I have read, understood and accepted Gartner Separate Consent Letter , whereby I agree (1) to provide Gartner with my personal information, and understand that information will be transferred outside of mainland China and processed by Gartner group companies and other legitimate processing parties and (2) to be contacted by Gartner group companies via internet, mobile/telephone and email, for the purposes of sales, marketing and research.
By clicking the "Subscribe" button, you are agreeing to the Gartner Terms of Use and Privacy Policy.
Build a Great Strategic Plan for Your Function
Strategic planning essentials: Actionable insights and an exclusive and customizable one-page template to turn strategy into action.
Explore deep-dive content to help you stay informed and up to date
It leaders, don't own innovation; enable it across the business, 3 magical components of transformation, generative ai realities: proactive approaches for quantifiable business results, how to manage conflict and resistance from teams with difficult personalities, build an ai literacy program to unleash the power of ai, ask the expert: why won't they change how behavioral science is the key to transformation success, drive stronger performance on your mission-critical priorities..
🎯 Finish your 2024 OKRs in 60 days
The strategic planning process in 4 steps, to assist you throughout your planning process, we have created a how-to guide on the basics of strategic planning which will take you through the planning process step-by-step..
Free Strategic Planning Guide
What is Strategic Planning?
Strategic Planning is a process where organizations define a bold vision and create a plan with objectives and goals to reach that future. A great strategic plan defines where your organization is going, how you'll win, who must do what, and how you'll review and adapt your strategy.
Overview of the complete strategic planning process:
Getting started: strategic planning introduction.
The strategic management process is about getting from Point A to Point B more effectively, efficiently, and enjoying the journey and learning from it. Part of that journey is the strategy and part of it is execution. Having a good strategy dictates "how" you travel the road you have selected and effective execution makes sure you are checking in along the way. On average, this process can take between three and four months. However no one organization is alike and you may decide to fast track your process or slow it down. Move at a pace that works best for you and your team and leverage this as a resource. For more of a deep dive look into each part of the planning phase, you will see a link to the detailed How-To Guide at the top of each phase.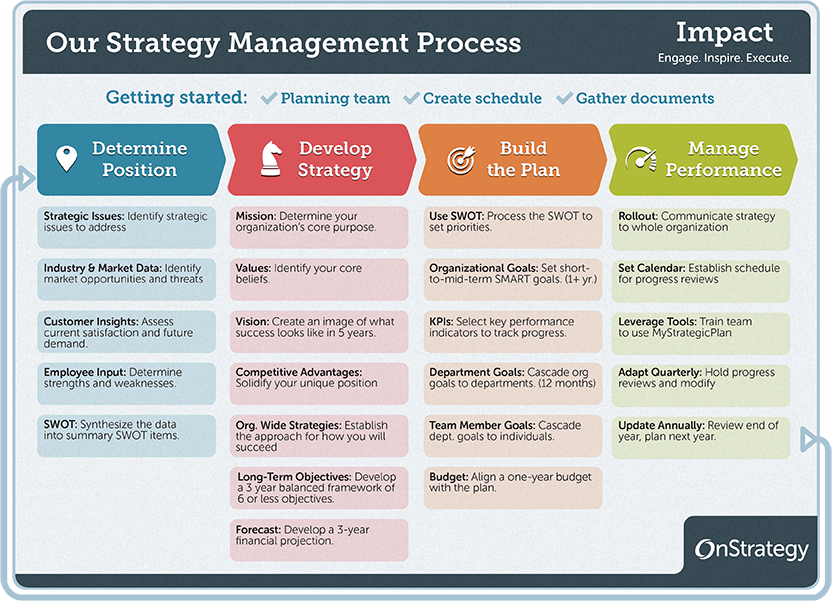 Phase Duration
1-2 weeks (1 hr meeting with Owner/CEO, Strategy Director and Facilitator (if necessary) to discuss information collected and direction for continued planning.)
Questions to Ask:
Who is on your Planning Team?
Who will be the business process owner (Strategy Director) of planning in your organization?
Fast forward 12 months from now, what do you want to see differently in your organization as a result of embarking on this initiative?
Planning team members are informed of their roles and responsibilities.
Planning schedule is established.
Existing planning information and secondary data collected.
Action Grid:
Step 1: Determine Organizational Readiness
Set up your planning process for success – questions to ask:.
Are the conditions and criteria for successful planning in place at the current time? Can certain pitfalls be avoided?
Is this the appropriate time for your organization to initiate a planning process? Yes or no? If no, where do you go from here?
Step 2: Develop Your Team & Schedule
Who is going to be on your planning team? You need to choose someone to oversee the implementation (Chief Strategy Officer or Strategy Director) and then you need some of the key individuals and decision makers for this team. It should be a small group of approximately 12-15 persons.
OnStrategy is the leader in strategic planning and performance management. Our cloud-based software and hands-on services closes the gap between strategy and execution. Learn more about OnStrategy here .
Step 3: Collect Current Data
Collect the following information on your organization:
The last strategic plan, even if it is not current
Mission statement, vision statement, values statement
Business plan
Financial records for the last few years
Marketing plan
Other information, such as last year's SWOT, sales figures and projections
Step 4:Review collected data:
Review the data collected in the last action with your strategy director and facilitator.
What trends do you see?
Are there areas of obvious weakness or strengths?
Have you been following a plan or have you just been going along with the market?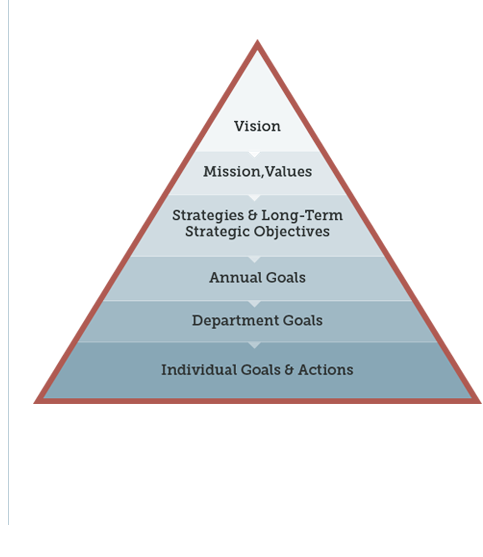 Strategic Planning Phase 1: Determine Your Strategic Position
Want More? Deep Dive Into the " Evaluate Your Strategic Position " How-To Guide.
Action Grid
Step 1: identify strategic issues.
Strategic issues are critical unknowns that are driving you to embark on a strategic planning process now. These issues can be problems, opportunities, market shifts or anything else that is keeping you awake at night and begging for a solution or decision.
How will we grow, stabilize, or retrench in order to sustain our organization into the future?
How will we diversify our revenue to reduce our dependence on a major customer?
What must we do to improve our cost structure and stay competitive?
How and where must we innovate our products and services?
Step 2: Conduct an Environmental Scan
Conducting an environmental scan will help you understand your operating environment. An environmental scan is also referred to as a PEST analysis, which is an acronym for Political, Economic, Social and Technological trends. Sometimes it is helpful to also include Ecological and Legal trends as well. All of these trends play a part in determining the overall business environment.
Step 3: Conduct a Competitive Analysis
The reason to do a competitive analysis is to assess the opportunities and threats that may occur from those organizations competing for the same business you are.  You need to have an understanding of what your competitors are or aren't offering your potential customers.  Here are a few other key ways a competitive analysis fits into strategic planning:
To help you assess whether your competitive advantage is really an advantage.
To understand what your competitors' current and future strategies are so you can plan accordingly.
To provide information that will help you evaluate your strategic decisions against what your competitors may or may not be doing.
Step 4: Identify Opportunities and Threats
Opportunities are situations that exist but must be acted on if the business is to benefit from them.
What do you want to capitalize on?
What new needs of customers could you meet?
What are the economic trends that benefit you?
What are the emerging political and social opportunities?
What niches have your competitors missed?
Threats refer to external conditions or barriers that may prevent a company from reaching its objectives.
What do you need to mitigate?
Questions to answer:.
What are the negative economic trends?
What are the negative political and social trends?
Where are competitors about to bite you?
Where are you vulnerable?
Step 5: Identify Strengths and Weaknesses
Strengths refer to what your company does well.
What do you want to build on?
What do you do well (in sales, marketing, operations, management)?
What are your core competencies?
What differentiates you from your competitors?
Why do your customers buy from you?
Weaknesses refer to any limitations a company faces in developing or implementing a strategy.
What do you need to shore up?
Where do you lack resources?
What can you do better?
Where are you losing money?
In what areas do your competitors have an edge?
Step 6: Customer Segments
Customer segmentation defines the different groups of people or organizations a company aims to reach or serve.
Who are we providing value to?
What needs or wants define your ideal customer?
What characteristics describe your typical customer?
Can you sort your customers into different profiles using their needs, wants and characteristics?
Can you reach this segment through clear communication channels?
Step 7: Develop Your SWOT
A SWOT analysis is a quick way of examining your organization by looking at the  internal  strengths and weaknesses in relation to the  external  opportunities and threats. By creating a SWOT analysis, you can see all the important factors affecting your organization together in one place. It's easy to read, easy to communicate, and easy to create. Take the Strengths, Weaknesses, Opportunities and Threats you developed earlier, review, prioritize and combine like terms. The SWOT analysis helps you ask, and answer, the following questions: "How do you…."
Build on your strengths
Shore up your weaknesses
Capitalize on your opportunities
Manage your threats
Strategic Planning Process Phase 2: Developing Strategy
Want More? Deep Dive Into the "Developing Your Strategy" How-To Guide.
Step 1: Develop Your Mission Statement
The mission statement describes an organization's purpose or reason for existing.
What is our purpose? Why do we exist? What do we do?
What does your organization intend to accomplish?
Why do you work here? Why is it special to work here?
What would happen if we were not here?
Outcome: A short, concise, concrete statement that clearly defines the scope of the organization.
Step 2: discover your values.
Your values statement clarifies what your organization stands for, believes in and the behaviors you expect to see as a result.
How will we behave?
What are the key non-negotiables that are critical to the success of the company?
What are the guiding principles that are core to how we operate in this organization?
What behaviors do you expect to see?
If the circumstances changed and penalized us for holding this core value, would we still keep it?
Outcome: Short list of 5-7 core values.
Step 3: casting your vision statement.
A Vision Statement defines your desired future state and provides direction for where we are going as an organization.
Where are we going?
What will our organization look like 5–10 years from now?
What does success look like?
What are we aspiring to achieve?
What mountain are you climbing and why?
Outcome: A picture of the future.
Step 4: identify your competitive advantages.
A Competitive Advantage is a characteristic(s) of an organization that allows it to meet their customer's need(s) better than their competition can.
What are we best at?
What are your unique strengths?
What are you best at in your market?
Do your customers still value what is being delivered? Ask them.
How do your value propositions stack up in the marketplace?
Outcome: A list of 2 or 3 items that honestly express the organization's foundation for winning.
Step 5: crafting your organization-wide strategies.
Your strategies are the general methods you intend to use to reach your vision. No matter what the level, a strategy answers the question "how."
How will we succeed?
Broad: market scope; a relatively wide market emphasis.
Narrow: limited to only one or few segments in the market
Does your competitive position focus on lowest total cost or product/service differentiation or both?
Outcome: Establish the general, umbrella methods you intend to use to reach your vision.
Phase 3: Strategic Plan Development
Want More? Deep Dive Into the "Build Your Plan" How-To Guide.
Strategic Planning Process Step 1: Use Your SWOT to Set Priorities
If your team wants to take the next step in the SWOT analysis, apply the TOWS Strategic Alternatives Matrix to help you think about the options that you could pursue. To do this, match external opportunities and threats with your internal strengths and weaknesses, as illustrated in the matrix below:
TOWS Strategic Alternatives Matrix
Evaluate the options you've generated, and identify the ones that give the greatest benefit, and that best achieve the mission and vision of your organization. Add these to the other strategic options that you're considering.
Step 2: Define Long-Term Strategic Objectives
Long-Term Strategic Objectives are long-term, broad, continuous statements that holistically address all areas of your organization. What must we focus on to achieve our vision?  What are the "big rocks"?
Questions to ask:
What are our shareholders or stakeholders expectations for our financial performance or social outcomes?
To reach our outcomes, what value must we provide to our customers? What is our value proposition?
To provide value, what process must we excel at to deliver our products and services?
To drive our processes, what skills, capabilities and organizational structure must we have?
Outcome: Framework for your plan – no more than 6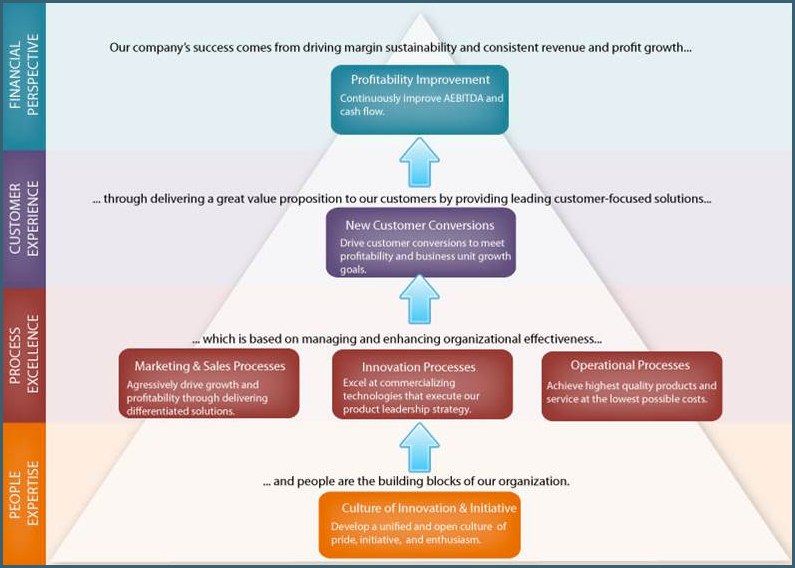 Step 3: Setting Organization-Wide Goals and Measures
Once you have formulated your strategic objectives, you should translate them into goals and measures that can be clearly communicated to your planning team (team leaders and/or team members). You want to set goals that convert the strategic objectives into specific performance targets. Effective goals clearly state what, when, how, and who, and they are specifically measurable. They should address what you need to do in the short-term (think 1-3 years) to achieve your strategic objectives. Organization-wide goals are annual statements that are specific, measurable, attainable, responsible and time bound.  These are outcome statements expressing a result expected in the organization.
What is most important right now to reach our long-term objectives?
Outcome: clear outcomes for the current year..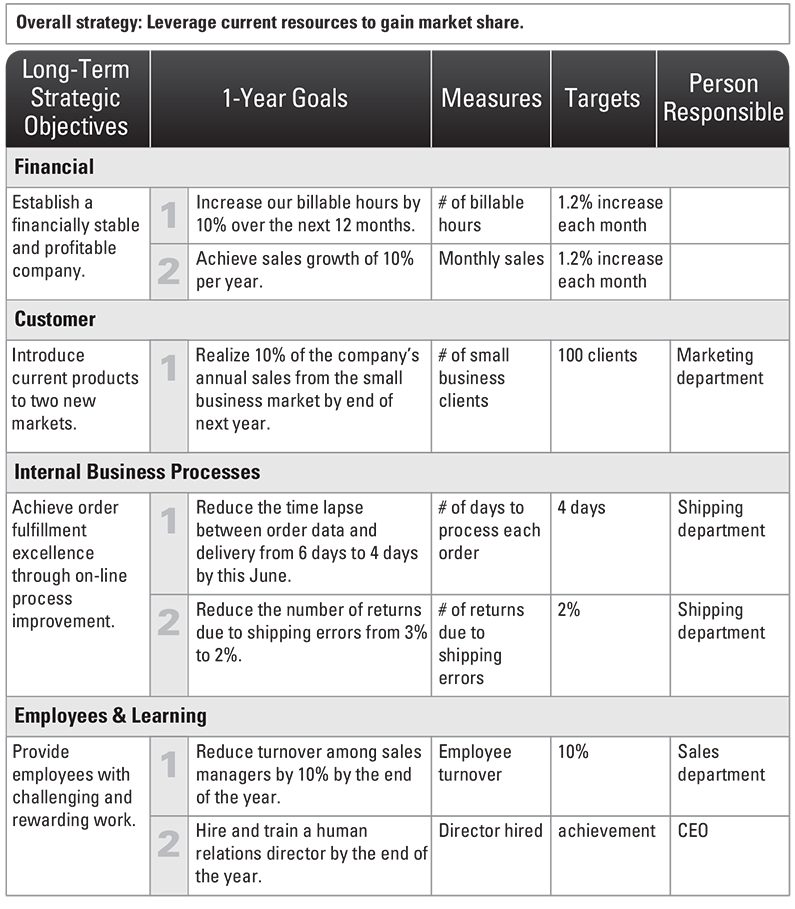 Step 4: Select KPIs
Key Performance Indicators (KPI) are the key measures that will have the most impact in moving your organization forward. We recommend you guide your organization with measures that matter.
How will we measure our success?
Outcome: 5-7 measures that help you keep the pulse on your performance. When selecting your Key Performance Indicators, begin by asking "What are the key performance measures we need to track in order to monitor if we are achieving our goals?" These KPIs include the key goals that you want to measure that will have the most impact in moving your organization forward.
Step 5: Cascade Your Strategies to Operations
Cascading action items and to-dos for each short-term goal is where the rubber meets the road – literally. Moving from big ideas to action happens when strategy is translated from the organizational level to the individual. Here we widen the circle of the people who are involved in the planning as functional area managers and individual contributors develop their short-term goals and actions to support the organizational direction. But before you take that action, determine if you are going to develop a set of plans that cascade directly from the strategic plan, or instead if you have existing operational, business or account plans that should be synced up with organizational goals. A pitfall is to develop multiple sets of goals and actions for directors and staff to manage. Fundamentally, at this point you have moved from planning the strategy to planning the operations; from strategic planning to annual planning. That said, the only way strategy gets executed is to align resources and actions from the bottom to the top to drive your vision.
Questions to Ask
How are we going to get there at a functional level?
Who must do what by when to accomplish and drive the organizational goals?
What strategic questions still remain and need to be solved?
Department/functional goals, actions, measures and targets for the next 12-24 months
Step 6: Cascading Goals to Departments and Team Members
Now in your Departments / Teams, you need to create goals to support the organization-wide goals. These goals should still be SMART and are generally (short-term) something to be done in the next 12-18 months. Finally, you should develop an action plan for each goal. Keep the acronym SMART in mind again when setting action items, and make sure they include start and end dates and have someone assigned their responsibility. Since these action items support your previously established goals, it may be helpful to consider action items your immediate plans on the way to achieving your (short-term) goals. In other words, identify all the actions that need to occur in the next 90 days and continue this same process every 90 days until the goal is achieved.
Examples of Cascading Goals:
Phase 4: Executing Strategy and Managing Performance
Want More? Deep Dive Into the "Managing Performance" How-To Guide.
Step 1: Strategic Plan Implementation Schedule
Implementation is the process that turns strategies and plans into actions in order to accomplish strategic objectives and goals.
How will we use the plan as a management tool?
Communication Schedule: How and when will you roll-out your plan to your staff? How frequently will you send out updates?
Process Leader: Who is your strategy director?
Structure: What are the dates for your strategy reviews (we recommend at least quarterly)?
System & Reports: What are you expecting each staff member to come prepared with to those strategy review sessions?
Outcome: Syncing your plan into the "rhythm of your business."
Once your resources are in place, you can set your implementation schedule. Use the following steps as your base implementation plan:
Establish your performance management and reward system.
Set up monthly and quarterly strategy meetings with established reporting procedures.
Set up annual strategic review dates including new assessments and a large group meeting for an annual plan review.
Now you're ready to start plan roll-out. Below are sample implementation schedules, which double for a full strategic management process timeline.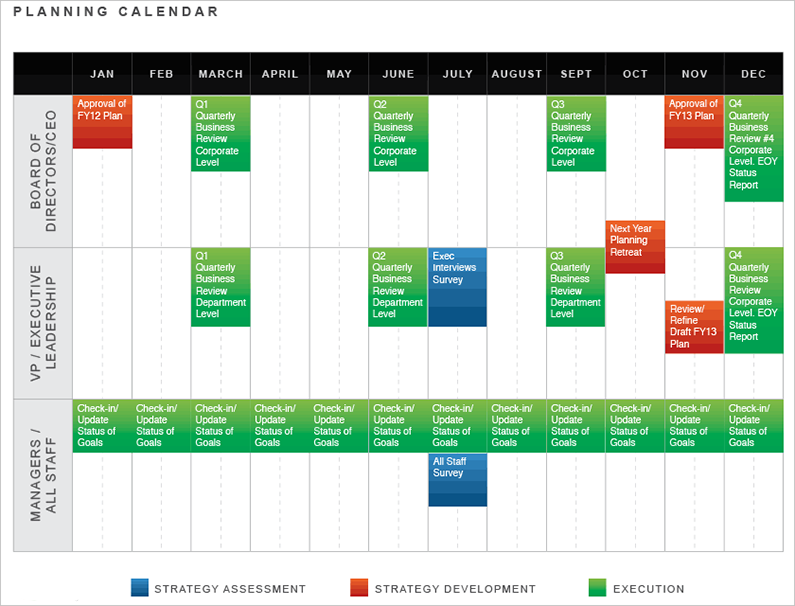 Step 2: Tracking Goals & Actions
Monthly strategy meetings don't need to take a lot of time – 30 to 60 minutes should suffice. But it is important that key team members report on their progress toward the goals they are responsible for – including reporting on metrics in the scorecard they have been assigned. By using the measurements already established, it's easy to make course corrections if necessary. You should also commit to reviewing your Key Performance Indicators (KPIs) during these regular meetings.
Your Bi-Annual Checklist
Never lose sight of the fact that strategic plans are guidelines, not rules. Every six months or so, you should evaluate your strategy execution and plan implementation by asking these key questions:
Will your goals be achieved within the time frame of the plan? If not, why?
Should the deadlines be modified? (Before you modify deadlines, figure out why you're behind schedule.)
Are your goals and action items still realistic?
Should the organization's focus be changed to put more emphasis on achieving your goals?
Should your goals be changed? (Be careful about making these changes – know why efforts aren't achieving the goals before changing the goals.)
What can be gathered from an adaptation to improve future planning activities?
Why Track Your Goals?
Ownership: Having a stake and responsibility in the plan makes you feel part of it and leads you to drive your goals forward.
Culture: Successful plans tie tracking and updating goals into organizational culture.
Implementation: If you don't review and update your goaFls, they are just good intentions
Accountability: Accountability and high visibility help drive change. This means that each measure, objective, data source and initiative must have an owner.
Empowerment: Changing goals from In Progress to Complete just feels good!
Step 3: Review & Adapt
Guidelines for your strategy review.
Restricting the meeting to reporting on measurements can help you stay on task and keep the meeting within 30 minutes, but if you can commit to a full hour, the meeting agenda should also include some time devoted to working on one specific topic or on one of the quarter's priorities where decisions need to be made. Once agreed upon, this topic should be developed to conclusion. Holding meetings helps focus your goals on accomplishing top priorities and accelerating growth of the organization. Although the meeting structure is relatively simple, it does require a high degree of discipline.
Strategy Review Session Questions:
What were our three most important strategic accomplishments of the last 90 days – how have we changed our field of play in the past 90 days?
What are the three most important ways we fell short of our strategic potential?
In the last 90 days, what are the three most important things that we have learned about our strategy?  (NOTE: We are looking for insight to decision to action observations.)
Step 4: Annual Updates The three words  strategic planning off-site  provoke reactions anywhere from sheer exuberance to ducking for cover. In many organizations, retreats have a bad reputation because stepping into one of the many planning pitfalls is so easy. Holding effective meetings can be tough, and if you add a lot of brainpower mixed with personal agendas, you can have a recipe for disaster. That's why so many strategic planning meetings are unsuccessful. Executing your strategic plan is as important, or even more important, than your strategy. Critical actions move a strategic plan from a document that sits on the shelf to actions that drive organizational growth. The sad reality is that the majority of organizations who have strategic plans fail to implement. Don't be part of the majority! In fact, research has shown that 70% of organizations that have a formal execution process out-perform their peers. (Kaplan & Norton) Guiding your work in this stage of the planning process is a schedule for the next 12 months that spells out when the quarterly strategy reviews are, who is involved, what participants need to bring to the meetings and how you will adapt the plan based on the outcomes of the reviews. You remain in this phase of the strategic management process until you embark on the next formal planning sessions where you start back at the beginning. Remember that successful execution of your plan relies on appointing a strategy director, training your team to use OnStrategy (or any other planning tool), effectively driving accountability, and gaining organizational commitment to the process.
Strategic planning frequently asked questions
Read our frequently asked questions about strategic planning to learn how to build a great strategic plan..
Business Strategic Planning is a process where your business defines a bold vision of the future and creates a plan to reach that future. It helps your business define where you're going, how you'll get there, how you'll grow, and what you must do to reach your desired future.
A great strategic plan determines where your organization is going, how you'll win, what roles each team member has in the execution, and your game plan for reviewing and adapting your strategy. Elements include a current state analysis, SWOT, mission, vision, values, competitive advantages, growth strategy, growth enablers, a 3-year roadmap, and annual plan with goals, KPIs, and OKRs.
Typically, the average strategic planning process takes about 3-4 months, but depending on your organization, it could take more or less time. Every organization is different, so you should work at a pace that works for you.
There are four overarching phases to the strategic planning process that include: determining position, developing your strategy, building your plan, and managing performance. Each phase plays a unique but distinctly crucial role in the strategic planning process.
Prior to starting your strategic plan, you must go through this pre-planning process to determine your organization's readiness by following these steps:
Ask yourself these questions: Are the conditions and criteria for successful planning in place now? Can we foresee any pitfalls that we can avoid? Is there an appropriate time for our organization to initiate this process?
Develop your team and schedule. Who will oversee the implementation as Chief Strategy Officer or Director? Do we have at least 12-15 other key individuals on our team?
Research and Collect Current Data. Find the following resources that your organization may have used in the past to assist you with your new plan: last strategic plan, mission, vision, and values statement, business plan, financial records, marketing plan, SWOT, sales figures, or projections.
Finally, review the data with your strategy director and facilitator and ask these questions: What trends do we see? Any obvious strengths or weaknesses? Have we been following a plan or just going along with the market?
Determining your positioning entails conducting a scan of macro and micro trends in your environment and industry, identifying marketing and competitive opportunities and threats, clarifying target customers and value propositions, gathering and reviewing staff and partner feedback for strengths and weaknesses, synthesizing the data into a SWOT, and solidifying your competitive advantages.
Developing your strategy includes determining your primary business model and organizational purpose, identifying your corporate values, creating an image of what success would look like in 3-5 years, solidifying your competitive advantages, formulating organization wide-strategies that explain your base, and agreeing on strategic issues you need to address in the planning process. .
Once you get to the strategic plan development process in the planning process, you must begin developing your strategic framework and defining long-term strategic objectives, set short-term SMART organizational goals, and select the measure that will be your KPIs (key performance indicators.)
The last phase of strategic planning is implementation, execution, and ongoing refreshes. This step entails establishing an implementation schedule, rolling out your plan, executing against your key results, and reviewing process and refreshing your plan quarterly. p>
The ideal execution schedule for your strategic plan will differ from team to team or organization to organization, but generally, you should try to set 4 quarterly reviews, a mid-year executive survey, 12 monthly check-ins, and a year-end plan review and annual refresh.
Join 60,000 other leaders engaged in transforming their organizations.
Subscribe to get the latest agile strategy best practices, free guides, case studies, and videos in your inbox every week..

Leading strategy? Join our FREE community.
Become a member of the chief strategy officer collaborative..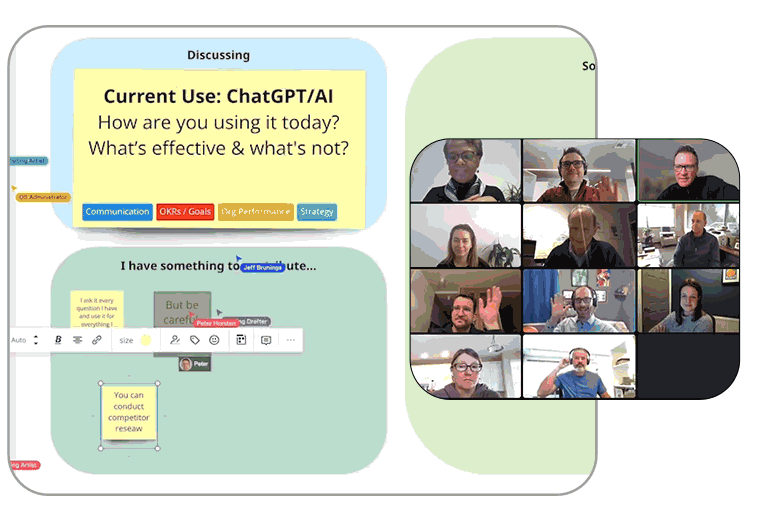 Free monthly sessions and exclusive content.
Do you want to 2x your impact.
Business strategy |
What is strategic planning? 5 steps and ...
What is strategic planning? 5 steps and processes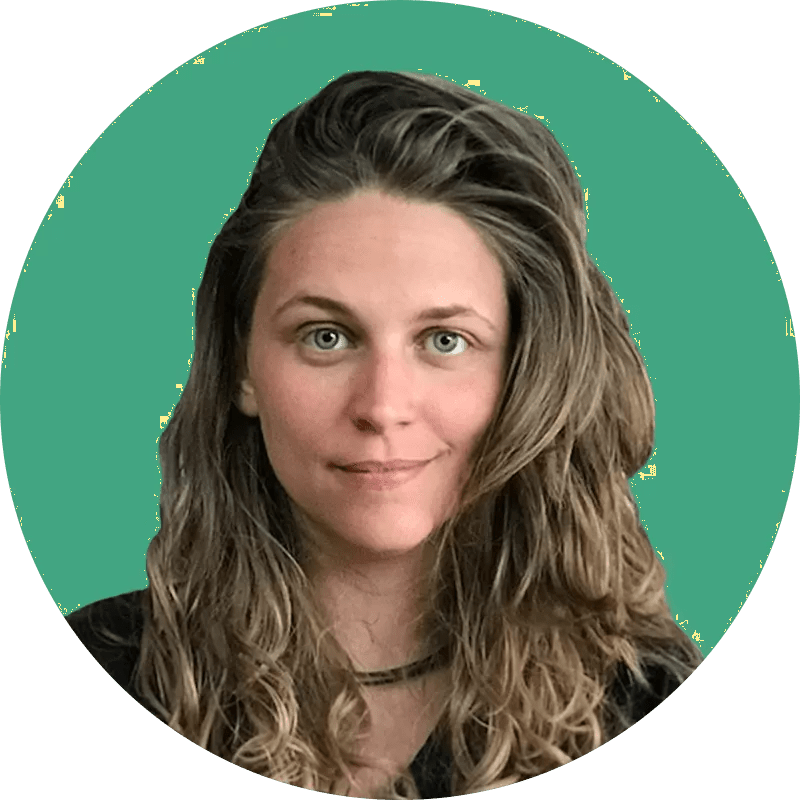 A strategic plan helps you define and share the direction your company will take in the next three to five years. It includes your company's vision and mission statements, goals, and the actions you'll take to achieve those goals. In this article we describe how a strategic plan compares to other project and business tools, plus four steps to create a successful strategic plan for your company.
Strategic planning is when business leaders map out their vision for the organization's growth and how they're going to get there. Strategic plans inform your organization's decisions, growth, and goals. So if you work for a small company or startup, you could likely benefit from creating a strategic plan. When you have a clear sense of where your organization is going, you're able to ensure your teams are working on projects that make the most impact. 
The strategic planning process doesn't just help you identify where you need to go—during the process, you'll also create a document you can share with employees and stakeholders so they stay informed. In this article, we'll walk you through how to get started developing a strategic plan.
What is a strategic plan?
A strategic plan is a tool to define your organization's goals and what actions you will take to achieve them. Typically, a strategic plan will include your company's vision and mission statements, your long-term goals (as well as short-term, yearly objectives), and an action plan of the steps you're going to take to move in the right direction.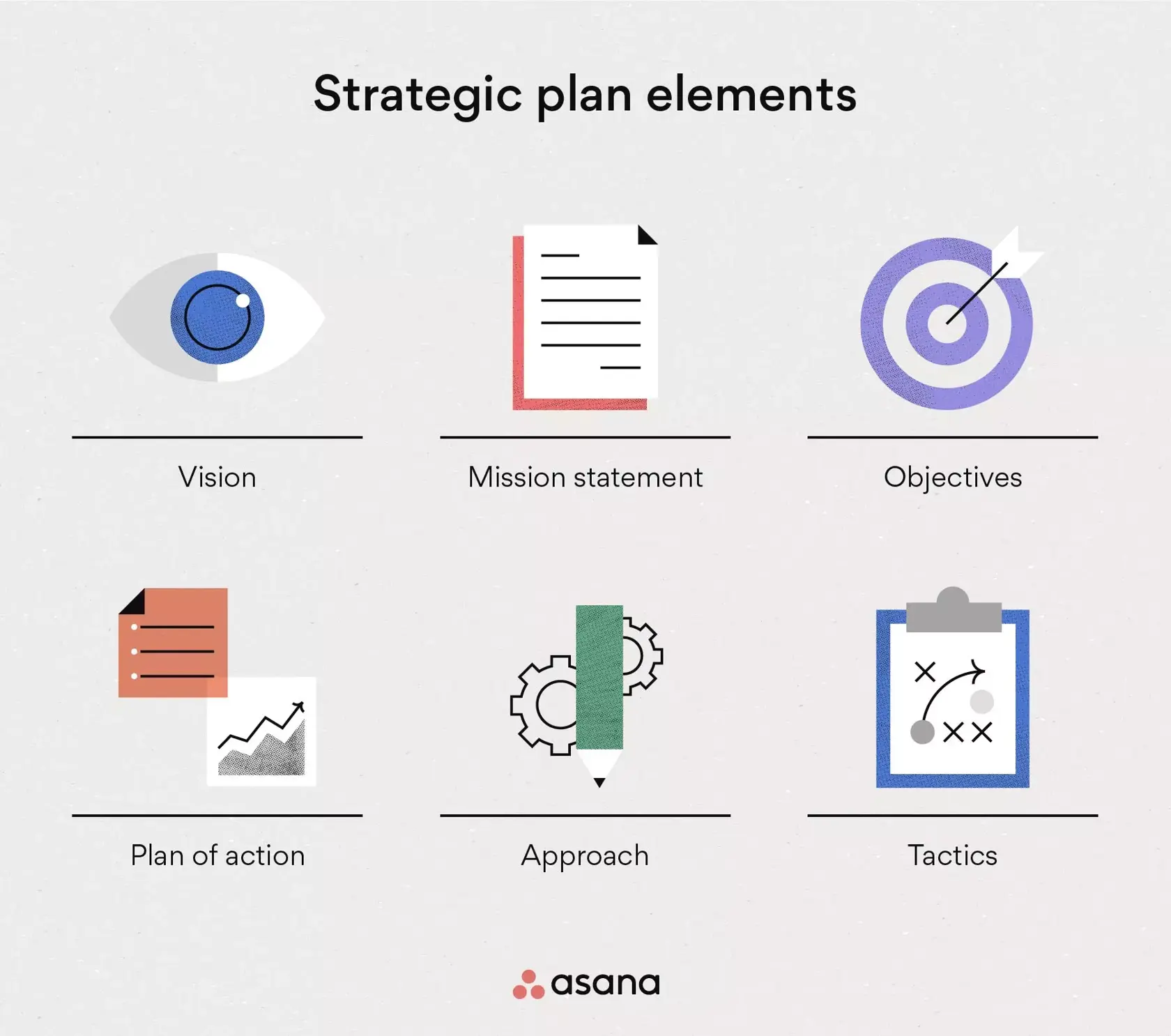 Your strategic plan document should include: 
Your company's mission statement
Your company's goals
A plan of action to achieve those goals
Your approach to achieving your goals
The tactics you'll use to meet your goals
An effective strategic plan can give your organization clarity and focus. This level of clarity isn't always a given—according to our research, only 16% of knowledge workers say their company is effective at setting and communicating company goals. By investing time into strategy formulation, you can build out a three- to five-year vision for the future of your company. This strategy will then inform your yearly and quarterly company goals. 
Do I need a strategic plan?
A strategic plan is one of many tools you can use to plan and hit your goals. It helps map out strategic objectives and growth metrics. Here's how a strategic plan compares to other project management and business tools.
Strategic plan vs. business plan
A business plan can help you document your strategy as you're getting started so every team member is on the same page about your core business priorities and goals. This tool can help you document and share your strategy with key investors or stakeholders as you get your business up and running.
You should create a business plan when you're: 
Just starting your business
Significantly restructuring your business
If your business is already established, consider creating a strategic plan instead of a business plan. Even if you're working at a relatively young company, your strategic plan can build on your business plan to help you move in the right direction. During the strategic planning process, you'll draw from a lot of the fundamental business elements you built early on to establish your strategy for the next three to five years.
Key takeaway: A business plan works for new businesses or large organizational overhauls. Strategic plans are better for established businesses. 
Strategic plan vs. mission and vision statements
Your strategic plan, mission statement, and vision statements are all closely connected. In fact, during the strategic planning process, you will take inspiration from your mission and vision statements in order to build out your strategic plan.
As a result, you should already have your mission and vision statements drafted before you create a strategic plan. Ideally, this is something you created during the business planning phase or shortly after your company started. If you don't have a mission or vision statement, take some time to create those now. A mission statement states your company's purpose and it addresses what problem your organization is trying to solve. A vision statement states, in very broad strokes, how you're going to get there. 
Simply put: 
A mission statement summarizes your company's purpose
A vision statement broadly explains how you'll reach your company's purpose
A strategic plan should include your mission and vision statements, but it should also be more specific than that. Your mission and vision statements could, theoretically, remain the same throughout your company's entire lifespan. A strategic plan pulls in inspiration from your mission and vision statements and outlines what actions you're going to take to move in the right direction. 
For example, if your company produces pet safety equipment, here's how your mission statement, vision statement, and strategic plan might shake out:
Mission statement: "To ensure the safety of the world's animals." 
Vision statement: "To create pet safety and tracking products that are effortless to use." 
Your strategic plan would outline the steps you're going to take in the next few years to bring your company closer to your mission and vision. For example, you develop a new pet tracking smart collar or improve the microchipping experience for pet owners. 
Key takeaway: A strategic plan draws inspiration from your mission and vision statements. 
Strategic plan vs. company objectives
Company objectives are broad goals. You should set these on a yearly or quarterly basis (if your organization moves quickly). These objectives give your team a clear sense of what you intend to accomplish for a set period of time. 
Your strategic plan is more forward-thinking than your company goals, and it should cover more than one year of work. Think of it this way: your company objectives will move the needle towards your overall strategy—but your strategic plan should be bigger than company objectives because it spans multiple years.
Key takeaway: Company objectives are broad, evergreen goals, while a strategic plan is a specific plan of action. 
Strategic plan vs. business case
A business case is a document to help you pitch a significant investment or initiative for your company. When you create a business case, you're outlining why this investment is a good idea, and how this large-scale project will positively impact the business. 
You might end up building business cases for things on your strategic plan's roadmap—but your strategic plan should be bigger than that. This tool should encompass multiple years of your roadmap, across your entire company—not just one initiative.
Key takeaway: A business case tackles one initiative or investment, while a strategic plan maps out years of overall growth for your company. 
Strategic plan vs. project plan
A strategic plan is a company-wide, multi-year plan of what you want to accomplish in the next three to five years and how you plan to accomplish that. A project plan, on the other hand, outlines how you're going to accomplish a specific project. This project could be one of many initiatives that contribute to a specific company objective which, in turn, is one of many objectives that contribute to your strategic plan. 
A project plan has seven parts: 
Success metrics
Stakeholders and roles
Scope and budget
Milestones and deliverables
Timeline and schedule
Communication plan
Key takeaway: You may build project plans to map out parts of your strategic plan. 
When should I create a strategic plan?
You should aim to create a strategic plan every three to five years, depending on your organization's growth speed. That being said, if your organization moves quickly, consider creating one every two to three years instead. Small businesses may need to create strategic plans more often, as their needs change. 
Since the point of a strategic plan is to map out your long-term goals and how you'll get there, you should create a strategic plan when you've met most or all of them. You should also create a strategic plan any time you're going to make a large pivot in your organization's mission or enter new markets. 
What are the 5 steps in strategic planning?
The strategic planning process should be run by a small team of key stakeholders who will be in charge of building your strategic plan. 
Your group of strategic planners, sometimes called the management committee, should be a small team of five to 10 key stakeholders and decision-makers for the company. They won't be the only people involved—but they will be the people driving the work. 
Once you've established your management committee, you can get to work on the strategic planning process.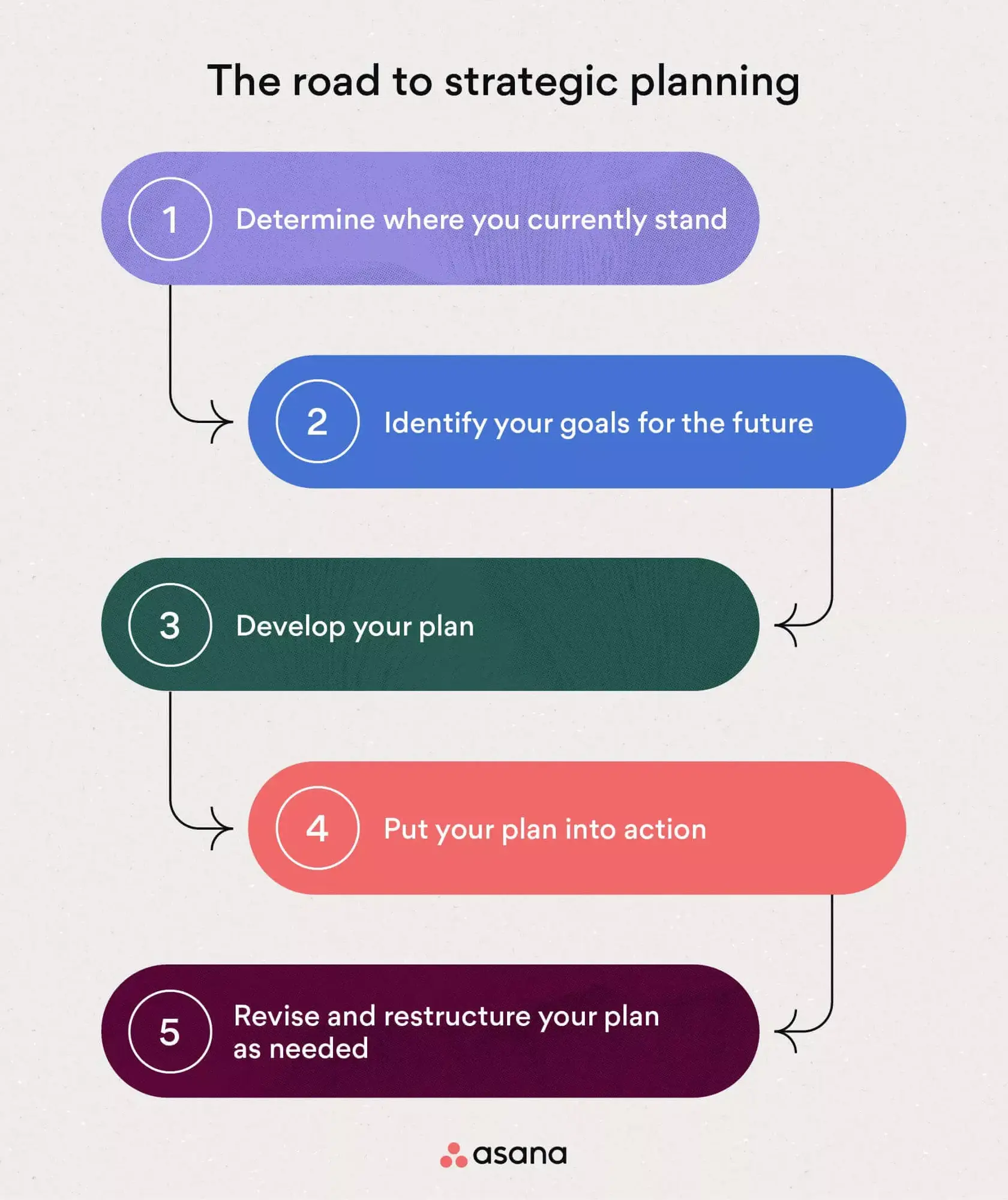 Step 1: Determine where you are
Before you can get started with strategy development and define where you're going, you first need to define where you are. To do this, your management committee should collect a variety of information from additional stakeholders—like employees and customers. In particular, plan to gather:
Relevant industry and market data to inform any market opportunities, as well as any potential upcoming threats in the near future
Customer insights to understand what your customers want from your company—like product improvements or additional services
Employee feedback that needs to be addressed—whether in the product, business practices, or company culture
A SWOT analysis to help you assess both current and future potential for the business (you'll return to this analysis periodically during the strategic planning process). 
To fill out each letter in the SWOT acronym, your management committee will answer a series of questions:
What does your organization currently do well?
What separates you from your competitors?
What are your most valuable internal resources?
What tangible assets do you have?
What is your biggest strength? 
Weaknesses:
What does your organization do poorly?
What do you currently lack (whether that's a product, resource, or process)?
What do your competitors do better than you?
What, if any, limitations are holding your organization back?
What processes or products need improvement? 
Opportunities:
What opportunities does your organization have?
How can you leverage your unique company strengths?
Are there any trends that you can take advantage of?
How can you capitalize on marketing or press opportunities?
Is there an emerging need for your product or service? 
What emerging competitors should you keep an eye on?
Are there any weaknesses that expose your organization to risk?
Have you or could you experience negative press that could reduce market share?
Is there a chance of changing customer attitudes towards your company? 
Step 2: Identify your goals and objectives
This is where the magic happens. To develop your strategy, take into account your current position, which is where you are now. Then, draw inspiration from your original business documents—these are your final destination. 
To develop your strategy, you're essentially pulling out your compass and asking, "Where are we going next?" This can help you figure out exactly which path you need to take. 
During this phase of the planning process, take inspiration from important company documents to ensure your strategic plan is moving your company in the right direction like:
Your mission statement, to understand how you can continue moving towards your organization's core purpose
Your vision statement, to clarify how your strategic plan fits into your long-term vision
Your company values, to guide you towards what matters most towards your company
Your competitive advantages, to understand what unique benefit you offer to the market
Your long-term goals, to track where you want to be in five or 10 years
Your financial forecast and projection, to understand where you expect your financials to be in the next three years, what your expected cash flow is, and what new opportunities you will likely be able to invest in
Step 3: Develop your plan
Now that you understand where you are and where you want to go, it's time to put pen to paper. Your plan will take your position and strategy into account to define your organization-wide plan for the next three to five years. Keep in mind that even though you're creating a long-term plan, parts of your strategic plan should be created as the quarters and years go on.
As you build your strategic plan, you should define:
Your company priorities for the next three to five years, based on your SWOT analysis and strategy.
Yearly objectives for the first year. You don't need to define your objectives for every year of the strategic plan. As the years go on, create new yearly objectives that connect back to your overall strategic goals . 
Related key results and KPIs for that first year. Some of these should be set by the management committee, and some should be set by specific teams that are closer to the work. Make sure your key results and KPIs are measurable and actionable.
Budget for the next year or few years. This should be based on your financial forecast as well as your direction. Do you need to spend aggressively to develop your product? Build your team? Make a dent with marketing? Clarify your most important initiatives and how you'll budget for those.
A high-level project roadmap . A project roadmap is a tool in project management that helps you visualize the timeline of a complex initiative, but you can also create a very high-level project roadmap for your strategic plan. Outline what you expect to be working on in certain quarters or years to make the plan more actionable and understandable.
Step 4: Execute your plan
After all that buildup, it's time to put your plan into action. New strategy execution involves clear communication across your entire organization to make sure everyone knows their responsibilities and how to measure the plan's success. 
Map your processes with key performance indicators, which will gauge the success of your plan. KPIs will establish which parts of your plan you want achieved in what time frame. 
A few tips to make sure your plan will be executed without a hitch: 
Align tasks with job descriptions to make sure people are equipped to get their jobs done
Communicate clearly to your entire organization throughout the implementation process 
Fully commit to your plan 
Step 5: Revise and restructure as needed
At this point, you should have created and implemented your new strategic framework. The final step of the planning process is to monitor and manage your plan.
Share your strategic plan —this isn't a document to hide away. Make sure your team (especially senior leadership) has access to it so they can understand how their work contributes to company priorities and your overall strategic plan. We recommend sharing your plan in the same tool you use to manage and track work, so you can more easily connect high-level objectives to daily work. If you don't already, consider using a work management tool .
Update your plan regularly (quarterly and annually). Make sure you're using your strategic plan to inform your shorter-term goals. Your strategic plan also isn't set in stone. You'll likely need to update the plan if your company decides to change directions or make new investments. As new market opportunities and threats come up, you'll likely want to tweak your strategic plan to ensure you're building your organization in the best direction possible for the next few years.
Keep in mind that your plan won't last forever—even if you do update it frequently. A successful strategic plan evolves with your company's long-term goals. When you've achieved most of your strategic goals, or if your strategy has evolved significantly since you first made your plan, it might be time to create a new one.
The benefits of strategic planning
Strategic planning can help with goal-setting by allowing you to explain how your company will move towards your mission and vision statements in the next three to five years. If you think of your company trajectory as a line on a map, a strategic plan can help you better quantify how you'll get from point A (where you are now) to point B (where you want to be in a few years).
When you create and share a clear strategic plan with your team, you can:
Align everyone around a shared purpose
Proactively set objectives to help you get where you want to go
Define long-term goals, and then set shorter-term goals to support them
Assess your current situation and any opportunities—or threats
Help your business be more durable because you're thinking long-term
Increase motivation and engagement
Sticking to the strategic plan
To turn your company strategy into a plan—and ultimately, impact—make sure you're proactively connecting company objectives to daily work. When you can clarify this connection, you're giving your team members the context they need to get their best work done. 
With clear priorities, team members can focus on the initiatives that are making the biggest impact for the company—and they'll likely be more engaged while doing so.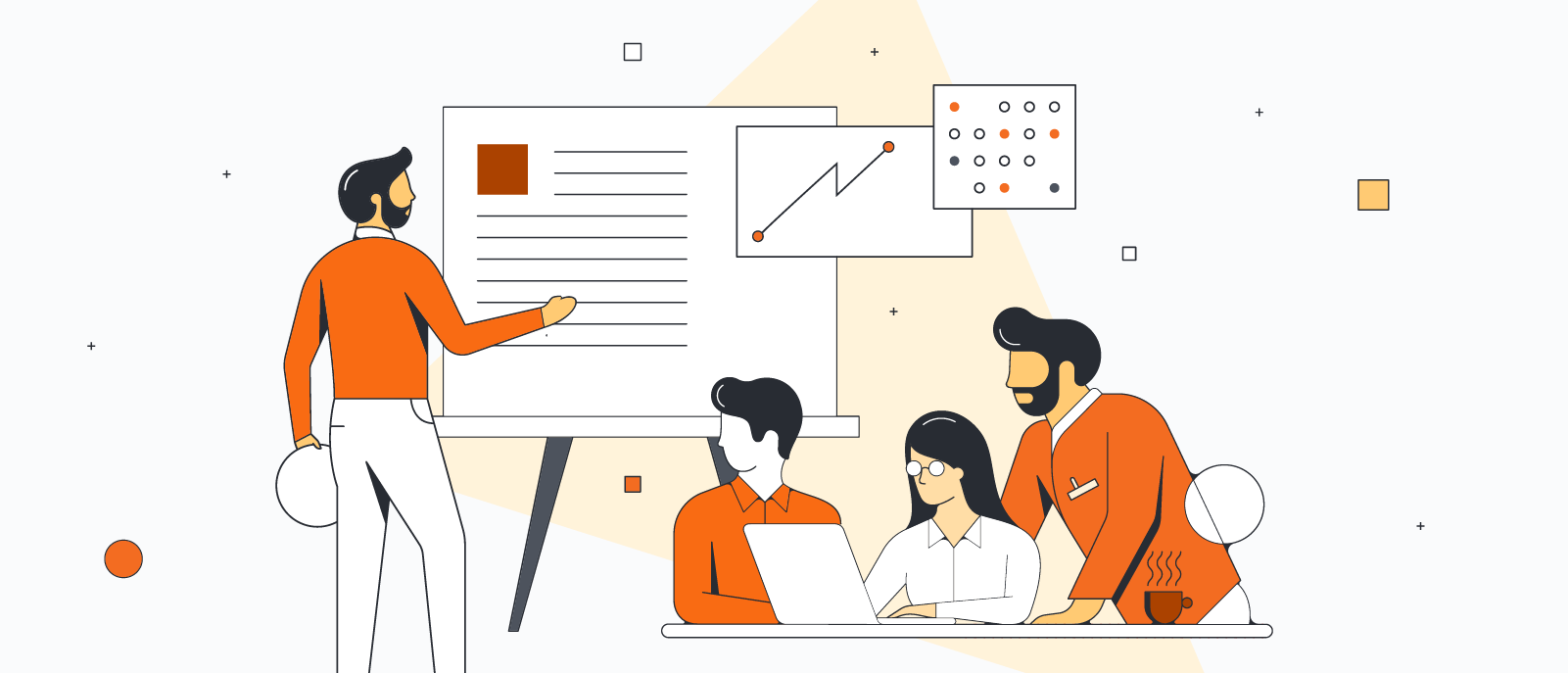 5 steps of the strategic planning process
Lucid Content Team
Reading time: about 6 min
Strategic planning process steps
Determine your strategic position.
Prioritize your objectives.
Develop a strategic plan.
Execute and manage your plan.
Review and revise the plan.
Because so many businesses lack in these regards, you can get ahead of the game by using strategic planning. In this article, we will explain what the strategic planning process looks like and the steps involved.
What is the strategic planning process?
In the simplest terms, the strategic planning process is the method that organizations use to develop plans to achieve overall, long-term goals.
This process differs from the project planning  process, which is used to scope and assign tasks for individual projects, or strategy mapping , which helps you determine your mission, vision, and goals.
The strategic planning process is broad—it helps you create a roadmap for which strategic objectives you should put effort into achieving and which initiatives would be less helpful to the business. 
Before you begin the strategic planning process, it is important to review some steps to set you and your organization up for success.
1. Determine your strategic position
This preparation phase sets the foundation for all work going forward. You need to know where you are to determine where you need to go and how you will get there.
Involve the right stakeholders from the start, considering both internal and external sources. Identify key strategic issues by talking with executives at your company, pulling in customer insights, and collecting industry and market data. This will give you a clear picture of your position in the market and customer insight.
It can also be helpful to review—or create if you don't have them already—your company's mission and vision statements to give yourself and your team a clear image of what success looks like for your business. In addition, review your company's core values to remind yourself about how your company plans to achieve these objectives.
To get started, use industry and market data, including customer insights and current/future demands, to identify the issues that need to be addressed. Document your organization's internal strengths and weaknesses, along with external opportunities (ways your organization can grow in order to fill needs that the market does not currently fill) and threats (your competition). 
As a framework for your initial analysis, use a SWOT diagram. With input from executives, customers, and external market data, you can quickly categorize your findings as Strengths, Weaknesses, Opportunities, and Threats (SWOT) to clarify your current position.
An alternative to a SWOT is PEST analysis. Standing for Political, Economic, Socio-cultural, and Technological, PEST is a strategic tool used to clarify threats and opportunities for your business. 
As you synthesize this information, your unique strategic position in the market will become clear, and you can start solidifying a few key strategic objectives. Often, these objectives are set with a three- to five-year horizon in mind.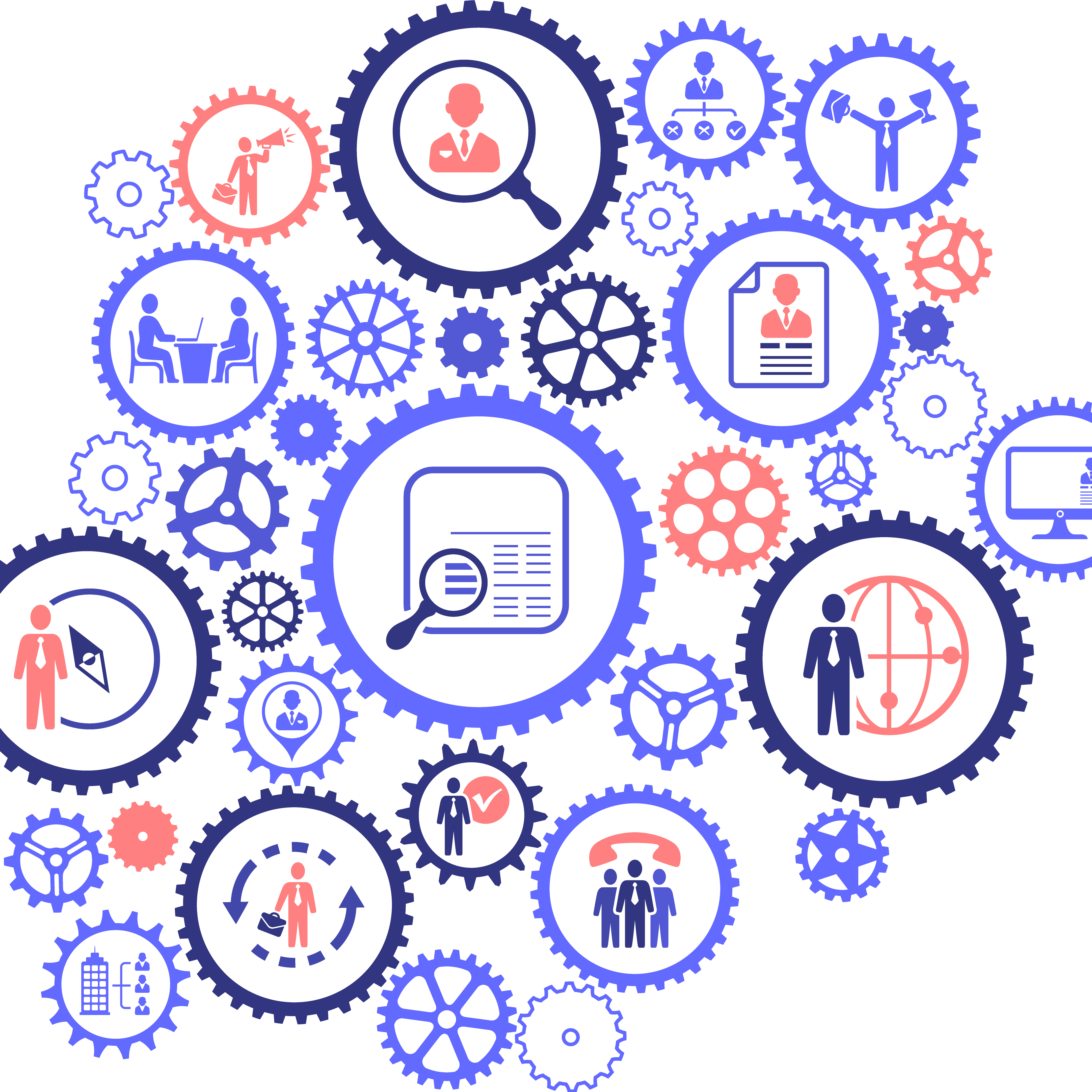 Use PEST analysis for additional help with strategic planning.
2. Prioritize your objectives
Once you have identified your current position in the market, it is time to determine objectives that will help you achieve your goals. Your objectives should align with your company mission and vision.
Prioritize your objectives by asking important questions such as:
Which of these initiatives will have the greatest impact on achieving our company mission/vision and improving our position in the market?
What types of impact are most important (e.g. customer acquisition vs. revenue)?
How will the competition react?
Which initiatives are most urgent?
What will we need to do to accomplish our goals?
How will we measure our progress and determine whether we achieved our goals?
Objectives should be distinct and measurable to help you reach your long-term strategic goals and initiatives outlined in step one. Potential objectives can be updating website content, improving email open rates, and generating new leads in the pipeline.
3. Develop a plan
Now it's time to create a strategic plan to reach your goals successfully. This step requires determining the tactics necessary to attain your objectives and designating a timeline and clearly communicating responsibilities. 
Strategy mapping is an effective tool to visualize your entire plan. Working from the top-down, strategy maps make it simple to view business processes and identify gaps for improvement.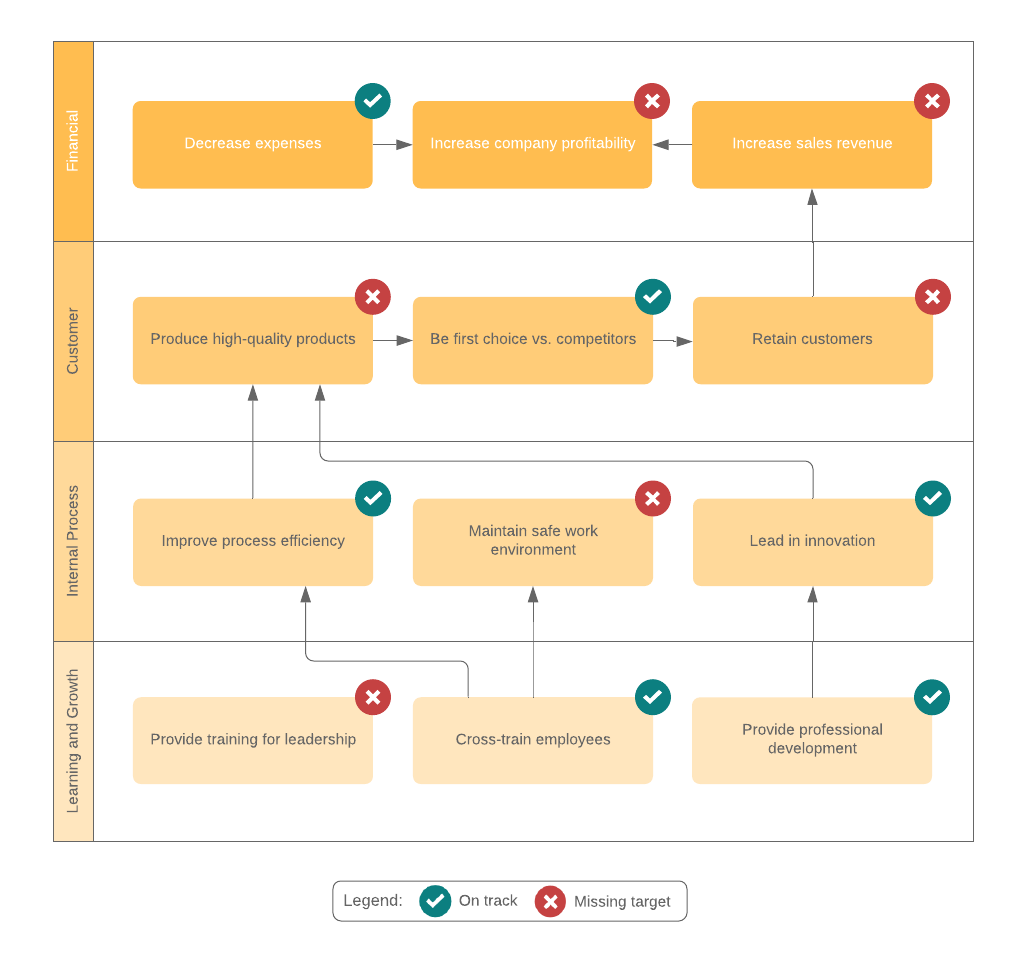 Truly strategic choices usually involve a trade-off in opportunity cost. For example, your company may decide not to put as much funding behind customer support, so that it can put more funding into creating an intuitive user experience.
Be prepared to use your values, mission statement, and established priorities to say "no" to initiatives that won't enhance your long-term strategic position.  
4. Execute and manage the plan
Once you have the plan, you're ready to implement it. First, communicate the plan to the organization by sharing relevant documentation. Then, the actual work begins.
Turn your broader strategy into a concrete plan by mapping your processes. Use key performance indicator (KPI) dashboards to communicate team responsibilities clearly. This granular approach illustrates the completion process and ownership for each step of the way. 
Set up regular reviews with individual contributors and their managers and determine check-in points to ensure you're on track.
5. Review and revise the plan
The final stage of the plan—to review and revise—gives you an opportunity to reevaluate your priorities and course-correct based on past successes or failures.
On a quarterly basis, determine which KPIs your team has met and how you can continue to meet them, adapting your plan as necessary. On an annual basis, it's important to reevaluate your priorities and strategic position to ensure that you stay on track for success in the long run.
Track your progress using balanced scorecards to comprehensively understand of your business's performance and execute strategic goals. 
Over time you may find that your mission and vision need to change — an annual evaluation is a good time to consider those changes, prepare a new plan, and implement again. 
Achieve your goals and monitor your progress with balanced scorecards.
Master the strategic planning process steps
As you continue to implement the strategic planning process, repeating each step regularly, you will start to make measurable progress toward achieving your company's vision.
Instead of constantly putting out fires, reacting to the competition, or focusing on the latest hot-button initiative, you'll be able to maintain a long-term perspective and make decisions that will keep you on the path to success for years to come.
Use a strategy map to turn your organization's mission and vision into actionable objectives.
Related articles
Implement the strategic planning process to make measurable progress toward achieving your company's vision and make decisions that will keep you on the path to success for years to come.
How to Use Kaizen Methodology to Improve Business Processes
The Kaizen methodology is an easy way to engage employees and develop a culture of continuous improvement. It strives to eliminate silos, egos, and waste and instead aims for efficient and standardized processes. See why you should use Kaizen and how you can get started.
Receive product tips and expert advice straight to your inbox.
or continue with
How To Write A Strategic Plan That Gets Results + Examples
Are you feeling overwhelmed with the thought of writing a strategic plan for your business? Do you want to create a plan that will help you move your team forward with inspired alignment and disciplined execution? You're not alone.
Gone are the days of rigid, 5- or 10-year planning cycles that do not leave room for flexibility and innovation. To stay ahead of the curve, you need a dynamic and execution-ready strategic plan that can guide your business through the ever-evolving landscape.
At Cascade, we understand that writing a strategic plan can be dreadful, especially in today's unpredictable environment. That's why we've developed a simple model that can help you create a clear, actionable plan to achieve your organization's goals. With our tested and proven strategic planning template , you can write a strategic plan that is both adaptable and effective .
Whether you're a seasoned strategy professional or a fresh strategy planner, this guide will walk you through the process step-by-step on how to write a strategic plan. By the end, you'll have a comprehensive, easy-to-follow strategic plan that will help you align your organization on the path to success.
Follow this guide step-by-step or skip to the part you're most interested in: 
Pre-Planning Phase: Build The Foundation
Cascade Model For Strategic Planning: What You Need To Know
Key Elements of a Strategic Plan
How To Write A Strategic Plan In 6 Simple Steps
3 strategic plan examples to get you started, how to achieve organizational alignment with your strategic plan.
Quick Overview of Key Steps In Writing A Strategic Plan
Create An Execution-Ready Strategic Plan With Cascade 🚀
*Editor's note: This article is part of our 'How to create a Strategy' collection. At the end of this article, you'll find a link to each piece within this collection so you can dig deeper into each element of an effective strategic plan and more related resources to master strategy execution.
Pre-Planning Phase: Build The Foundation 
Before we dive into writing a strategic plan, it's essential to know the basics you should cover before the planning phase. The pre-planning phase is where you'll begin to gather the data and strategic insights necessary to create an effective strategic plan.
1. Run a strategic planning workshop
The first step is to run a strategic planning workshop with your team. Get your team in the room, get their data, and gather their insights. By running this workshop, you'll foster collaboration and bring fresh perspectives to the table. And that's not all. 
The process of co-creating and collaborating to put that plan together with stakeholders is one of the most critical factors in strategy execution . According to McKinsey's research , initiatives in which employees contribute to development are 3.4 times more likely to be successful. They feel like the plan is a result of their efforts, and they feel ownership of it, so they're more likely to execute it. 
💡 Tip: Use strategy frameworks to structure your strategy development sessions, such as GAP analysis , SWOT analysis , Porter's Five Forces , Ansoff matrix , McKinsey 7S model , or GE matrix . You can even apply the risk matrix that will help you align and decide on key strategic priorities.
2. Choose your strategic planning model
Before creating your strategic plan, you need to decide which structure you will use. There are hundreds of ways to structure a strategic plan. You've likely heard of famous strategic models such as OKRs and the Balanced Scorecard .
But beyond the well-known ones, there's also a myriad of other strategic planning models ranging from the extremely simple to the absurdly complex.
Many strategic models work reasonably well on paper, but in reality, they don't show you how to write a strategic plan that fits your organization's needs.
Here are some common weaknesses most popular strategic models have:
They're too complicated. People get lost in terminology rather than focus on execution.
They don't scale. They work well for small organizations but fail when you try to extend them across multiple teams.
They're too rigid. They force people to add layers for the sake of adding layers.
They're neither tangible nor measurable. They're great at stating outcomes but lousy at helping you measure success.
They're not adaptable. As we saw in the last years, the business environment can change quickly. Your model needs to be able to work in your current situation and adapt to changing economic landscapes.
Our goal in this article is to give you a simpler, more effective way to write a strategic plan. This is a tested and proven strategic planning model that has been refined over years of working with +20,000 teams around the world. We call it the Cascade Strategy Model.
This approach has proven to be more effective than any other model we have tried when it comes to executing and implementing the strategy .
It's easy to use and it works for small businesses, fast-growing startups, as well as multinationals trying to figure out how to write a fail-proof strategic plan.
We've created a simple diagram below to illustrate what a strategic plan following the Cascade Model will look like when it's completed:
Rather than a traditional roadmap , imagine your strategy as a flowchart. Each row is a mandatory step before moving on to the next.
We call our platform  Cascade for a reason: strategy must cascade throughout an organization along with values, focus areas, and objectives.
Above all, the Cascade Model is intended to be execution-ready —in other words, it has been proven to deliver success far beyond strategic planning. It adds to a successful strategic management process.Key elements of a Strategic Plan
Key Elements Of A Strategic Plan
The key elements of a strategic plan include: 
Vision : Where do you want to get to? 
Values : How will you behave on the journey? 
Focus Areas : What are going to be your strategic priorities? 
Strategic objectives : What do you want to achieve? 
Actions and projects : How are you going to achieve the objectives? 
KPIs : How will you measure success?
In this part of the article, we will give you an overview of each element within the Cascade Model. You can follow this step-by-step process in a spreadsheet , or sign up to get instant access to a free Cascade strategic planning template and follow along as we cover the key elements of an effective strategic plan.
Your vision statement is your organization's anchor - it defines where you want to get to and is the executive summary of your organization's purpose. Without it, your strategic plan is like a boat without a rudder, at the mercy of strong winds and currents like Covid and global supply chain disruptions.
A good vision statement can help funnel your strategy towards long-term goals that matter the most to your organization, and everything you write in your plan from this point on will help you get closer to achieving your vision.
Trying to do too much at once is a surefire way to sink your strategic plan. By creating a clear and inspiring vision statement , you can avoid this trap and provide guidance and inspiration for your team. A great vision statement might even help attract talent and investment into your organization.
For example, a bike manufacturing company might have a vision statement like, "To be the premier bike manufacturer in the Pacific Northwest." This statement clearly articulates the organization's goals and is a powerful motivator for the team.
In short, don't start your strategic plan without a clear vision statement. It will keep your organization focused and help you navigate toward success.
📚 Recommended read: How to Write a Vision Statement (With Examples, Tips, and Formulas)
Values are the enablers of your vision statement —they represent how your organization will behave as you work towards your strategic goals. Unfortunately, many companies throw around meaningless words just for the purpose of PR, leading to a loss of credibility.
To avoid this, make sure to integrate your organization's core values into everyday operations and interactions. In today's highly-competitive world, it's crucial to remain steadfast in your values and cultivate an organizational culture that's transparent and trustworthy.
Companies with the best company cultures consistently outperform competitors and their average market by up to 115.6%, as reported by Glassdoor . 
For example, a bike manufacturing company might have core values like:
These values reflect the organization's desire to become the leading bike manufacturer, while still being accountable to employees, customers, and shareholders.
👉 Here's how to add vision and values to your strategic plan in Cascade: 
After you sign up and invite your team members to collaborate on the plan, navigate to Plans and Teams > Teams page, and add the vision, mission and values. This will help you to ensure that the company's vision, mission statement, and values are always at top of mind for everyone.
📚When you're ready to start creating some company values, check out our guide, How To Create Company Values .
3. Focus Areas
Your focus areas are the strategic priorities that will keep your team on track and working toward the company's mission and vision. They represent the high-level areas that you need to focus on to achieve desired business outcomes.
In fact, companies with clearly defined priorities are more likely to achieve their objectives. According to a case study by the Harvard Business Review , teams that focus on a small number of key initiatives are more likely to succeed than those that try to do too much. 
That's also something that we usually recommend to our customers when they set up their strategic plan in Cascade. Rather than spreading your resources too thin over multiple focus areas, prioritize three to five. 
Following our manufacturing example above, some good focus areas include:
Aggressive growth
Producing the nation's best bikes
Becoming a modern manufacturer
Becoming a top place to work
Your focus areas should be tighter in scope than your vision statement, but broader than specific goals, time frames, or metrics. 
By defining your focus areas, you'll give your teams a guardrail to work within, which can help inspire innovation and creative problem-solving. 
With a clear set of focus areas, your team will be better able to prioritize their work and stay focused on the most important things, which will ultimately lead to better business results.
👉Here's how you can set focus areas in Cascade: 
In Cascade, you can add focus areas while creating or importing an existing strategic plan from a spreadsheet. With Cascade's Focus Area deep-dive functionality , you will be able to: 
Review the health of your focus areas in one place.
Get a breakdown by plans, budgets, resources, and people behind each strategic priority. 
See something at-risk? Drill down into each piece of work regardless of how many plans it's a part of.
📚 Recommended read: Strategic Focus Areas: How to create them + Examples
4. Strategic Objectives
The importance of setting clear and specific objectives for your strategic plan cannot be overstated. 
Strategic objectives are the specific and measurable outcomes you want to achieve . While they should align with your focus areas, they should be more detailed and have a clear deadline. 
According to the 2022 State of High Performing Teams report , there is a strong correlation between goals and success not only at the individual and team level but also at the organizational level. Here's what they found: 
Employees who are unaware of their company's goals are over three times more likely to work at a company that is experiencing a decline in revenue than employees who are aware of the goals. 
Companies with shrinking revenues are almost twice as likely to have employees with unclear work expectations. 
Jumping straight into actions without defining clear objectives is a common mistake that can lead to missed opportunities or misalignment between strategy and execution.
To avoid this pitfall, we recommend you add between three and six objectives to each focus area .
It's here that we need to start being a bit more specific for the first time in your strategic planning process . Let's take a look at an example of a well-written strategic objective:
Continue top-line growth that outpaces the industry by 31st Dec 2023.
This is too specific to be a focus area. While it's still very high level, it indicates what the company wants to accomplish and includes a clear deadline. Both these aspects are critical to a good strategic objective.
Your strategic objectives are the heart and soul of your plan, and you need to ensure they are well-crafted. So, take the time to create well-planned objectives that will help you achieve your vision and lead your organization to success. 
👉Here's how you can set objectives in Cascade: 
Adding objectives in Cascade is intuitive, straightforward, and accessible from almost anywhere in the workspace. With one click, you'll open the objective sidebar and fill out the details. These can include a timeline, the objective's owner, collaborators, and how your objective will be measured (success criteria).
📚 Recommended read: What are Strategic Objectives? How to write them + Examples
5. Actions and projects
Once you've defined your strategic objectives, the next step is to identify the specific strategic initiatives or projects that will help you achieve those objectives . They are short-term goals or actionable steps you or your team members will take to accomplish objectives. They should leverage the company's resources and core competencies. 
Effective projects and actions in your strategic plan should: 
Be extremely specific. 
Contain a deadline.
Have an owner.
Align with at least one of your strategic objectives.
Provide clarity on how you or your team will achieve the strategic objective.
Let's take a look at an example of a well-written project continuing with our bike manufacturing company using the strategic objective from above:
Strategic objective: Continue top-line growth that outpaces the industry by 31st Dec 2023.
Project: Expand into the fixed gear market by 31st December 2023.
This is more specific than the objective it links to, and it details what you will do to achieve the objective.
Another common problem area for strategic plans is that they never quite get down to the detail of what you're going to do.
It's easier to state "we need to grow our business," but without concrete projects and initiatives, those plans will sit forever within their PowerPoint templates, never to see the light of day after their initial creation.
Actions and projects are where the rubber meets the road. They connect the organizational strategic goals with the actual capabilities of your people and the resources at their disposal. Defining projects is a vital reality check every strategic plan needs.
👉Here's how you create actions and projects in Cascade: 
From the Objective sidebar, you can choose to add a project or action under your chosen objective. In the following steps, you can assign an owner and timeline to each action or project.
Plus, in Cascade, you can track the progress of each project or action in four different ways. You can do it manually, via milestones, checklists, or automatically by integrating with Jira and 1000+ other available integrations .  
📚 Recommended read: How to create effective projects
Measuring progress towards strategic objectives is essential to effective strategic control and business success. That's where Key Performance Indicators (KPIs) come in. KPIs are measurable values that track progress toward achieving key business objectives . They keep you on track and help you stay focused on the goals you set for your organization.
To get the most out of your KPIs, make sure you link them to a specific goal or objective. In this way, you'll avoid creating KPIs that don't contribute to your objectives and distract you from focusing on what matters. 
Ideally, you will add both leading and lagging KPIs to each objective so you can get a more balanced view of how well you're progressing. Leading KPIs can indicate future performance while lagging KPIs show how well you've done in the past. Both types of KPIs are critical for operational planning and keeping your business on track.
Think of KPIs as a form of signpost in your organization. They provide critical insights that inform business leaders of their organization's progress toward key business objectives. Plus, they can help you identify opportunities faster and capitalize on flexibility. 
👉Here's how you can set and track KPIs in Cascade: 
In Cascade , you can add measures while creating your objectives or add them afterward. Open the Objective sidebar and add your chosen measure. 
When you create your Measure, you can choose how to track it. Using Cascade, you can track it manually or automatically. You can automate tracking via 1000+ integrations , including Excel spreadsheets and Google Sheets. In this way, you can save time and ensure that your team has up-to-date information for faster and more confident decision-making.
📚 Recommended reads:
10 Popular KPI Software Tools To Connect & Visualize Your Data (2023 Guide)
‍ How To Track KPIs To Hit Your Business Goals
Corporate Strategic Plan 
Following the steps outlined above, you should end up with a strategic plan that looks something like this:
This is a preview of a corporate strategic plan template that is pre-filled with examples. Here you can use the template for free and begin filling it out to align with your organization's needs. Plus, it's suitable for organizations of all sizes and any industry. 
Once you fill in the template, you can also switch to the timeline view. You'll get a complete overview of how the different parts of your plan are distributed across the roadmap in a Gantt chart view.
This template will help you create a structured approach to the strategic planning process, focus on key strategic priorities, and drive accountability to achieve necessary business outcomes. 
👉 Get your free corporate strategic plan template here.
Coca-Cola Strategic Plan 
Need a bit of extra inspiration to start writing your organization's strategic plan? Check out this strategic plan example, inspired by Coca-Cola's business plan: 
This template is pre-filled with Coca-Cola's examples so you can inspire your strategic success on one of the most iconic brands on the planet. 
👉 Grab your free example of a Coca-Cola strategic plan here.
The Ramsay Health Care expansion strategy
Ramsay Health Care is a multinational healthcare provider with a strong presence in Australia, Europe, and Asia.
Almost all of its growth was organic and strategic. The company founded its headquarters in Sydney, Australia, but in the 21st century, it decided to expand globally through a primary strategy of making brownfield investments and acquisitions in key locations.
Ramsay's strategy was simple yet clever. By becoming a majority shareholder of the biggest local players, the company expanded organically in each region by leveraging and expanding their expertise.
Over the last two decades, Ramsay's global network has grown to 460 locations across 10 countries with over $13 billion in annual revenue.
📚 Recommended read: Strategy study: The Ramsay Health Care Growth Study
✨ Bonus resource: We've created a list of the most popular and free strategic plan templates in our library that will help you build a strategic plan based on the Cascade model explained in this article. You can use these templates to create a plan on a corporate, business unit, or team level.
We highlighted before that other strategic models often fail to scale strategic plans and goals scales across multiple teams and organizational levels. 
In an ideal world, you want to have a maximum of two layers of detail underneath each of your focus areas. This means you'll have a focus area, followed by a layer of objectives. Underneath the objectives, you'll have a layer of actions, projects, and KPIs.
If you have a single team that's responsible for the strategy execution, this works well. However, how do you implement a strategy across multiple and cross-functional teams? And why is it important? 
According to LSA research of 410 companies across 8 industries, highly aligned companies grow revenue 58% faster and are 72% more profitable. And this is what Cascade can help you achieve. 
To achieve achieve organization-wide alignment with your strategic plan and impact the bottom line, there are two ways to approach it in Casade: through contributing objectives or shared objectives .
1. Contributing objectives
This approach involves adding contributing objectives that link to your main strategic objectives, like this:
For each contributing objective, you simply repeat the Objective → Action/Project → KPI structure as follows:
Here's how you can create contributing objectives in Cascade: 
Option A: Create contributing objectives within the same plan 
This means creating multiple contributing objectives within the same strategic plan that contribute to the main objective. 
However, be aware that if you have a lot of layers, your strategic plan can become cluttered, and people might have difficulty understanding how their daily efforts contribute to the strategic plan at the top level. 
For example, the people responsible for managing contributing objectives at the bottom of the plan ( functional / operational level ) will lose visibility on how are their objectives linked to the main focus areas and objectives (at a corporate / business level ). 
This approach is best suited to smaller organizations that only need to add a few layers of objectives to their plan.
Option B: Create contributing objectives from multiple plans linking to the main objective
This approach creates a network of aligned strategic plans within your organization. Each plan contains a set of focus areas and one single layer of objectives, each with its own set of projects, actions, and KPIs. This concept looks like this:
This example illustrates an objective that is a main objective in the IT strategic plan , but also contributes to the main strategic plan's objective.
For example, let's say that your main business objective is to improve customer satisfaction by reducing product delivery time by 25% in the next quarter. This objective requires multiple operational teams within your organization to work together to achieve a shared objective. 
Each team will create its own objective in its plan to contribute to the main objective: 
Logistics team: Reduce the shipment preparation time by 30%
IT team: Implement new technology to reduce manual handling in the warehouse
Production team: Increase production output by hour for 5%   
Here's how this example would look like within Cascade platform:
Although each contributing objective was originally created in its own plan, you can see how each contributing objective relates to the main strategic objective and its status in real-time.
2. Shared objectives
In Cascade, shared objectives are the same objectives shared across different strategic plans.
For example, you can have an objective that is "Achieve sustainable operations". This objective can be part of the Corporate Strategy Plan, but also part of the Operations Plan , Supply Chain Plan , Production Plan, etc. In short, this objective becomes a shared objective between multiple teams and strategic plan. 
This approach helps you to:
Cascade your business strategy as deep as you want across a near-infinite number of people while maintaining strategic alignment throughout your organization .
Create transparency and a much higher level of engagement in the strategy throughout your organization since objective owners are able to identify how their shared efforts contribute to the success of the main business objectives.
The more shared objectives you have across your organization, the more your teams will be aligned with the overarching business strategy. This is what we call " alignment health ". 
Here's how you can see the shared objectives in the alignment map and analyze alignment health within Cascade:
You get a snapshot of how is your corporate strategic plan aligned with sub-plans from different business units or departments and the status of shared objectives. This helps you quickly identify misaligned initiatives and act before it's too late.  Plus, cross-functional teams have better visibility of how their efforts contribute to shared objectives. 
So whether you choose contributing objectives or shared objectives, Cascade has the tools and features to help you achieve organization-wide alignment and boost your bottom line.
Quick Overview Of Key Steps In Writing A Strategic Plan
Here's a quick infographic to help you remember how everything connects and why each element is critical to creating an effective strategic plan:
This simple answer to how to write a strategic plan avoids confusing jargon and has elements that the whole organization can both get behind and understand. 
💡Tip: Save this image or bookmark this article for your next strategic planning session.
If you're struggling to write an execution-ready strategic plan, the Cascade model is the solution you've been looking for. With its clear, easy-to-understand terminology, and simple linkages between objectives, projects, and KPIs, you can create a plan that's both scalable and flexible.
But why is a flexible and execution-ready strategic plan so important? It's simple: without a clear and actionable plan, you'll never be able to achieve your business objectives. By using the Cascade Strategic Planning Model, you'll be able to create a plan that's both tangible and measurable, with KPIs that help you track progress towards your goals.
However, the real value of the Cascade framework lies in its flexibility . By creating links between main business objectives and your teams' objectives, you can easily scale your plan without losing focus. Plus, the model's structure of linked layers means that you can always adjust your strategy in response to new challenges or opportunities and keep everyone on the same page. 
So if you want to achieve results with your strategic plan, start using Cascade today. With its unique combination of flexibility and focus, it's the perfect tool for any organization looking to master strategy execution and succeed in today's fast-paced business world. 
Want to see Cascade in action? Get started for free or book a 1:1 demo with Cascade's in-house strategy expert.
This article is part one of our mini-series "How to Write a Strategic Plan". This first article will give you a solid strategy model for your plan and get the strategic thinking going.
Think of it as the foundation for your new strategy. Subsequent parts of the series will show you how to create the content for your strategic plan.
Articles in our How to Write a Strategic Plan series
How To Write A Strategic Plan: The Cascade Model (This article)
How to Write a Good Vision Statement
How To Create Company Values
Creating Strategic Focus Areas
How To Write Strategic Objective
How To Create Effective Projects
How To Write KPIs + Ultimate Guide To Strategic Planning
More resources on strategic planning and strategy execution: 
6 Steps to Successful Strategy Execution
4-Step Strategy Reporting Process (With Template)
Annual Planning: Plan Like a Pro In 5 Steps (+ Template) 
18 Free Strategic Plan Templates (Excel & Cascade) 2023
The Right Way To Set Team Goals
23 Best Strategy Tools For Your Organization in 2023
Popular articles
Horizontal Vs Vertical Strategic Alignment
6 Steps To Successful Strategy Execution
5 PMO Templates And Tools To Deliver Your Portfolio Value
Strategic Planning Vs Operational Planning: What's The Difference?
Your toolkit for strategy success.