Web Development
PPC Advertising
Social Media Marketing
Inbound Marketing
Graphic Design
Email Marketing
Mobile App Design & Development
Business Intelligence
Cross-Media & Traditional Marketing
5 Steps to Develop a Viable Business Plan
Small Business
No matter what type of business you run, you need a business plan. A business plan is a description of your business and objectives and the strategies of how you expect to achieve your goals with a management team and financial resources. Contrary to belief, you don't need a business plan just to obtain financing. You also need a plan to help you guide your company.
Step 1: Define Your Business
Defining your business is the most vital thing that can help your company become successful. By defining your business, you are better able to achieve your goals and sustain superior performance.
Two things that you need to consider when you define your business are your marketing position statement and your unique selling proposition. A marketing position statement is a one- to two-sentence statement that says what you do and for whom you do it to uniquely solve an urgent need or fulfill a desire. A unique selling proposition is a statement that shows the reader how your product or service stands out and is different than other substitutes on the market. Your USP must be strong enough to attract customers and compel them to buy your product or service.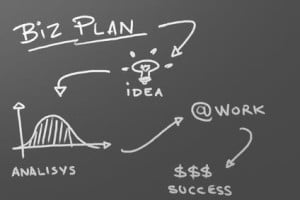 Surprisingly, not all business owners and managers know the answer to how they define their business. As a result, their businesses can ultimately fail.
The U.S. Small Business Administration highlights a store owner who repairs and sells watches. After analyzing his business operations, the owner came to realize most of its earnings were from repair, even though the company spent most of its resources on selling products. As a result of his analysis, the owner concluded that his business was a repair shop. He shut down the product sales operation and focused on the repair service. This move resulted in dramatic increases in sales and profits.
Step 2: Determine Your Target Audience
Knowing your target audience is an integral part of business plan success. Although your product or service can appeal to many different types of buyers, a one-size-fits-all marketing and sales approach is not focused enough . The more you know about the audience you target, the better able you are to reach and communicate with them and sell your products and services.
You can get a better idea of your target audience by looking at the demographic and psychographic segments of prospective customers that can benefit from your products and services. Do they fit a specific gender or age range? What income bracket do they mostly share? What problems do they need solved? What common attitudes, opinions, values and behaviors do they share?
The more narrow your target market, the more focused you can be in your marketing. On the other hand, if you are tempted to serve more than one target market it can be costly, and you may not succeed.
Take a look at the dilemma Aviva Weis faced after she hired a new marketing executive . Weiss is the co-founder and lead designer of Fun and Function, a company that makes items for special needs children, such as therapy balls that help children develop fine motor skills. Her company grew more than sevenfold from 2007 to 2010 by targeting the consumer market. However, her new marketing executive–who previously worked for a competitor–wanted Fun and Function to target schools and hospitals. This was NOT a good strategy to serve two target markets because it not only required a huge investment and a change in operations, but it also increased risk to alienate the company's base of loyal consumer customers.
Step 3: Understand the 5 Forces that impact Your Business
Every business–yours included–is subject to five external forces. These forces include existing competitors, threat of new competitors, substitute products or services, bargaining power of its suppliers, and bargaining power of its customers, according to Michael Porter of Harvard Business School .
By understanding these five forces, you are able to comprehend the environment that impacts your business. If your company is in an industry that requires government approval of its products, such as pharmaceuticals or medical devices, then you operate in an environment that makes it difficult for new competitors to enter your market. Yet, if your company is in an industry that does not require proprietary products, special know-how or high investment, then you may have new competitors as you grow.
It's not enough to know about your industry from just its products or services. You also need to understand the demand and supply of raw materials, manufacturing and labor. Plus, you need to comprehend political and legal related issues. These factors can affect the bargaining power of suppliers or customers. For example, the nutrition supplement industry has many distributors, fewer manufacturers and even fewer raw material suppliers that dominate and influence costs. If one raw material supplier reduces production, that can cause a shortage of products and raise prices accordingly.
Step 4: Create a Competitive Strategy
To demonstrate the viability of your business, your plan needs to demonstrate how you will sustain a competitive advantage. Porter says there are three unique strategies a business could choose from to sustain competitive advantage, namely cost leadership, differentiation and focus. If you are a small company with limited resources, your best strategy is focus .
Your strategy needs to show how you will capture your target market. What are the marketing strategies and tactics that you will create and execute to generate customers and sales? What advertising message will you create that will resonate with prospective buyers and compel them to buy from you? Who will be on your marketing team? What functions will you perform in house and which will you outsource? These are some of the important questions you need to address in your business plan.
Step 5: Project Your Financial Performance
Your financial performance is a measure of your success. Your business plan must include a projection of how you expect your company to perform based on what you discover developing the first four steps of your plan.
You'll need to address the price and profitability of your products and services. Your projections include the number of customers you expect you'll attract. How much will they each buy?
A rule of thumb is to underestimate your expected revenues and overestimate your company expenses. You can never know what types of delays may occur in receiving revenues from the sale of your products or services. Plus, you may be hit with unexpected expenses or hidden costs you don't yet know about.
Another rule of thumb, especially for start-up and early stage companies, is that cash flow is more important than profits. Cash is what lubricates the flow of business. You can always manipulate profits through various accounting techniques, such as deciding if you record inventory as first in-first out or last in-first out. But you can't do this with cash flow.
Your projected financial performance is also a factor that can influence investors. Higher operating profit margins can attract more investors. However, the reality of your ability to achieve these projections comes from the quality of your plan and execution.
Now that you've become more knowledgeable about the five steps to developing a viable business plan, what's your next step? If you don't have a business plan, then get started right away...even if you have a successful company. And if you have a plan, see how you can improve it with some of what you have learned here.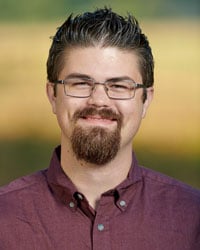 Eric Wagner
While Eric now focuses on internet marketing, he also has a background in web development. He loves being among the first to find out about new tech—and better yet, being a part of making that tech succeed. Eric is known to be a good listener, seeking to understand how each individual sees the world. He is a harmonizer in group settings, cultivating unity while constructing the overall goal and strategy. When he's not busy helping i7 clients dominate the online marketplace, Eric enjoys drone videography (he's got a UAV pilot's license), woodworking, community service, and all things outdoors.
Submit a Comment
Your email address will not be published. Required fields are marked *
OUR RECENT POSTS
Faspay Blog
Cari tahu tentang tips bisnis online, teknologi pembayaran, pemasaran digital, dan segala yang ingin diketahui tentang Faspay
5 Steps to Create a Business Plan for Beginners
Table of Contents
Whether you are having a business or planning to build a business, you need a well-thought-out plan to run and build a successful business. Therefore, you have to make a good business plan.
This business plan as your guide in running and managing your business. Without a business plan, your business will lose its way. Let's find out more about the definition of business plans, its benefits, and how to make a good business plan in the article below. Don't forget to read until the end of the article!
What is a Business Plan?
A business plan is a document that contains details of business goals and how to achieve these goals. A business plan is a detailed guide including marketing, financial, operational and other points of view. In short, a business plan is a plan that contains business analysis, business targets, market research, goals and other business objectives.
Benefits Business Plan for Business
A business plan is made not only for formality, but also it has so many benefits. What are the benefits? Let's see in the following below!
1. Become a Guideline in Running a Business
A business plan that contains your plans for the foreseeable future will serve as a guideline for running a business so that your business will not lose its way in the middle of the road. This is very important to keep your business growing. A business plan is made so that you can find out what steps can be taken to achieve certain business goals.
2. As a Basis for Making Decisions
Why can a business plan be the basis for making business decisions? The answer is because the business plan contains facts and data that have gone through research, so that it can be used as a basis for decisions. In addition, decisions based on data and facts will be more logical and make sense.
3. Clarify Business Goals and Focus
In building a business, of course, you have to know the goals and focus of your business, so the business has a clearer direction. If you don't have a clear purpose, your business can't grow. A business plan contains projections of your business in the future, not only that, a business plan usually contains marketing, budgeting and other strategies that will clarify the course of your business.
4. Minimize Your Business Failure
With a business plan, you can minimize failures that may occur when running a business. That's because in a business plan, you know the market conditions and weaknesses of your business so you can find out what potential failures might occur and prepare strategies to minimize them. With a business plan, your business will be far from failure.
5. Obtain Funding or Bring in New Business Partners
The Business Plan is useful to assist your business in obtaining funding from investors. Not only that, with a business plan, it will be easier for your business to get business partners.
Why? Because your partner will know the goals and direction of your business in the future. Investors will not invest carelessly and cause them to lose. Therefore they will tend to provide funding to businesses that are directed, have clear goals and well-thought-out plans.
Types of Business Plans
Before starting to discuss business plans further, it's good to know the types of business plans that exist. There are various types of business plans, including:
1. Strategic Business Plan
A strategic business plan is the most important business plan, containing various plans, goals and ways or strategies to achieve these goals. This type of business plan is more complex and more specific than the others because it is prepared comprehensively and involves all parts and functions in the business.
2. Startup or General Business Plan
The general business plan is usually used by startups or MSMEs who are targeting funding. Usually, in this type of business plan, details regarding your business finances are in the spotlight because investors need to know your business financial plan. In this business plan, you can explain in detail about your business budgeting in the future, what the funds will be used for.
3. Growth Business Plan
In a growth business plan, it contains planning with a more specific focus or goal, namely a business development plan in the future. This type of business plan describes business development plans in the next one to two years. Growth plans are usually made quarterly. At the end of each quarter, the company can review the goals achieved and goals missed during the period.
4. Operations Business Plan
Finally, the type of operations business plan relates to business operations or things that will be carried out by the business and is usually used by external parties as a guide. Operations business plan contains a discussion of planning and regulations regarding the operation of a business.
5 Steps to Create a Business Plan
After knowing various types of business plans, then the next step is to know how to make a good business plan. There are 5 steps in making a business plan, including:
1. Conduct Market and Competitor Research Analysis
The first step in preparing a business plan is to conduct market research and your business competitors. It is very important to identify the target market for your business. In addition, competitor research is also very important. Why? Because with competitor research, you can find out the gaps of competitors and use them as an advantage that your business can use. Research is very important for businesses in developing strategies.
2. Create A Business Description
Try to make a detailed description of your business, such as background, vision and mission, organizational structure and business goals. You can also include a section that explains your business profile at the start of the business plan starting from the business name, company name, date of establishment, organizational structure. Make an attractive business description so you can "sell" in the eyes of those who read your business plan.
3. Know Your Business SWOT
SWOT or the abbreviation of Strengths, Weaknesses, Opportunities and Threats is an in-depth analysis of your business. By analyzing SWOT, you can find out and evaluate the strengths, weaknesses, opportunities and threats in your business.
4. Create Timelines
Don't forget to make a timeline that will describe when each of your business plans will run. Usually the timeline is made quarterly each year. At the end of the quarter an evaluation will be carried out.
5. Make Budgets
In making a business plan, budgeting is very important. Especially if you aim to get funding from investors. Budgeting is made to know what your business funds will be used for.
Well, if you already know the meaning, benefits, types and steps in making a business plan, hopefully it can be useful to be your guide in making a business plan. In addition, when building a business, don't forget to prepare an online payment system that can provide various payment channels for consumers. Faspay can be the only payment gateway option that provides the most complete payment channels. Register Faspay now!
Lihat Artikel Lainnya
Cara Setting WooCommerce Payment Gateway di Faspay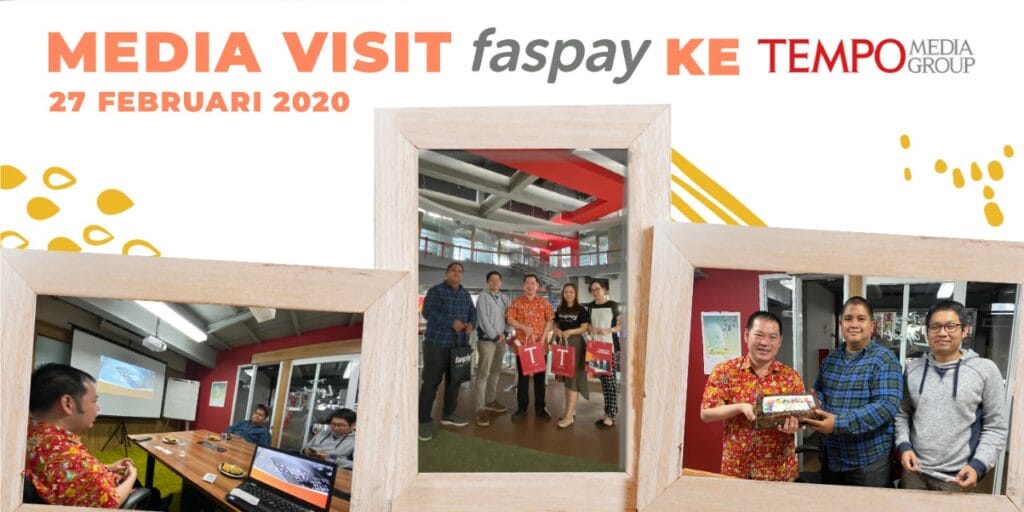 Media Visit ke Tempo, Faspay menjelaskan perkembangan bisnis Faspay seiring dengan perkembangan bisnis digital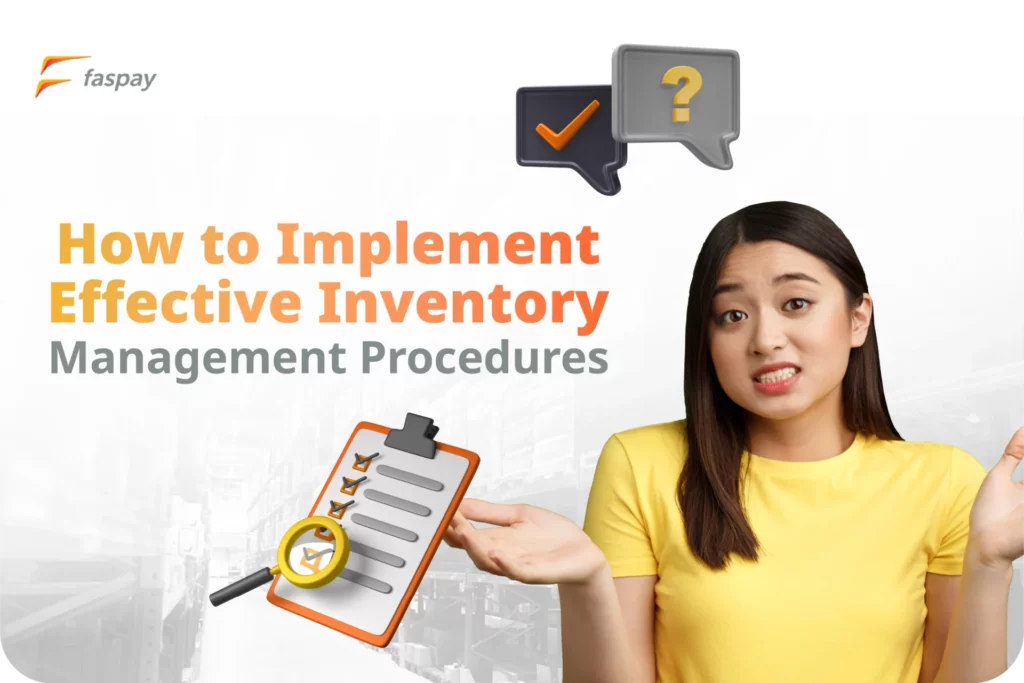 How to Implement Effective Inventory Management Procedures
Faspay Bantu Organisasi Nirlaba Galang Dana Online Lebih Mudah dengan Payment Gateway
5 Step Business Plan
Clients normally need business plans for the following reasons:.
For guidance on the growth of their business and a plan for execution
A potential lender requires a business plan
A potential investor requires a business plan
A potential partner or program requires a business plan
Our plans have helped clients get approved for hundreds of thousands in funding, receive certifications, be chosen for special programs and help them better plan the growth of their companies.
To Get Started
We invite you to read the steps below and contact us using the form below. Or, get started by choosing a payment option. We look forward to working with you.
Step 1- Discovery  We schedule local meetings or conference calls to help define how your business will operate and make money. We will work together to challenge concepts and determine the members of the team. During this discovery period, we offer blocks of consultation time for initial brainstorming and fact gathering. Then we move to Step 2.
Step 2- Business Assessment We send you our cashflow projection form to help you define your target market and product/ services and business growth strategy.  Next, we will schedule a 4 hour session to assess your business idea with a Senior Business Consultant.  We will review the workbook together, testing the logic behind your product/ service and target market.
Step 3- Market Research and Regulations Our team will begin the process of researching your target market and studying the regulations that affect your business. We look at historical trends in the industry, in the area, other areas in the country and with the target customers. We also do a SWOT analysis.  When completed, you will have an understanding of who your target market is and what/ how these target customers normally purchase products and services.  You will have a better understanding of required permits and licenses.
Step 4- The Numbers and the Team Our team reviews the business model and assesses the expenses and skills sets necessary to run the day-to-day operations of your business.  Next, the team will look at market trends and determines the market share needed to have a viable business.
Step 5- Completion of the Business Plan Our team of professional writers uses the data we compiled in Steps 1-4 to write a compelling Business Plan to support your vision. We compile the expenses, marketing strategy, management team, financial trends and necessary graphs, charts and pictures into a logical assessment of what is required to have a successful business. A standard business plan can be as long as 20 to 45 pages and a multi initiative plan could be as long as 65 pages depending on the complexity of the business model. We work with you during this process so that we capture your dream and keep you informed on our findings.  When Step 4 is complete, you will have a professionally written, logical plan that you can present to the state, investors, partners or lenders.
Our Team We will create a 3-4 person team to work with you when writing your business plan. Based on the need, we assign an accountant or CPA, Subject Matter Expert/ Financial Consultant, a marketing research expert and/ or researcher/ writer.
Payment Options You can choose to pay for your standard or multi-initiative plan in full at the beginning of your project or in 2 payments. We give a discount to clients who choose the one time payment option.
Schedule a call to discuss your plan with a Senior Advisor or choose a payment option below: 
5 Steps to Developing a Solid Business Plan
Choncé maddox.
You have a great business idea and want to jump right in. The one thing holding you back may be lack of a clear business plan . While some would say having a business plan is an absolute must, others would argue that you can get started and be successful without one.
I think the answer lies in how confident you are in your idea and how organized you are in terms of executing it. If you already have a clear plan in your head along with the steps you need to take and the means to take them, you may not see the need to create a 20-page business plan.
On the flip side, if your idea lacks clarity and you are considering seeking out funding from others sources, it would be best if you came up with a solid business plan. The good news, is that you can sit down and create a business plan in under a day. It doesn't have to be super extensive so long as you hit all your main points and follow stick to outlining these steps.
Table of Contents
1. Executive Summary
The executive summary is the first part of your business plan. This is where you capture the reader's attention be explaining the specifics of your business. What is the name? What will you be doing? What is the mission of your business and what are your goals?
Be sure to include what makes your business unique and summarize why you feel it will succeed.
2. Market Analysis
Next you want to analyze the market in order to prove that there is a need and target audience for your business. This is a great way to validate your business idea as well. If you can't narrow down your target market or find that they aren't interested in what you are offering, that could be a huge red flag.
Be sure to clarify who you wish to serve along with some detailed statistics that describe them, their interests, what products and services they buy, along with and their needs and wants.
3. Financial Projections
The financial projections section is where you get to have some fun with numbers. Map out the financial progress you plan to make with your business over the next 3-5 years. Include revenue goals and you might want to specify how much you'd need from an investor or a loan to bring those goals to fruition.
This is also a great place to mention various different start-up costs you'll have so investors can know why you need money to support your business.
4. Organizational Structure
Have you ever thought about how your business will operate and be structured? Will you act as the CEO? Will you have a team or hire interns ? Will you eventually need to work with accounting, sales, and marketing experts? Or will you be more of a solopreneur.
This is a great section to answer all of those questions and map out how you might expect your business to grow in the future and which roles you'll have and need.
5. Products or Services
Finally, in step 5 you want to go into more detail about your products and services. Most people start with this step (especially if they don't consider making a business plan) but it's best to end here after you've covered your bases in the previous steps.
Discuss what makes your product or service unique and how you plan to execute it in a competitive marketplace. If you're going to be selling products include descriptions and images along with whether you'd need to trademark anything.
A business plan can be a crucial tool to help you get organized and perform neccessary research before moving forward with your new venture. If you're considering asking for funding or financial assistance, a solid business plan is usually a requirement.
Even so, it's a great way to get crystal clear on your goals and intentions so you can focus in on carrying out your plans and being successful.
Top Trending Posts
Ways Credit History Can Impact Everyday Life
No Money for Christmas? 25 Tips for an Affordable Holiday
Retirement Communities vs. Aging in Place: Which Is Right for You?
US Housing Market Crisis: Analyzing Unaffordability Factors
Navigating Overvalued Stocks in 2023: Risks and Strategies
6 Financial Investments to Set Up Your Child for Success
Due Fact-Checking Standards and Processes
To ensure we're putting out the highest content standards, we sought out the help of certified financial experts and accredited individuals to verify our advice. We also rely on them for the most up to date information and data to make sure our in-depth research has the facts right, for today… Not yesterday. Our financial expert review board allows our readers to not only trust the information they are reading but to act on it as well. Most of our authors are CFP (Certified Financial Planners) or CRPC (Chartered Retirement Planning Counselor) certified and all have college degrees. Learn more about annuities, retirement advice and take the correct steps towards financial freedom and knowing exactly where you stand today. Learn everything about our top-notch financial expert reviews below…  Learn More
Monster Cyber Monday! Use code CYBERMONDAY to claim $40 towards your Monster+ Plan
Check out Monster+!
How to Make a Business Plan: 5 Steps
A well written business plan can help attract funding sources, create realistic pricing and sales targets, and map out an operational plan for the first months, even years, of a new business. A lot is riding on knowing how to make a business plan that is thorough and polished, but researching and writing your business plan doesn't have feel overwhelming.
Finding an appropriate template with the right elements to help you accomplish your goals is one way to simplify your task. Another is to divide the process into a series of manageable steps, each focusing on a different aspect of your plan.
The following five steps can help guide you through the process:
Study your field and select the appropriate template.
Focus on perfecting your summary.
Highlight your business's assets.
Make sure the numbers work.
Focus on persuasion.
Step 1. Research Your Field and Select the Appropriate Template
Not all business sectors require identical plans. The amount of content and detail, as well as the categories that investors will expect you to include, can vary widely, depending on your business sector –retail, manufacturing, professional service provider, or contractor – investors in each category of endeavor will have different expectations.
A traditional retail business, for example, may require 20 pages or more of material to gain a small business loan, while a larger scale enterprise could require more than 100 pages to attract venture capital, and a simple startup seeking a small amount of funding might be able to get by with a one-pager.
The key is to do your homework. Consult professional associations in your field to learn how to make a business plan that meets investor expectations. Network with other entrepreneurs to see if they would be willing to show you how they organized their own business plans. You can get started by selecting from basic template options like those available from the U.S. Chamber of Commerce .
While the sections your business plan requires may vary depending on whether you are selling products or providing services, manufacturing gadgets or creating content, nearly all business plans need to include the following sections:
Executive summary
Company description or overview
Market or competitive analysis
Organizational structure
Service or product description
Marketing and sales strategy
Funding needs and financial forecast
Depending on the type of business you are hoping to start or revamp, you may need to include one or more of the following sections:
Target audience or customer, including demographics
Mission or vision statement
Operational needs and costs
Key leadership
Step. 2. Focus on Your Summary
Your business plan's summary should focus on the problems you hope to solve or the benefits you hope to provide for your target customer. This initial section of your business plan will likely be the first element of your document you draft and the one you spend the most time revising.
It's crucial to know how to make a business plan compelling enough to engage your readers, convince them to read your entire plan, and get them excited enough to consider giving you startup capital. It must be polished enough to convince investors their money is safe with you and likely to grow.
Think of it as your elevator pitch in written form. It needs to be easily digestible, as well as specific and detailed enough to give your target audience a basic idea of how your company strategy will lead to a profitable return on investment.
Your summary should provide your company's vision, focus, mission, purpose, company culture , and way of doing business. It should articulate your commitment to your customers and community. The time you take to perfect your summary is an investment in your business goals, since the basic elements you include here can serve as guiding principles and core values for your company for years to come.
Step 3. Highlight Your Assets
Whatever you feel is your advantage in the marketplace –superior design, efficiency, or service –should be prominently highlighted in your business plan. If you have a highly accomplished leadership team, you should list them directly after your summary, providing short summaries and longer resume or CVs as part of your appendices.
Perhaps your advantages include market opportunities or strategies that make the timing of your new endeavor advantageous. Or, perhaps (thanks to your highly qualified leadership team), you have mapped out recruiting strategies or operational efficiencies that increase the likelihood of success. In the end, if you view your business plan as a blueprint for your future business operations, all the hard work you put into it will be worth it.
Step 4. Make Sure the Numbers Work
It can be tempting to inflate expectations to secure funding, but it's a common mistake for those just learning how to make a business plan—and one that might cost you investors instead of attracting them. Loan officers and investors are likely far more practiced at reading business plans than you are at writing them. That means they can spot exaggerated claims.
Instead, do your homework. Calculate your costs and estimate your pricing as accurately as possible. Learn what your competitors charge and what the market will bear. Be honest about your expected revenue streams and conservative about the timeline you provide to estimate your progress toward profitability. One effective way to position your projected revenue is to provide a best-case and worst-case scenario.
The more granular you can get with costs (including payroll ), pricing, and revenue estimates at this stage, the more challenges you are likely to discover and therefore anticipate before you secure funding. With a game plan at the ready for each challenging contingency you stumble across in your research, you're much more likely to succeed. A business plan with accurate financial information can serve as a tool for managing your business in its first few years of operation, creating realistic financial targeting.
Step 5. How to Make a Business Plan: Focus on Persuasion
A business plan is a persuasive document. As you consider how to make a business plan, you need to visualize your document's ideal readers – loan officers and investors. You'll need to convince them that you can build a profitable business. As with any good argument, each assertion you make will require evidence to back it up.
Your final step will be to revise your plan, focusing on whether you've built a persuasive case that sells your business just as your future marketing efforts will sell you products. Have someone you trust read the final draft and give you their honest feedback. Make sure it is polished, professional, and error-free.
It's a detailed, time-consuming process, but if you break it down into steps it will be more manageable and the final product will be more likely to secure the resources you need to get your business up and running.
Learning How to Make a Business Plan Is Your First Step. Now Access More Top Management Tips
From exclusive hiring news and recruitment strategies to the latest management how-tos, you can access a wide range of information to help you grow your business. From business best practices to expert advice, you'll have a direct line to a wealth of helpful resources.
Business strategy |
What is strategic planning? 5 steps and ...
What is strategic planning? 5 steps and processes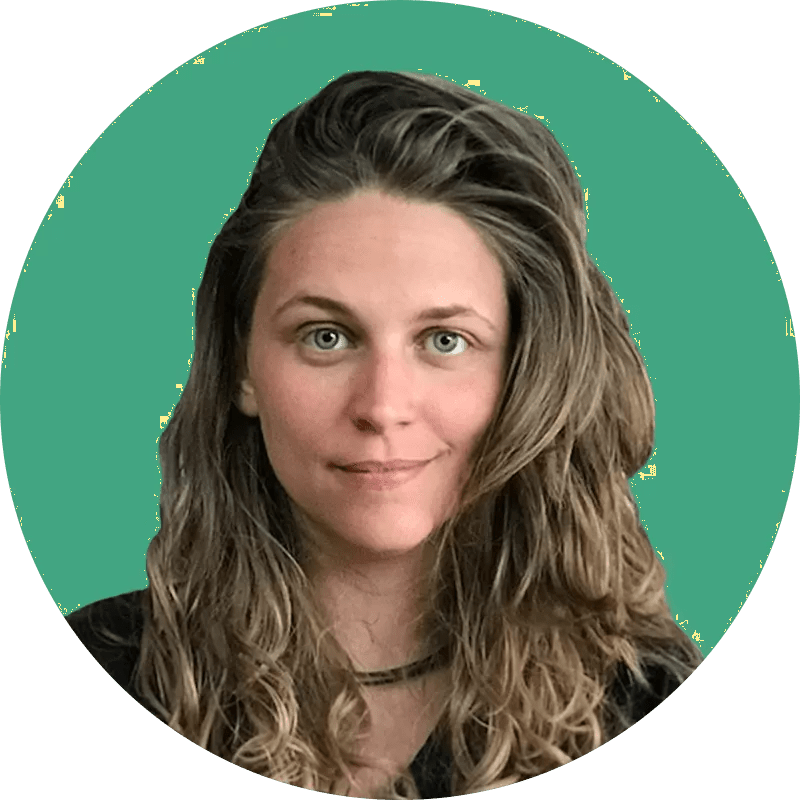 A strategic plan helps you define and share the direction your company will take in the next three to five years. It includes your company's vision and mission statements, goals, and the actions you'll take to achieve those goals. In this article we describe how a strategic plan compares to other project and business tools, plus four steps to create a successful strategic plan for your company.
Strategic planning is when business leaders map out their vision for the organization's growth and how they're going to get there. Strategic plans inform your organization's decisions, growth, and goals. So if you work for a small company or startup, you could likely benefit from creating a strategic plan. When you have a clear sense of where your organization is going, you're able to ensure your teams are working on projects that make the most impact. 
The strategic planning process doesn't just help you identify where you need to go—during the process, you'll also create a document you can share with employees and stakeholders so they stay informed. In this article, we'll walk you through how to get started developing a strategic plan.
What is a strategic plan?
A strategic plan is a tool to define your organization's goals and what actions you will take to achieve them. Typically, a strategic plan will include your company's vision and mission statements, your long-term goals (as well as short-term, yearly objectives), and an action plan of the steps you're going to take to move in the right direction.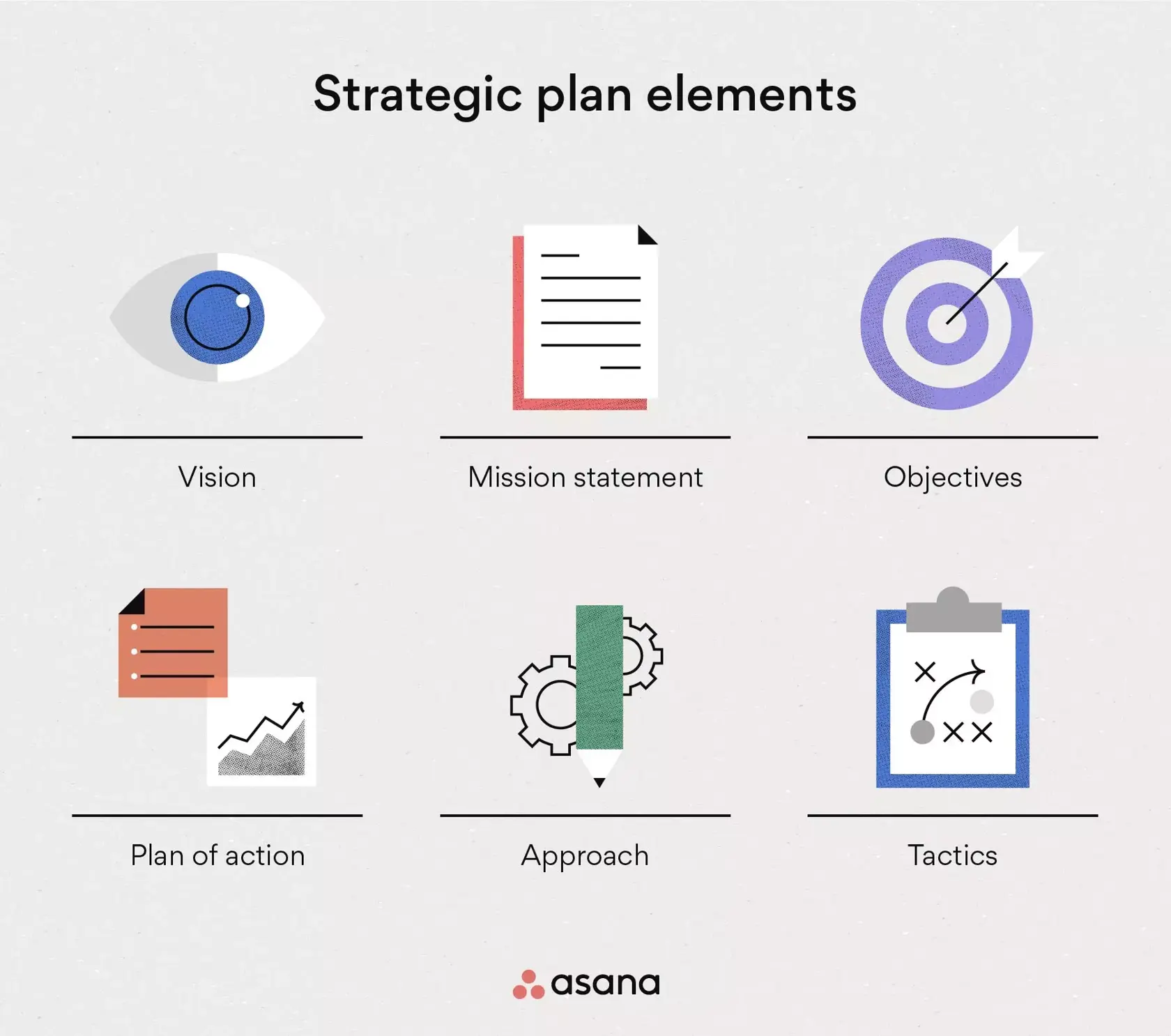 Your strategic plan document should include: 
Your company's mission statement
Your company's goals
A plan of action to achieve those goals
Your approach to achieving your goals
The tactics you'll use to meet your goals
An effective strategic plan can give your organization clarity and focus. This level of clarity isn't always a given—according to our research, only 16% of knowledge workers say their company is effective at setting and communicating company goals. By investing time into strategy formulation, you can build out a three- to five-year vision for the future of your company. This strategy will then inform your yearly and quarterly company goals. 
Do I need a strategic plan?
A strategic plan is one of many tools you can use to plan and hit your goals. It helps map out strategic objectives and growth metrics. Here's how a strategic plan compares to other project management and business tools.
Strategic plan vs. business plan
A business plan can help you document your strategy as you're getting started so every team member is on the same page about your core business priorities and goals. This tool can help you document and share your strategy with key investors or stakeholders as you get your business up and running.
You should create a business plan when you're: 
Just starting your business
Significantly restructuring your business
If your business is already established, consider creating a strategic plan instead of a business plan. Even if you're working at a relatively young company, your strategic plan can build on your business plan to help you move in the right direction. During the strategic planning process, you'll draw from a lot of the fundamental business elements you built early on to establish your strategy for the next three to five years.
Key takeaway: A business plan works for new businesses or large organizational overhauls. Strategic plans are better for established businesses. 
Strategic plan vs. mission and vision statements
Your strategic plan, mission statement, and vision statements are all closely connected. In fact, during the strategic planning process, you will take inspiration from your mission and vision statements in order to build out your strategic plan.
As a result, you should already have your mission and vision statements drafted before you create a strategic plan. Ideally, this is something you created during the business planning phase or shortly after your company started. If you don't have a mission or vision statement, take some time to create those now. A mission statement states your company's purpose and it addresses what problem your organization is trying to solve. A vision statement states, in very broad strokes, how you're going to get there. 
Simply put: 
A mission statement summarizes your company's purpose
A vision statement broadly explains how you'll reach your company's purpose
A strategic plan should include your mission and vision statements, but it should also be more specific than that. Your mission and vision statements could, theoretically, remain the same throughout your company's entire lifespan. A strategic plan pulls in inspiration from your mission and vision statements and outlines what actions you're going to take to move in the right direction. 
For example, if your company produces pet safety equipment, here's how your mission statement, vision statement, and strategic plan might shake out:
Mission statement: "To ensure the safety of the world's animals." 
Vision statement: "To create pet safety and tracking products that are effortless to use." 
Your strategic plan would outline the steps you're going to take in the next few years to bring your company closer to your mission and vision. For example, you develop a new pet tracking smart collar or improve the microchipping experience for pet owners. 
Key takeaway: A strategic plan draws inspiration from your mission and vision statements. 
Strategic plan vs. company objectives
Company objectives are broad goals. You should set these on a yearly or quarterly basis (if your organization moves quickly). These objectives give your team a clear sense of what you intend to accomplish for a set period of time. 
Your strategic plan is more forward-thinking than your company goals, and it should cover more than one year of work. Think of it this way: your company objectives will move the needle towards your overall strategy—but your strategic plan should be bigger than company objectives because it spans multiple years.
Key takeaway: Company objectives are broad, evergreen goals, while a strategic plan is a specific plan of action. 
Strategic plan vs. business case
A business case is a document to help you pitch a significant investment or initiative for your company. When you create a business case, you're outlining why this investment is a good idea, and how this large-scale project will positively impact the business. 
You might end up building business cases for things on your strategic plan's roadmap—but your strategic plan should be bigger than that. This tool should encompass multiple years of your roadmap, across your entire company—not just one initiative.
Key takeaway: A business case tackles one initiative or investment, while a strategic plan maps out years of overall growth for your company. 
Strategic plan vs. project plan
A strategic plan is a company-wide, multi-year plan of what you want to accomplish in the next three to five years and how you plan to accomplish that. A project plan, on the other hand, outlines how you're going to accomplish a specific project. This project could be one of many initiatives that contribute to a specific company objective which, in turn, is one of many objectives that contribute to your strategic plan. 
A project plan has seven parts: 
Success metrics
Stakeholders and roles
Scope and budget
Milestones and deliverables
Timeline and schedule
Communication plan
Key takeaway: You may build project plans to map out parts of your strategic plan. 
When should I create a strategic plan?
You should aim to create a strategic plan every three to five years, depending on your organization's growth speed. That being said, if your organization moves quickly, consider creating one every two to three years instead. Small businesses may need to create strategic plans more often, as their needs change. 
Since the point of a strategic plan is to map out your long-term goals and how you'll get there, you should create a strategic plan when you've met most or all of them. You should also create a strategic plan any time you're going to make a large pivot in your organization's mission or enter new markets. 
What are the 5 steps in strategic planning?
The strategic planning process should be run by a small team of key stakeholders who will be in charge of building your strategic plan. 
Your group of strategic planners, sometimes called the management committee, should be a small team of five to 10 key stakeholders and decision-makers for the company. They won't be the only people involved—but they will be the people driving the work. 
Once you've established your management committee, you can get to work on the strategic planning process.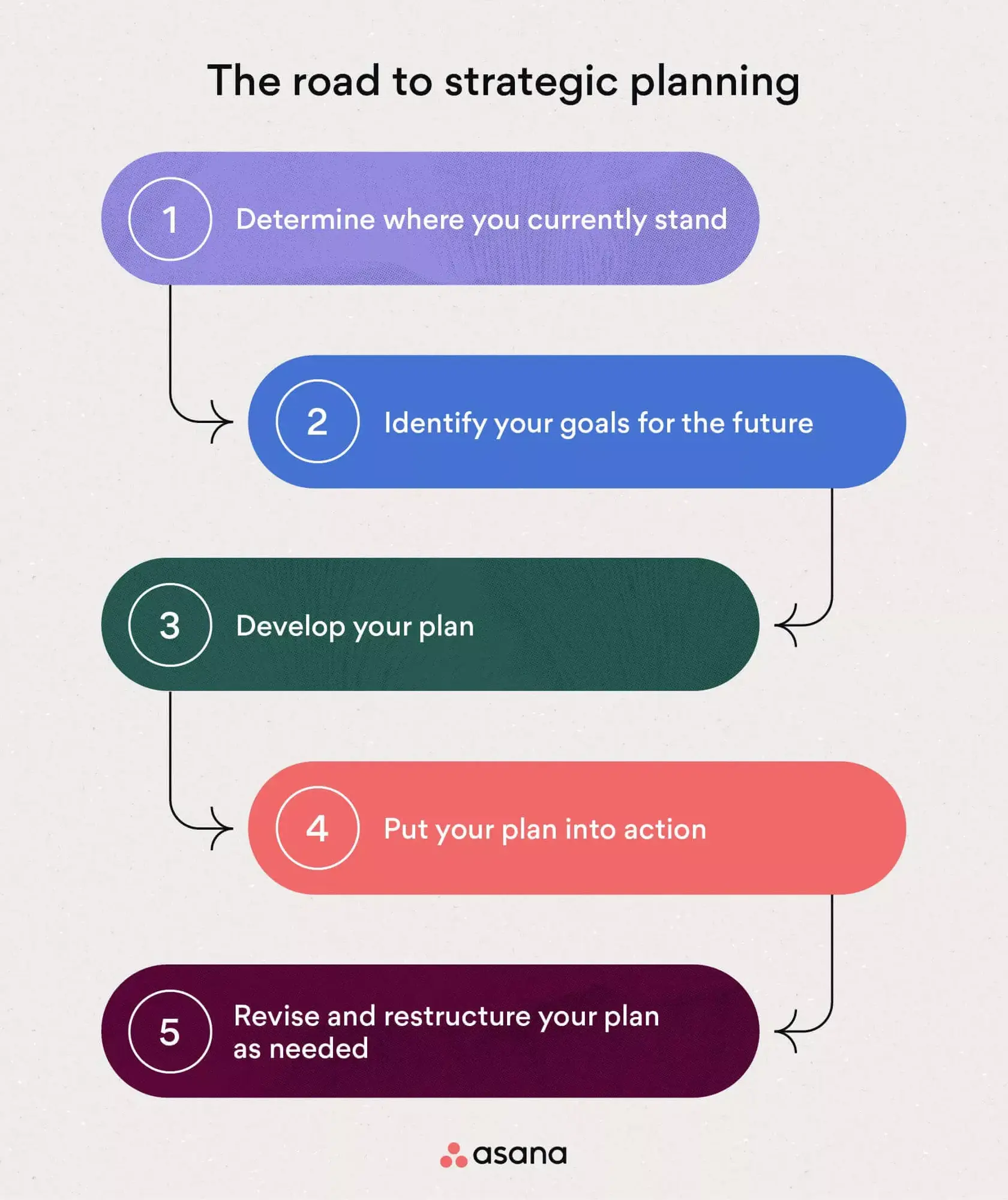 Step 1: Determine where you are
Before you can get started with strategy development and define where you're going, you first need to define where you are. To do this, your management committee should collect a variety of information from additional stakeholders—like employees and customers. In particular, plan to gather:
Relevant industry and market data to inform any market opportunities, as well as any potential upcoming threats in the near future
Customer insights to understand what your customers want from your company—like product improvements or additional services
Employee feedback that needs to be addressed—whether in the product, business practices, or company culture
A SWOT analysis to help you assess both current and future potential for the business (you'll return to this analysis periodically during the strategic planning process). 
To fill out each letter in the SWOT acronym, your management committee will answer a series of questions:
What does your organization currently do well?
What separates you from your competitors?
What are your most valuable internal resources?
What tangible assets do you have?
What is your biggest strength? 
Weaknesses:
What does your organization do poorly?
What do you currently lack (whether that's a product, resource, or process)?
What do your competitors do better than you?
What, if any, limitations are holding your organization back?
What processes or products need improvement? 
Opportunities:
What opportunities does your organization have?
How can you leverage your unique company strengths?
Are there any trends that you can take advantage of?
How can you capitalize on marketing or press opportunities?
Is there an emerging need for your product or service? 
What emerging competitors should you keep an eye on?
Are there any weaknesses that expose your organization to risk?
Have you or could you experience negative press that could reduce market share?
Is there a chance of changing customer attitudes towards your company? 
Step 2: Identify your goals and objectives
This is where the magic happens. To develop your strategy, take into account your current position, which is where you are now. Then, draw inspiration from your original business documents—these are your final destination. 
To develop your strategy, you're essentially pulling out your compass and asking, "Where are we going next?" This can help you figure out exactly which path you need to take. 
During this phase of the planning process, take inspiration from important company documents to ensure your strategic plan is moving your company in the right direction like:
Your mission statement, to understand how you can continue moving towards your organization's core purpose
Your vision statement, to clarify how your strategic plan fits into your long-term vision
Your company values, to guide you towards what matters most towards your company
Your competitive advantages, to understand what unique benefit you offer to the market
Your long-term goals, to track where you want to be in five or 10 years
Your financial forecast and projection, to understand where you expect your financials to be in the next three years, what your expected cash flow is, and what new opportunities you will likely be able to invest in
Step 3: Develop your plan
Now that you understand where you are and where you want to go, it's time to put pen to paper. Your plan will take your position and strategy into account to define your organization-wide plan for the next three to five years. Keep in mind that even though you're creating a long-term plan, parts of your strategic plan should be created as the quarters and years go on.
As you build your strategic plan, you should define:
Your company priorities for the next three to five years, based on your SWOT analysis and strategy.
Yearly objectives for the first year. You don't need to define your objectives for every year of the strategic plan. As the years go on, create new yearly objectives that connect back to your overall strategic goals . 
Related key results and KPIs for that first year. Some of these should be set by the management committee, and some should be set by specific teams that are closer to the work. Make sure your key results and KPIs are measurable and actionable.
Budget for the next year or few years. This should be based on your financial forecast as well as your direction. Do you need to spend aggressively to develop your product? Build your team? Make a dent with marketing? Clarify your most important initiatives and how you'll budget for those.
A high-level project roadmap . A project roadmap is a tool in project management that helps you visualize the timeline of a complex initiative, but you can also create a very high-level project roadmap for your strategic plan. Outline what you expect to be working on in certain quarters or years to make the plan more actionable and understandable.
Step 4: Execute your plan
After all that buildup, it's time to put your plan into action. New strategy execution involves clear communication across your entire organization to make sure everyone knows their responsibilities and how to measure the plan's success. 
Map your processes with key performance indicators, which will gauge the success of your plan. KPIs will establish which parts of your plan you want achieved in what time frame. 
A few tips to make sure your plan will be executed without a hitch: 
Align tasks with job descriptions to make sure people are equipped to get their jobs done
Communicate clearly to your entire organization throughout the implementation process 
Fully commit to your plan 
Step 5: Revise and restructure as needed
At this point, you should have created and implemented your new strategic framework. The final step of the planning process is to monitor and manage your plan.
Share your strategic plan —this isn't a document to hide away. Make sure your team (especially senior leadership) has access to it so they can understand how their work contributes to company priorities and your overall strategic plan. We recommend sharing your plan in the same tool you use to manage and track work, so you can more easily connect high-level objectives to daily work. If you don't already, consider using a work management tool .
Update your plan regularly (quarterly and annually). Make sure you're using your strategic plan to inform your shorter-term goals. Your strategic plan also isn't set in stone. You'll likely need to update the plan if your company decides to change directions or make new investments. As new market opportunities and threats come up, you'll likely want to tweak your strategic plan to ensure you're building your organization in the best direction possible for the next few years.
Keep in mind that your plan won't last forever—even if you do update it frequently. A successful strategic plan evolves with your company's long-term goals. When you've achieved most of your strategic goals, or if your strategy has evolved significantly since you first made your plan, it might be time to create a new one.
The benefits of strategic planning
Strategic planning can help with goal-setting by allowing you to explain how your company will move towards your mission and vision statements in the next three to five years. If you think of your company trajectory as a line on a map, a strategic plan can help you better quantify how you'll get from point A (where you are now) to point B (where you want to be in a few years).
When you create and share a clear strategic plan with your team, you can:
Align everyone around a shared purpose
Proactively set objectives to help you get where you want to go
Define long-term goals, and then set shorter-term goals to support them
Assess your current situation and any opportunities—or threats
Help your business be more durable because you're thinking long-term
Increase motivation and engagement
Sticking to the strategic plan
To turn your company strategy into a plan—and ultimately, impact—make sure you're proactively connecting company objectives to daily work. When you can clarify this connection, you're giving your team members the context they need to get their best work done. 
With clear priorities, team members can focus on the initiatives that are making the biggest impact for the company—and they'll likely be more engaged while doing so.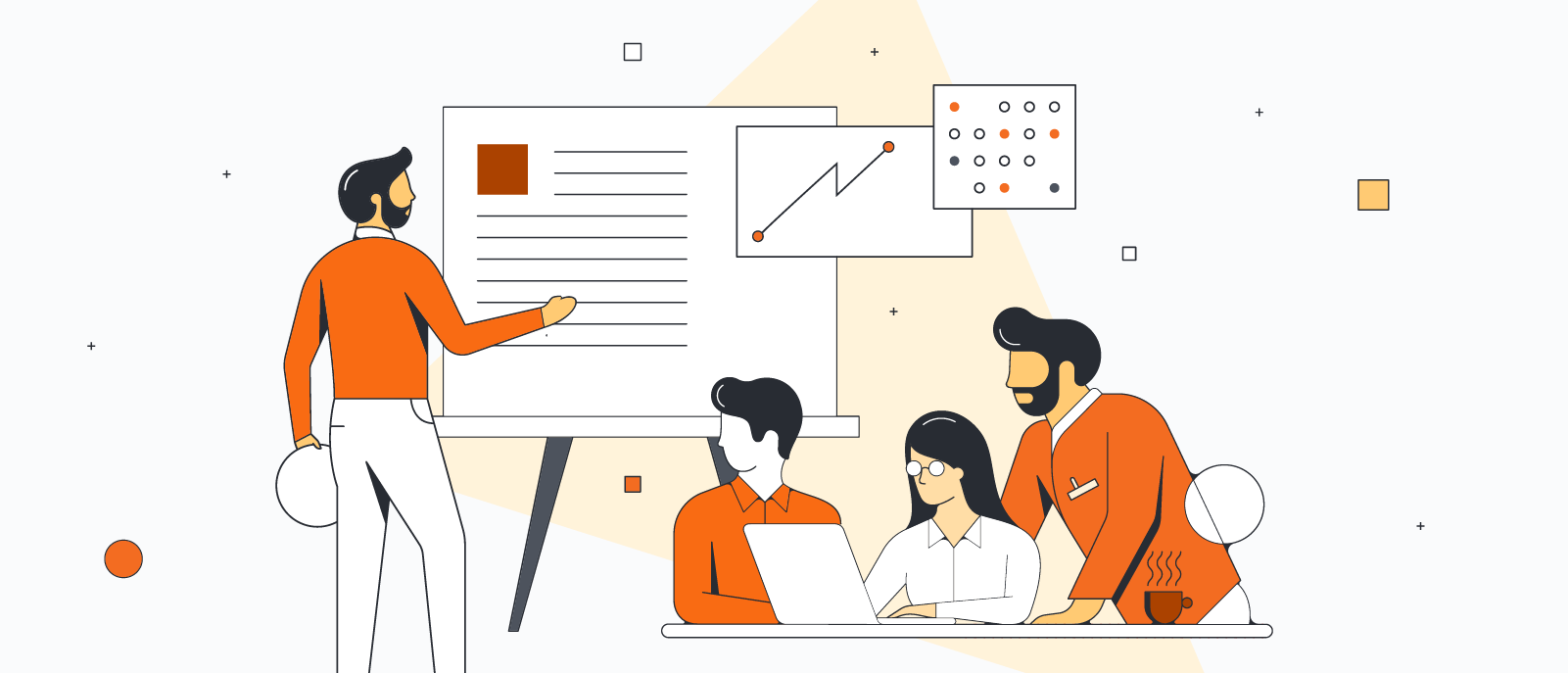 5 steps of the strategic planning process
Lucid Content Team
Reading time: about 6 min
Strategic planning process steps
Determine your strategic position.
Prioritize your objectives.
Develop a strategic plan.
Execute and manage your plan.
Review and revise the plan.
Because so many businesses lack in these regards, you can get ahead of the game by using strategic planning. In this article, we will explain what the strategic planning process looks like and the steps involved.
What is the strategic planning process?
In the simplest terms, the strategic planning process is the method that organizations use to develop plans to achieve overall, long-term goals.
This process differs from the project planning  process, which is used to scope and assign tasks for individual projects, or strategy mapping , which helps you determine your mission, vision, and goals.
The strategic planning process is broad—it helps you create a roadmap for which strategic objectives you should put effort into achieving and which initiatives would be less helpful to the business. 
Before you begin the strategic planning process, it is important to review some steps to set you and your organization up for success.
1. Determine your strategic position
This preparation phase sets the foundation for all work going forward. You need to know where you are to determine where you need to go and how you will get there.
Involve the right stakeholders from the start, considering both internal and external sources. Identify key strategic issues by talking with executives at your company, pulling in customer insights, and collecting industry and market data. This will give you a clear picture of your position in the market and customer insight.
It can also be helpful to review—or create if you don't have them already—your company's mission and vision statements to give yourself and your team a clear image of what success looks like for your business. In addition, review your company's core values to remind yourself about how your company plans to achieve these objectives.
To get started, use industry and market data, including customer insights and current/future demands, to identify the issues that need to be addressed. Document your organization's internal strengths and weaknesses, along with external opportunities (ways your organization can grow in order to fill needs that the market does not currently fill) and threats (your competition). 
As a framework for your initial analysis, use a SWOT diagram. With input from executives, customers, and external market data, you can quickly categorize your findings as Strengths, Weaknesses, Opportunities, and Threats (SWOT) to clarify your current position.
An alternative to a SWOT is PEST analysis. Standing for Political, Economic, Socio-cultural, and Technological, PEST is a strategic tool used to clarify threats and opportunities for your business. 
As you synthesize this information, your unique strategic position in the market will become clear, and you can start solidifying a few key strategic objectives. Often, these objectives are set with a three- to five-year horizon in mind.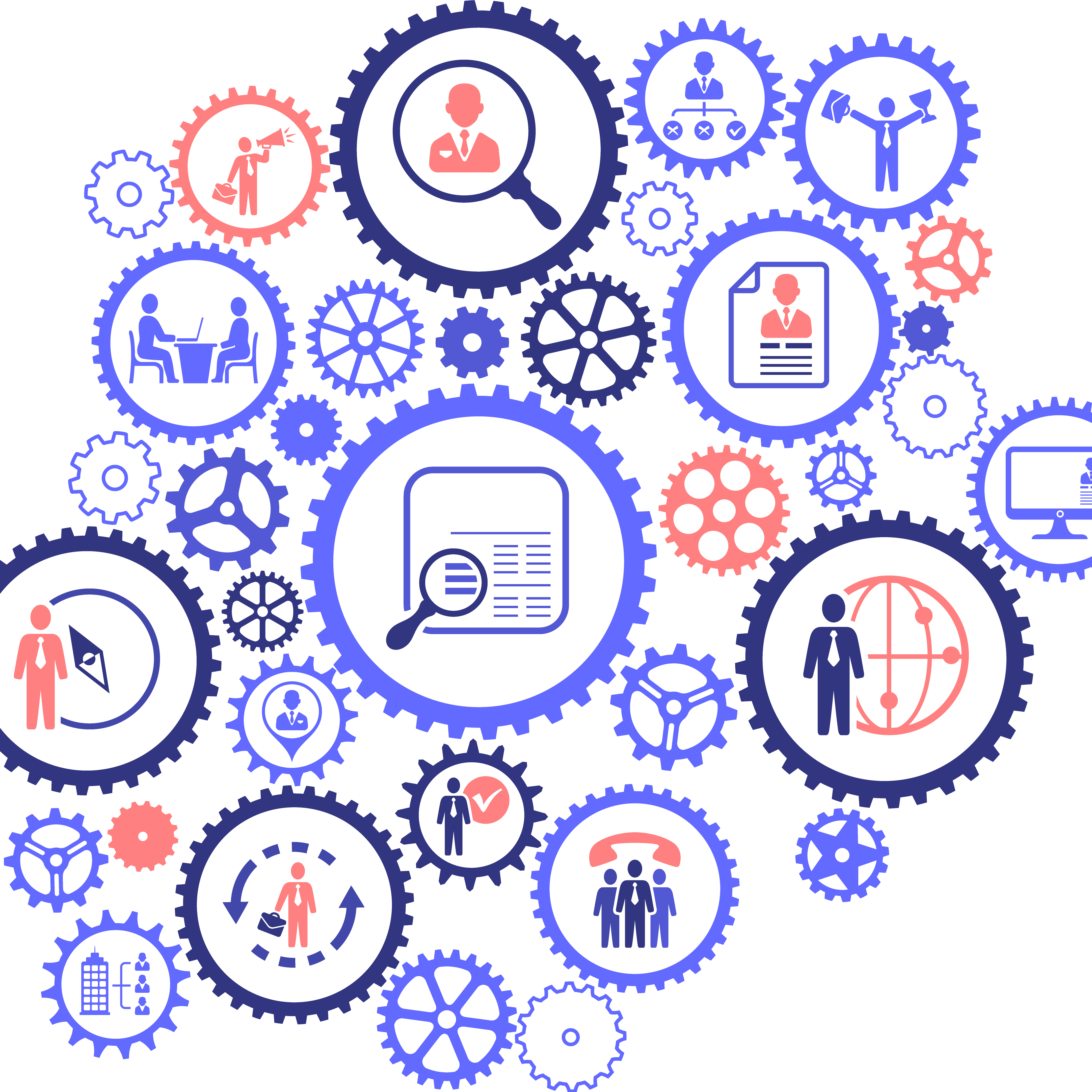 Use PEST analysis for additional help with strategic planning.
2. Prioritize your objectives
Once you have identified your current position in the market, it is time to determine objectives that will help you achieve your goals. Your objectives should align with your company mission and vision.
Prioritize your objectives by asking important questions such as:
Which of these initiatives will have the greatest impact on achieving our company mission/vision and improving our position in the market?
What types of impact are most important (e.g. customer acquisition vs. revenue)?
How will the competition react?
Which initiatives are most urgent?
What will we need to do to accomplish our goals?
How will we measure our progress and determine whether we achieved our goals?
Objectives should be distinct and measurable to help you reach your long-term strategic goals and initiatives outlined in step one. Potential objectives can be updating website content, improving email open rates, and generating new leads in the pipeline.
3. Develop a plan
Now it's time to create a strategic plan to reach your goals successfully. This step requires determining the tactics necessary to attain your objectives and designating a timeline and clearly communicating responsibilities. 
Strategy mapping is an effective tool to visualize your entire plan. Working from the top-down, strategy maps make it simple to view business processes and identify gaps for improvement.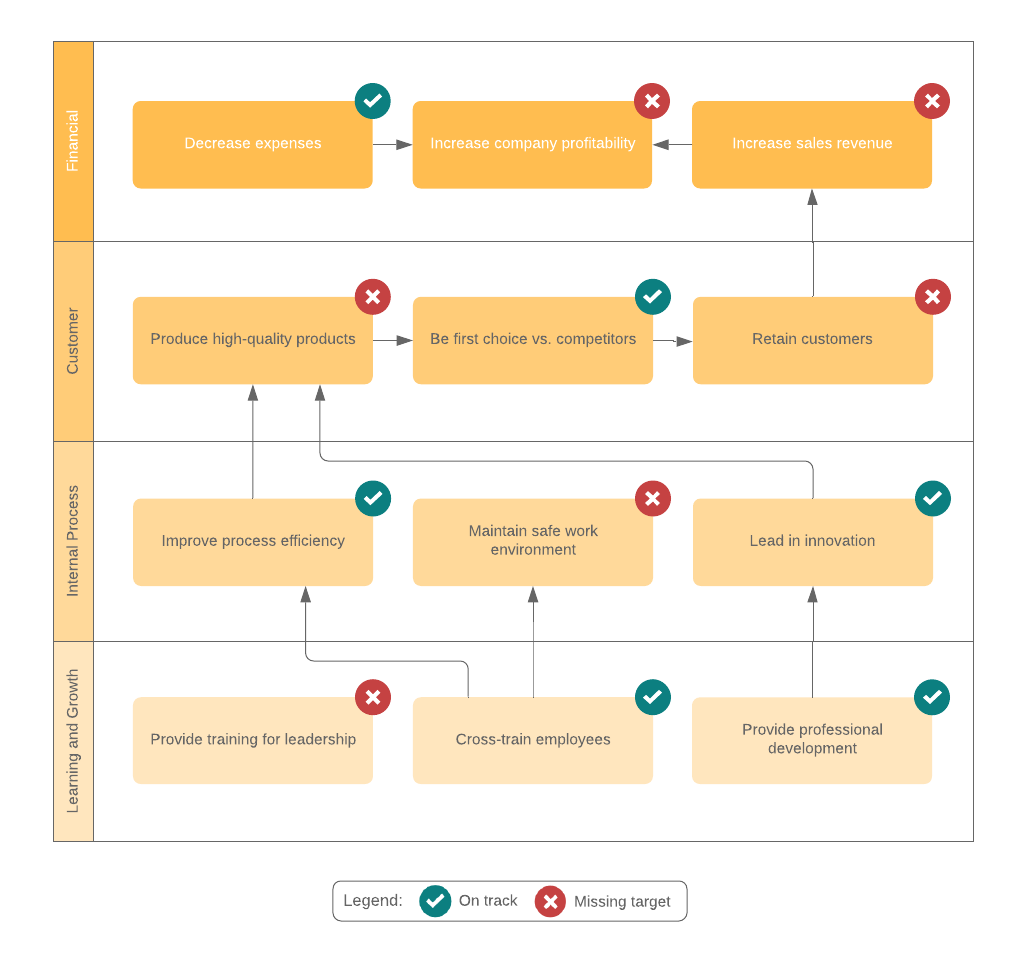 Truly strategic choices usually involve a trade-off in opportunity cost. For example, your company may decide not to put as much funding behind customer support, so that it can put more funding into creating an intuitive user experience.
Be prepared to use your values, mission statement, and established priorities to say "no" to initiatives that won't enhance your long-term strategic position.  
4. Execute and manage the plan
Once you have the plan, you're ready to implement it. First, communicate the plan to the organization by sharing relevant documentation. Then, the actual work begins.
Turn your broader strategy into a concrete plan by mapping your processes. Use key performance indicator (KPI) dashboards to communicate team responsibilities clearly. This granular approach illustrates the completion process and ownership for each step of the way. 
Set up regular reviews with individual contributors and their managers and determine check-in points to ensure you're on track.
5. Review and revise the plan
The final stage of the plan—to review and revise—gives you an opportunity to reevaluate your priorities and course-correct based on past successes or failures.
On a quarterly basis, determine which KPIs your team has met and how you can continue to meet them, adapting your plan as necessary. On an annual basis, it's important to reevaluate your priorities and strategic position to ensure that you stay on track for success in the long run.
Track your progress using balanced scorecards to comprehensively understand of your business's performance and execute strategic goals. 
Over time you may find that your mission and vision need to change — an annual evaluation is a good time to consider those changes, prepare a new plan, and implement again. 
Achieve your goals and monitor your progress with balanced scorecards.
Master the strategic planning process steps
As you continue to implement the strategic planning process, repeating each step regularly, you will start to make measurable progress toward achieving your company's vision.
Instead of constantly putting out fires, reacting to the competition, or focusing on the latest hot-button initiative, you'll be able to maintain a long-term perspective and make decisions that will keep you on the path to success for years to come.
Use a strategy map to turn your organization's mission and vision into actionable objectives.
Lucidchart, a cloud-based intelligent diagramming application, is a core component of Lucid Software's Visual Collaboration Suite. This intuitive, cloud-based solution empowers teams to collaborate in real-time to build flowcharts, mockups, UML diagrams, customer journey maps, and more. Lucidchart propels teams forward to build the future faster. Lucid is proud to serve top businesses around the world, including customers such as Google, GE, and NBC Universal, and 99% of the Fortune 500. Lucid partners with industry leaders, including Google, Atlassian, and Microsoft. Since its founding, Lucid has received numerous awards for its products, business, and workplace culture. For more information, visit lucidchart.com.
Related articles
Implement the strategic planning process to make measurable progress toward achieving your company's vision and make decisions that will keep you on the path to success for years to come.
How to Use Kaizen Methodology to Improve Business Processes
The Kaizen methodology is an easy way to engage employees and develop a culture of continuous improvement. It strives to eliminate silos, egos, and waste and instead aims for efficient and standardized processes. See why you should use Kaizen and how you can get started.
Bring your bright ideas to life.
or continue with
5 Steps for Effective Business Planning
Setting up a business is an intricate process with a high likelihood of failure. Without the combination of a sound plan, considerable effort, and a healthy budget, a business venture won't survive for long. Many new business owners wonder if these plans are really effective because most inevitably end up collecting dust in some drawer. Business owners disregard plans often because these plans are usually too complicated and lengthy to be of any use. This article explains five steps to a thorough and effective business planning before you start working on the project.
#1 Take time away from your regular life
Business planning is a long and time consuming process that requires your complete focus and attention. While it is possible to create a plan and still handle your other personal and professional responsibilities, the process will take longer and be more disorganised. You won't be able to focus completely on the task at hand and that will cause some problems during the process.
Taking a break from all responsibilities and simply focusing on the planning process can help you focus more and plan better. You can even take a trip away from home and visit some relaxing and quiet location. That will help break the monotony and get your creative juices flowing. You can relax and plan the business strategy at your own pace without any disturbances. It might be a good idea to warn your friends and family to not disturb you unless there's an emergency.
#2 Keep SMART goals in mind
SMART is an acronym for- Specific, Measurable, Achievable, Results-oriented and Realistic, and Timeframe. These are the goals you need to focus on when you're creating your business plan. All points must be specific, all relevant actions must be measurable, all business goals and targets must be achievable with reasonable effort. The plan must be results-oriented and realistic, and you need to have a clear timeframe for every goal and action.
Focusing on these aspects will help you keep your business plan organised and on track. Asking these questions will help you streamline the plan and make sure it's focused. You won't waste your time on goals and factors that will only consume your resources without providing any concrete results. Focusing on SMART goals will also help you maintain realistic expectations with your business and make you aware of your limitations. This can help in the long run and ensure you have a level-headed approach to your business plan.
#3 Plan for the budget
A business plan is incomplete without a budget. Including a goal or a particular target in your business plan is futile if you don't have the money for it. This is why it's also important to create a budget with profitability in mind. Don't focus on creating a budget for just running a business and keeping your production levels up because you won't invest enough to generate profit . There are a number of other questions you should be asking yourself while allocating and organising a budget. Some of the questions you should be asking include – "How much profit do I want to make from my business in this given period?" during the business planning process. Once you have a number in mind, ask yourself, "How much do I need to invest in order to get that profit?"
These two questions will help you set a realistic budget for profit rather than just the production cost. As most of the profit is reinvested in the business, you will have a more consistent cash flow and growth. If you budget only for production cost and overhead expenses, you won't have any breathing room and that can put your business at risk or losses.
#4 Don't worry if you don't have all the answers
Lack of information and details are the biggest hindrances in the business planning process. You might not have access to some of the information needed to complete a business plan and make sure all pieces fit together perfectly. Many business owners let the lack of information stop them from completing the plan and that causes delays. Instead of letting the missing pieces of information become hurdles and stop you, seamlessly move on to the next step and complete as much of the plan as you can.
Once you've done all you could do, you can hire a professional or a mentor with more experience and knowledge to help fill in the blanks and this becomes a better way to tackle inevitable hiccups along the way. Successful business owners never work alone and always have consultants or mentors to help refine ideas and plans. A good business plan will have input from multiple perspectives. Others will notice problems and obstacles you missed and ensure your business plan is more comprehensive.
#5 Use a template
There are a number of business plan templates available online and they can help you get started with the process. A template acts as a guideline and ensures you don't miss the most vital aspects of the planning process. A template also helps keep all information and targets organised and easy to follow.
If you follow these five steps and take your time with your planning, you will have a higher likelihood of success. Planning will also help you deal with unexpected problems and delays in a more organised and calm manner, which can be beneficial in the long run.
What's next?
Watch the video below or download your business planning template by filling in this form:
About the Author
Thomas Jackson worked at assignment help UK and is now a professional freelance content writer and an active member of several writing clubs in New York. He has written several songs since he was a child. He gets inspiration from the live concerts he does in front of close friends and family members.
Share this:
There is always plenty to learn.
Search other categories or topics here..
Download your Free
Enrolment pack.
Learn about what is included in the Max Business Academy and how much it costs to join.
Improve Your Business
Get instant access to our top rated downloads, claim your free ticket today., get started today for free.
Join other Business Owners in the Max Your Business Workshop and test drive what we offer in our MAX Business Academy .
Quick Links
Business Coaching
Online Courses and Training
Terms & Conditions
Privacy Policy
Get Instant Access to your
Max business academy.
Please enter a valid mobile and email so we can verify you and send your login details for the Enrolment Pack.
FREE Online Business Growth Workshop
Tuesday 24th October 2023
Registration: 5:55pm
Workshop: 6:00pm to 8:00pm (AEST)
This is an Online event. We will send you a link on the day.
(Please check your junk or spam folder for our emails.)
Registration: 5:50pm
Get Started today for FREE
Your selected event has been SOLD OUT!!
You can still join other like minded Business Owners at one of our other events.
Please choose from the list below.
Castle Hill Sydney NSW
Tuesday 8th August 2023
Menangle Sydney NSW
Wednesday 9th August 2023
Wollongong NSW
Thursday 10th August 2023
North Ryde Sydney NSW
Tuesday 15th August 2023
Gosford NSW
Wednesday 29th August 2023
Newcastle NSW
Thursday 17th August 2023
The  'Max Your Business' MasterClass is your first step  in learning more about how we help business owners and entrepreneurs  build the business they imagined.
This is an 8 hour LIVE MasterClass on the Northern Beaches, Sydney, NSW.
This is an 8 hour LIVE MasterClass in  Ryde Sydney NSW.
Credit cards
View all credit cards
Banking guide
Loans guide
Insurance guide
Personal finance
View all personal finance
Small business
View all small business
You're our first priority. Every time.
We believe everyone should be able to make financial decisions with confidence. And while our site doesn't feature every company or financial product available on the market, we're proud that the guidance we offer, the information we provide and the tools we create are objective, independent, straightforward — and free.
So how do we make money? Our partners compensate us. This may influence which products we review and write about (and where those products appear on the site), but it in no way affects our recommendations or advice, which are grounded in thousands of hours of research. Our partners cannot pay us to guarantee favorable reviews of their products or services. Here is a list of our partners .
How to Write a Business Plan, Step by Step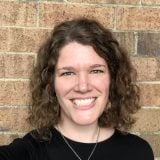 Many or all of the products featured here are from our partners who compensate us. This influences which products we write about and where and how the product appears on a page. However, this does not influence our evaluations. Our opinions are our own. Here is a list of our partners and here's how we make money .
1. Write an executive summary
2. describe your company, 3. state your business goals, 4. describe your products and services, 5. do your market research, 6. outline your marketing and sales plan, 7. perform a business financial analysis, 8. make financial projections, 9. add additional information to an appendix, business plan tips and resources.
A business plan is a document that outlines your business's financial goals and explains how you'll achieve them. A strong, detailed plan will provide a road map for the business's next three to five years, and you can share it with potential investors, lenders or other important partners.
Here's a step-by-step guide to writing your business plan.
» Need help writing? Learn about the best business plan software .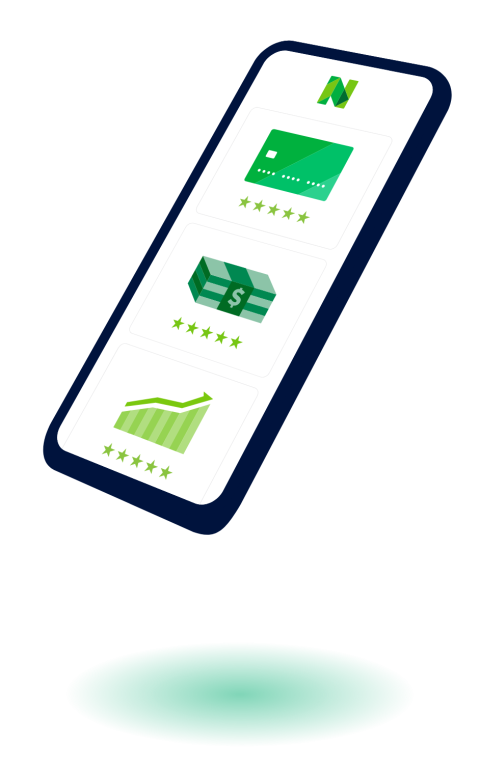 This is the first page of your business plan. Think of it as your elevator pitch. It should include a mission statement, a brief description of the products or services offered, and a broad summary of your financial growth plans.
Though the executive summary is the first thing your investors will read, it can be easier to write it last. That way, you can highlight information you've identified while writing other sections that go into more detail.
» MORE: How to write an executive summary in 6 steps
Next up is your company description, which should contain information like:
Your business's registered name.
Address of your business location .
Names of key people in the business. Make sure to highlight unique skills or technical expertise among members of your team.
Your company description should also define your business structure — such as a sole proprietorship, partnership or corporation — and include the percent ownership that each owner has and the extent of each owner's involvement in the company.
Lastly, it should cover the history of your company and the nature of your business now. This prepares the reader to learn about your goals in the next section.
» MORE: How to write a company overview for a business plan
The third part of a business plan is an objective statement. This section spells out exactly what you'd like to accomplish, both in the near term and over the long term.
If you're looking for a business loan or outside investment, you can use this section to explain why you have a clear need for the funds, how the financing will help your business grow, and how you plan to achieve your growth targets. The key is to provide a clear explanation of the opportunity presented and how the loan or investment will grow your company.
For example, if your business is launching a second product line, you might explain how the loan will help your company launch the new product and how much you think sales will increase over the next three years as a result.
In this section, go into detail about the products or services you offer or plan to offer.
You should include the following:
An explanation of how your product or service works.
The pricing model for your product or service.
The typical customers you serve.
Your supply chain and order fulfillment strategy.
Your sales strategy.
Your distribution strategy.
You can also discuss current or pending trademarks and patents associated with your product or service.
Lenders and investors will want to know what sets your product apart from your competition. In your market analysis section , explain who your competitors are. Discuss what they do well, and point out what you can do better. If you're serving a different or underserved market, explain that.
Here, you can address how you plan to persuade customers to buy your products or services, or how you will develop customer loyalty that will lead to repeat business.
» MORE: R e a d our complete guide to small business marketing
If you're a startup, you may not have much information on your business financials yet. However, if you're an existing business, you'll want to include income or profit-and-loss statements, a balance sheet that lists your assets and debts, and a cash flow statement that shows how cash comes into and goes out of the company.
You may also include metrics such as:
Net profit margin: the percentage of revenue you keep as net income.
Current ratio: the measurement of your liquidity and ability to repay debts.
Accounts receivable turnover ratio: a measurement of how frequently you collect on receivables per year.
This is a great place to include charts and graphs that make it easy for those reading your plan to understand the financial health of your business.
» NerdWallet's picks for setting up your business finances:
The best business checking accounts .
The best business credit cards .
The best accounting software .
This is a critical part of your business plan if you're seeking financing or investors. It outlines how your business will generate enough profit to repay the loan or how you will earn a decent return for investors.
Here, you'll provide your business's monthly or quarterly sales, expenses and profit estimates over at least a three-year period — with the future numbers assuming you've obtained a new loan.
Accuracy is key, so carefully analyze your past financial statements before giving projections. Your goals may be aggressive, but they should also be realistic.
List any supporting information or additional materials that you couldn't fit in elsewhere, such as resumes of key employees, licenses, equipment leases, permits, patents, receipts, bank statements, contracts and personal and business credit history. If the appendix is long, you may want to consider adding a table of contents at the beginning of this section.
How Much Do You Need?
Here are some tips to help your business plan stand out:
Avoid over-optimism: If you're applying for a business loan at a local bank, the loan officer likely knows your market pretty well. Providing unreasonable sales estimates can hurt your chances of loan approval.
Proofread: Spelling, punctuation and grammatical errors can jump off the page and turn off lenders and prospective investors, taking their mind off your business and putting it on the mistakes you made. If writing and editing aren't your strong suit, you may want to hire a professional business plan writer, copy editor or proofreader.
Use free resources: SCORE is a nonprofit association that offers a large network of volunteer business mentors and experts who can help you write or edit your business plan. You can search for a mentor or find a local SCORE chapter for more guidance.
The U.S. Small Business Administration's Small Business Development Centers , which provide free business consulting and help with business plan development, can also be a resource.
On a similar note...